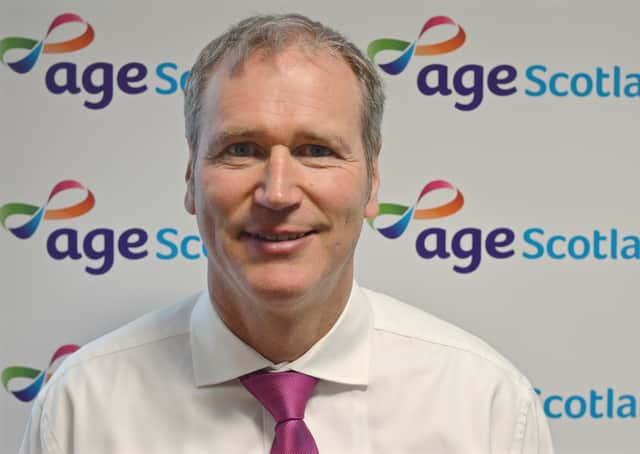 Brian Sloan, Chief Executive, Age Scotland
The good news is that help is ­available. Our advisors on the free and confidential Age Scotland ­Helpline can carry out a thorough benefits check for, or on behalf of, an older person. It is extremely ­satisfying to discover an older person can claim entitlements that can significantly improve their quality of life.
Last year advisors helped our ­callers identify a record £719, 212 in unclaimed benefits, a 52 per cent increase on the previous year. It's a decent sum of money but we believe this is just the tip of the iceberg. There are still millions of pounds of benefits going unclaimed by older people. UK government figures published ­earlier this month found that four in ten of the poorest pensioners in Scotland are not claiming pension credit, a benefit aimed at boosting weekly incomes for older people.
Department of Work and ­Pensions' figures show an estimated £2.2 ­billion of available pension credit was unclaimed across the UK in 2017/18. In Scotland, an estimated 120,000 ­eligible households are not claiming the benefit.
Many who call our ­helpline are among Scotland's most vulnerable pensioners. Claiming their full entitlement of benefits can make the difference between heating their homes in winter or not, eating well or scrimping on food shopping. The dramatic increase in unclaimed benefits last year was largely down to more checks being carried out by our advisors and we would encourage more people to make that call.
There are many reasons why ­older people might not claim benefits, including being unaware of what they are eligible for, struggling to complete the complex application process or feeling there is a stigma attached. But why put it off when the amounts which could be available are, in some cases, life-changing?
One caller to the helpline requested a benefit check on behalf of ­herself and her husband ahead of a move into private ­rented accommodation.
Anne (names changed), who was ­living with a spinal condition that affected her daily life, received information about claiming attendance allowance. She used the advice to put in a claim, which resulted in her receiving more than £16,000 a year in benefits – attendance allowance, at the higher rate, full housing ­benefit and full council tax reduction. She was also given a Blue Badge to ­facilitate convenient parking.
When she got back in touch with the helpline, the caller shared her delight with the outcome. She said: "It's ­unbelievable where we were to where we are now. It's not about having to stop and think, can I afford steak this week or do I have to do with a mince pie? It's unbelievable what's been done."
Another caller, Bob, called the ­helpline to inquire about his ­eligibility for attendance allowance, a ­benefit for people who have reached state pension age and who have a physical or mental disability that means they require care. It is tax free and not means-tested, so a claimant's savings or income are not taken into account.
In this case, Bob already received disability living allowance, but said he was struggling financially to meet his living expenses. An advisor ­carried out a benefits check on Bob's behalf and discovered he was ­eligible to receive pension credit, as well as full housing benefit and a council tax reduction.
The realisation that there was extra money available to him, came as a huge relief to Bob who said he would not have known how to access the benefits without the ­helpline advisor.
A third caller, Susan, contacted the helpline because a joint claim for Pension Credit had been stopped after her husband spent some time outside the UK while he was receiving laser eye surgery. Susan had been told by the DWP that the ­benefit was withdrawn because the medical treatment wasn't eligible under their guidance.
An advisor thought the information was incorrect and suggested Susan check again. On the back of this, Susan was told the DWP accepted responsibility for passing on ­misinformation and agreed to ­reinstate and backdate pension ­credit payments.
So if you want to maximise your income – or if you are simply ­curious – call our helpline and ask for a ­benefits check. It could be one of the best calls you ever make.
Call the Age Scotland national helpline on 0800 12 44 222.
Brian Sloan, chief executive, Age Scotland.