A&E waiting times: Here are the worst performing health boards for accident and emergency waiting times in Scotland
Scotland's best and worst performing accident-and-emergency (A&E) departments have been revealed, with one health board seeing less than half of all patients within the Scottish Government's four-hour target
Two of Scotland's worst performing health boards for accident-and-emergency (A&E) waiting times say they are continuing to experience "extreme pressures" across "the whole health and social care system" – even before the winter period begins.
According to Public Health Scotland's (PHS) most recent figures, NHS Forth Valley, NHS Borders and NHS Ayrshire & Arran contain the nation's worst performing emergency departments, when compared against the Scottish Government's four-hour waiting time target.
During the week starting October 22, just 66.1 per cent of patients appearing at an NHS Ayrshire & Arran emergency department were seen within four hours, while in the NHS Borders health board, just 62.3 per cent were seen.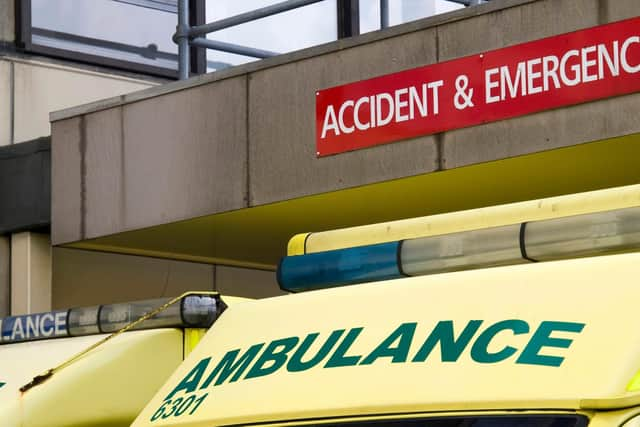 However, the worst performing health board on emergency department-only waiting times was NHS Forth Valley, where only 45.3 per cent of patients were seen within the Scottish Government's waiting times target.
Scotland's average, across all health boards, was 65.1 per cent during the same week.
NHS Forth Valley has been the worst performing health board for a while, as even during the summer more than 50 per cent of A&E patients had to wait more than four hours. In July, this triggered local MSP Alex Rowley to write to health secretary Michael Matheson, saying "something isn't right" at the health board, and arguing the Scottish Government needed to "get to grips on this matter".
In the Scottish Borders, the local health board says it is "experiencing periods of extremis".
"We strive to deliver the best possible services for our population, and this includes access to care and treatment in a reasonable time," a spokesperson for NHS Borders said.
"We are truly sorry if you or your family waited a long time in our emergency department. This is not what we would wish for our patients.
"These figures demonstrate the pressure that our system has and continues to face. We are continuing to experience these extreme pressures, which often results in the Borders General Hospital being at capacity.
"When our beds are full, this can result in the emergency department becoming exceptionally busy with people awaiting admission. During such periods of extremis, we routinely explore staffing options to make sure we are supporting our staff to help them deliver the care that our patients need.
"We are very grateful to our staff for continuing to provide quality care to our patients when the hospital is under significant pressure. We are working closely with our clinical teams on measures and initiatives so that people who require inpatient care receive it as quickly as possible and those who are ready for discharge are supported to go home or to their next place of care."
Meanwhile, NHS Ayrshire & Arran said it was "fully committed to ensuring that those with emergency and urgent needs are treated as quickly as possible".
A spokesperson for the health board said: "Due to demand across our whole health and care system and despite our staff working hard to assess and treat patients as quickly as possible, some patients have waited significantly longer than the target four-hour period for either discharge or transfer to an appropriate setting from our emergency departments and we unreservedly apologise for that.
"Each patient attending our emergency departments is triaged on arrival and clinical teams prioritise patients based on their clinical need.
"We are fully committed to ensure that those with emergency and urgent needs are treated as quickly as possible alongside those patients who have been waiting for the longest period.
"We remain determined to help make a difference in reducing long-standing pressure points in our system and are making continuous efforts to find ways to reduce any delays and to provide care within the waiting times standards."
Technically, the best performing emergency departments are within the island health boards of NHS Orkney, NHS Western Isles and NHS Shetland. However, these health boards typically see less than 200 patients a week presenting at their emergency departments.
Outwith the island health boards, NHS Highland performs strongly, with 73.2 per cent of patients being seen within the four hour target. But NHS Dumfries & Galloway is still the strongest-performing health board in Scotland, with 75.7 per cent of patients being seen within the targeted timeframe.
The latest statistics come just a week after the Royal College of Emergency Medicine (RCEM) revealed the number of Scots waiting more than a day in A&E is now 250 times higher than it was four years ago.
Figures obtained by the college showed 3,949 patients spent a day or more in A&E in the six months up to June. That compared with 15 patients during the same period in 2019.
Dr John-Paul Loughrey, of RCEM Scotland, said the winter plan laid out by the Scottish Government last month was "disappointing", owing to the fact there was no spending pledged for increasing hospital beds or retaining staff. He has called for "meaningful action" to avoid the issues experienced last winter.
Speaking when the winter plan was unveiled, health secretary Michael Matheson said A&E performance was "not where it needs to be" and that work was ongoing to bring numbers down.
"Our winter plan will support boards to maximise capacity to meet demand and our £12 million expansion of Hospital at Home will ensure people receive care at home or as close to home as possible, where clinically appropriate, to help reduce pressure on our emergency departments," he said.
Comments
 0 comments
Want to join the conversation? Please or to comment on this article.