First Minister Humza Yousaf says he is "pleased to hear" of ambitions to bring forward no-protest buffer zones around abortion clinics before the Scottish Parliament's summer recess.
Previously, the Scottish Government has left local authorities to bring in buffer zones using byelaws.
However, local authorities such as Glasgow and Edinburgh city councils declined to introduce byelaws due to legal advice they received, and the possibility of lengthy and costly legal challenges from pro-life groups with wealthy backers, particularly from American Christian groups.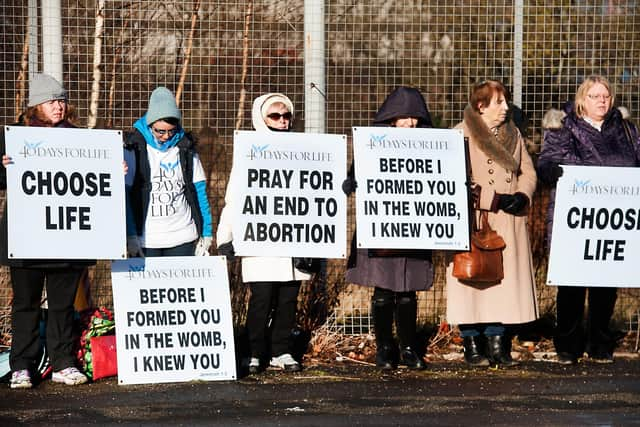 Mr Yousaf committed to introducing national legislation when he became First Minister, and said his Government will support Scottish Green Party MSP Gillian Mackay's proposed Bill.
Despite the Bill being introduced by Ms Mackay in May last year, the Government has still not introduced the legislation, and campaigners believed it was unlikely to do so this calendar year.
However, appearing before the Scottish Parliament at First Minister's Questions on Thursday, Mr Yousaf appeared to back Ms Mackay's ambitions to bring in buffer zones before Holyrood's summer recess.
Ms Mackay asked the First Minister: "Now the work of the short-life working group on buffer zones has concluded, does the First Minister agree that all of our collective focus should be on delivering national legislation as the most robust way to put buffer zones in place in Scotland – and that our collective aim should be to bring forward the final proposal for my members' Bill before summer recess?"
Mr Yousaf responded: "I absolutely fully agree with that and I extend my thanks to the members of the working group for helping us to get to this point – and Gillian Mackay is right, the focus should absolutely now be on that national approach and I can give an absolute commitment – although I know Gillian Mackay knows this – that we work closely with her on this members' Bill.
"It is of incredible importance, it is vital to ensure that women get access – safe access – to health care, and I'm fully supportive and the Government is really supportive of those safe access zones.
"So all my officials have been working at pace with Gillian [Mackay] in relation to the development of legislation and pleased to hear from her ambition around the introduction of that before summer recess. I look forward to engaging with her personally as well as with the Cabinet secretary and ministers."
Last month, members of Christian anti-abortion group 40 Days for Life gathered outside the Queen Elizabeth University Hospital in Glasgow on Sunday evening for their last vigil after almost six weeks of protests.
Members of the group, which was founded in Texas, USA in 2004, lined up across the road from the maternity unit, with many holding what looked to be small lanterns. Footage of the event was shared on social media, prompting outcry from pro-choice activists in Scotland, and renewed demands for legislation from the Scottish Government.
Ms Mackay on Wednesday confirmed she would be publishing the consultation analysis for her Bill "in the weeks ahead" and would introduce the final proposal shortly afterwards.