'Abject failure' over PPE provision for Scottish police officers
There has been an "abject failure" over PPE provision and guidance for police, the body that represents rank and file officers has claimed.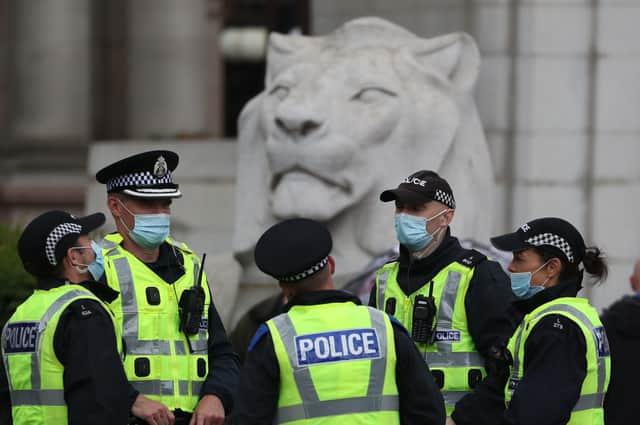 In a letter to the Scottish Parliament's Justice Committee, general secretary Calum Steele said Police Scotland expects its officers to use "mythical powers" to determine someone's Covid-19 status.
He also said guidelines from the Health and Safety Executive (HSE) and Health Protection Scotland (HPS) fail to deal with the reality officers face.
Discussing officers who 
were sent out to deal with house parties, Mr Steele said: "It is simply unacceptable that the PSoS (Police Service of Scotland) considers that passing the decision on 
the PPE for each separate house party should be one for individual police officers based on some nebulous judgment.
"This is an abject failure but for as long as the HSE, HPS and PSoS continue to rely on each other in support of this ineptitude, police officers will continue to be exposed to risk of exposure to, and transmitting of, the Covid-19 virus."
His letter added: "It is widely reported that over the weekend of August 29, the PSoS attended over 300 house parties.
From our engagement with members and despite access to 'full PPE' - which essentially means the inclusion of FFP3 masks - we have failed to identify a single occasion where the FFP3 masks were worn by attending officers."
Assistant Chief Constable Gary Ritchie said: "The safety and protection of our officers and staff, who are putting themselves in harm's way every day as they help in the response to coronavirus, is a priority for us.
"More than 15,000 officers and staff have been issued with an FFP3 mask and other items of PPE and have been trained in their correct use to ensure the best level of protection possible.
"Officers carry PPE with them at all times and replacements are provided within 24 hours. In areas of policing where the FFP3 mask is used more frequently, multiple masks are available at all times.
"Almost 100 per cent of officers working in local policing are equipped with masks and we take into account the provision of PPE when we deploy officers to incidents.
"Clear operational guidance is available and communicated regularly to officers on what PPE to use in specific situations.
"Our guidance is based on an extensive and detailed risk assessment developed by a dedicated Health and Safety Group which included members of the SPF and after taking into consideration advice from HSE and HPS. Our risk assessments and guidance are also under continual review."
Comments
 0 comments
Want to join the conversation? Please or to comment on this article.