Young Scots turn their backs on career in teaching as more than a third of training places go unfilled
'Brutal' data shows STEM subjects and languages among shortages
More than a third of teacher training posts went unfilled in Scotland last year amid fears young people are turning their back on the profession.
Opposition parties blamed the "sobering" shortfall on rising classroom violence and job security concerns.
Newly-published minutes from a meeting of education chiefs show how they discussed a downward trend on "initial teacher education" intakes for secondary, with the 2022 intake said to be "down to 61 per cent against target".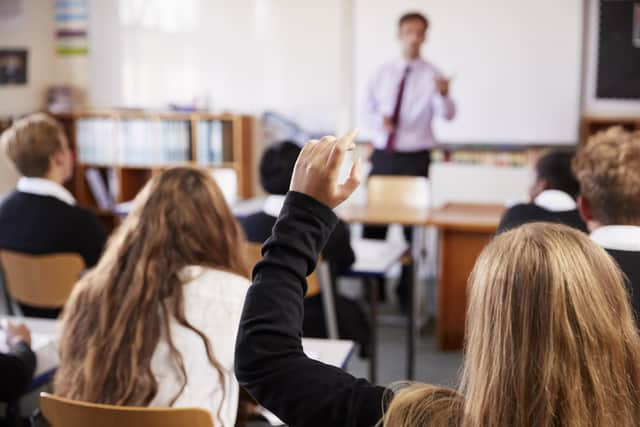 The figures discussed at the strategic board for teacher education meeting in March were similar to interim data which suggested a secondary training intake of 1,506 last year against a target of 2,336, a rate of 64.5 per cent.
They showed an intake of 48 out of target of 159 places for chemistry, 34 out of 85 for technology, 59 out of 138 for modern languages, 114 out of 250 for maths, 60 out of 131 for physics, 26 out of 52 for computing and 107 out of 163 for biology.
Conservative education spokesman Liam Kerr said: "The huge shortfall in teacher training applicants is sobering proof that after 16 years of SNP Government, young people are being turned off a career in this essential profession.
"Sadly people considering entering what should be a rewarding career see 5,000 teachers are stuck on temporary contracts and a profession that is overstretched, under-resourced, and facing a surge in classroom violence."
Liberal Democrat education spokesman Willie Rennie said the subject figures were "brutal", adding: "In key areas such as the STEM subjects, the government is failing to inspire people to train as teachers."
The Scotsman previously revealed that the number of requests for probationary teachers from Scottish councils had soared by 44 per cent since 2017/18, amid claims cash-strapped local authorities were trying to plug workforce gaps with probationers.
Around 5,000 teachers in Scotland are on temporary contracts, more than 9 per cent of the total.
In 2021/22, only about half of secondary teachers were in full or part-time employment in the September after qualifying, while in primary it was just 20 per cent.
Education Secretary Jenny Gilruth has suggested the Government could seek to address the issue by finding a way to "guarantee a certain number of years' employment".
Ahead of the 2021 election, the SNP also pledged to recruit 3,500 additional teachers and classroom assistants.
Andrea Bradley, general secretary of the Educational Institute of Scotland teaching union, said: "Currently, too many new entrants to teaching are employed on temporary short-term contracts which offer little or no job security.
"If the Scottish Government wishes to recruit highly-qualified graduates into teaching, it must deliver its manifesto commitments, work with local authorities to employ more teachers on permanent contracts and overall increase spending on education so that all Scotland's young people can get the best from their 3-18 learner journey."
A Scottish Government spokesperson said: "Scotland has the most teachers-per-pupil in the UK, the lowest pupil-to-teacher ratio and we are supporting out teachers with a historic pay deal, meaning that Scottish classroom teachers are the best paid in the UK.
"We are also committed to supporting councils with an additional £145.5m in this year's budget to protect increased teacher numbers."
Comments
 0 comments
Want to join the conversation? Please or to comment on this article.