'We can't send them back and have another lockdown' - Readers air views on how and when to reopen Scotland's schools
Schools in England could reopen to some primary school pupils as early as June 1st under the UK Government's latest plans to lift lockdown measures.
But the Scottish Government is yet to make any decisions on reopening schools north of the border, with strict lockdown measures set to continue for another three weeks.
In Scotland, people should only leave home for reasons like getting food and medical care, exercise and essential work which can not be done from home.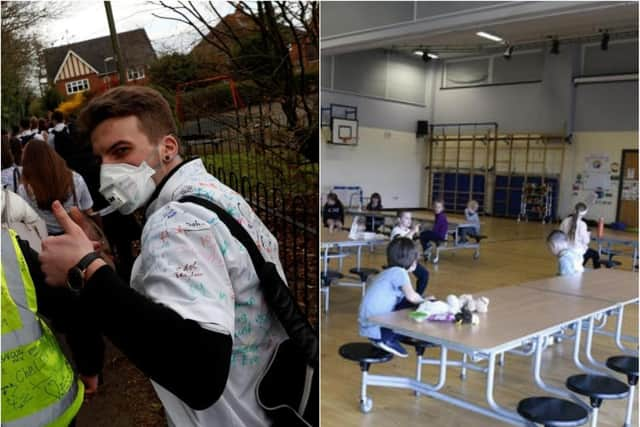 Today, Edinburgh's Educational Institute of Scotland secretary, Alison Murphy, posed questions in an opinion piece about how and when children could go back to school in Scotland. She stressed it will be "vital" to not make any rushed decisions or misjudgements to avoid further infections as people "will die."
One reader, Liz Dickson, said: "My daughter won't be back until the full restrictions have been lifted. Her life is not being decided by the government. I think her dad and myself are smart enough to decide what is best for her!!"
Steve Bell said: "I dont understand why parents or government are wanting schools to open. It would only be for one month till term ends anyway. Is it really worth risking a second peak just for one month of education?"
Kimberley Russell said: "Not a chance!! My daughter won't be back until I feel it's safe!!"
Lesley Mason said: "Absolutely not! Kids CANNOT social distance.. Just ask anyone who works in the hubs!"
Michelle Brown said: "Children do not have the concept of social distancing, especially the younger ones. The staff would not be able to guarantee the safety of our children so I really don't see how it would work. I have a 4-year-old and I won't be sending him back until it is absolutely safe to do so, and I really don't think it will be without a vaccine."
Kazabelle Jane said: "Teachers have probably never worked harder. Social distancing will be impossible. Children may be safe but teachers, adults in the school (of which there are many) may not be.
"I agree it is not ideal but children's academic ability is not the issue, they will bounce back and in order to do so, schools need to be prepared. We cannot send them back and then have another lock down, this will be detrimental to all the work everyone is doing. When MPs go back then schools can start to think about it. A fresh start for everyone is needed in August, in my opinion, but it would be good to know asap."
Clare Smith said: "As much as its been hard these last 7 weeks and for those leaving nursery, P7 & S5 & S6 as they didnt expect to of left so early and not see their teachers or friends, I think for the sake of 1 month before the schools break up anyway, its better to keep them closed. Works places will just have to be flexible."
Grace Davidson said: "They should be off until the experts believe the infection rate is low enough for it to be as safe as possible, perhaps instead of sending them back too early they could bring forward the autumn term if it is safe enough in July."
Tracey Little said: "What do kids with high risk family members at home do when it's time to go back? What will be in place for them?"
Kate Calhoun said: "I worry about returning to teaching. Some teachers have underlying health issues that make them susceptible to the virus. Conditions like asthma paired with the virus can be deadly. The virus also does permanent damage to the lungs and heart, and we aren't sure if people are developing immunity after contracting the virus. There are so many unanswered questions, I think it would be prudent to wait to return to school."
Teaching 'doesn't have to be in school setting'
Fiona Sharkey offered another thought, stating: "Why are the media not picking up on the fact that our education system is currently in a diabolical mess. Local and national government are doing nothing to support head teachers. Schools are being left to figure this out on a teacher by teacher basis with mixed results and parents are increasingly struggling to motivate children to do anything at home.
"By now there should be systems in place to remotely teach children properly (instead of continuing to rely on external websites for the majority), with clear structure and expectations, identify those kids not engaging for whatever reason (if they need the tech, give them the tech) and get them back to school first to bring them up to speed with everyone else.
"With most private schools teaching remotely the attainment gap is looking increasingly like the Grand Canyon. By the time any structured teaching takes place kids will be all over the place, some will have lost the ability to sit in a class and learn anything while those who have been working at home for 5 months will then be bored stiff having to go over things they've always done. This is a complete disaster. Teaching does not have to take place in a school setting."
'Their education is vital'
Ian Munro said: "Schools probably not open until August but children should be going back then, been off far too long.They miss school and their friends and surely authorities can make it as safe as possible for them.Their education is vital and parents also need to get back to work."
Maria Witt said: "If you don't send your children to school, how will you get back to work?
Dar Ked said: "Life or death huh? Proper considered risk assessments, sensible planning and logistic is the start. The kids are demotivated and strugling as this goes on with no obvious end date, in the end its the unsupported or challenged children that will suffer the most. Let's see some resilence and a can do by all."
Drew Blane said: "I'd start the school holidays earlier than planned and send the kids back to school earlier than planned."
David Guild said: "Purely out of interest, am taking no sides on this, my grandchildren went back to school in Australia a couple of weeks ago and this is what they did:"It's very hard to social distance at school. When they were back the 1st week there was only 50% attendance so they were spread out in the classroom. By week 2 attendance is 83%.
"Parents aren't allowed through the school gates. And kids wash and sanitise regularly. Water fountains are shut, no assemblies and no sports and extra cleaners cleaning all day."I appreciate Australia was in a better position than us so this is purely for interest."