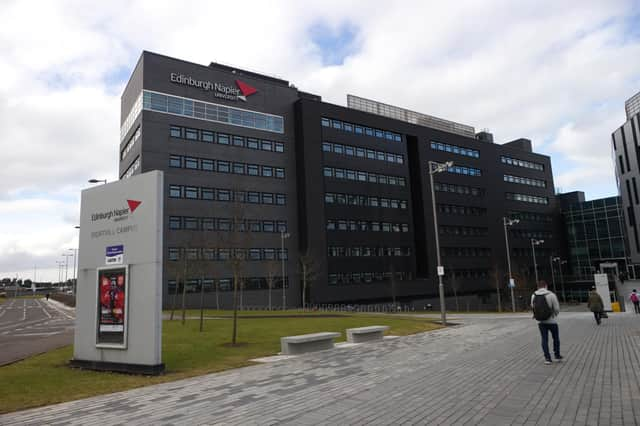 Edinbugh Napier became the second of the city's universities to announce planned job losses as the coronavirus pandemic continues to bite the Capital's educational institutions.
Up to 70 jobs, including seven academic posts, are set to go at the university as part of compulsory redundancy measures, with consultations already underway.
Pay and increment freezes are also part of the cost cutting measures for the rest of Napier's 1,600 staff, of which 750 are academics.
The union UNISON warned that the majority of the job losses will come from professional and support services, and claimed Napier could delay the "drastic" proposals until after "less toxic alternatives have been exhausted".
Lorcan Mullen, UNISON Scotland regional organiser, told the Evening News that Napier was "better placed" than other universities to deal with the crisis and said the union is preparing a ballot for strike action.
He said: "Napier manages its finances very stringently and went in to this crisis better placed than the vast majority of other Scottish universities - it is also far from the worst hit by the Coronavirus.
"It should not be the first Scottish university moving to cut jobs, and it should not be going to compulsory redundancies before alternative measures have been exhausted.
"UNISON is preparing a ballot for strike action in an effort to save members' jobs, but we attended a fairly constructive consultation meeting earlier today.
"We hope the University does the right, prudent thing & accepts our counter-proposal of waiting until student income is known and exploring fairer alternatives.
"UNISON is clear that the likes of cooks and porters should not be the first hit or worst hit in the universities crisis, and is prepared to take industrial action and campaign publicly to enforce that position."
In an email to staff last month, Kerry Dewar, the director of people services at the university, said the institution is facing a deficit of £3.5 million in 2019/20, in contrast to a predicted surplus of £6 million pre-Covid-19.
The university also faced a deficit of £14.8 million for 2019/20 which it says has been reduced to £5.6 million following the approval of a cost-cutting budget.
She said: "The main factors, all Covid-19 related, include the loss of significant income from student accommodation, due in part to us deciding to release our students from their contracts at the end of March, reduced tuition fee and commercial debt collections and cancelled summer conference and accommodation rentals.
"We are forecasting significant reductions in new international students, research and consultancy income combined with a substantial loss in conferencing, events and catering.
"To tackle the forecast loss in our income streams next year, actions taken at the start of lockdown will carry forward into next year. These include postponing all non-essential recruitment and controlling all non-pay expenditure rigorously."
A spokesman for Edinburgh Napier said: "Higher education institutions across Scotland are facing considerable challenges and serious shortfalls in their income as the effects of Covid-19 impact finances.
"Edinburgh Napier University has already taken significant steps to mitigate and minimise the predicted deficit next year and ensure our long-term financial sustainability. We now need to look at our staffing costs, which represent the majority of our expenditure.
"This will be done in a way that maintains our academic excellence and ensures we will continue to offer an excellent Edinburgh Napier student experience.
"We are working with our TU reps and colleagues in exploring all possible options to reduce the impact on staff numbers as much as possible.
"Talk of balloting for strike action seems premature, given that consultation discussions have to date been constructive, with the University prepared to consider trade union requests."