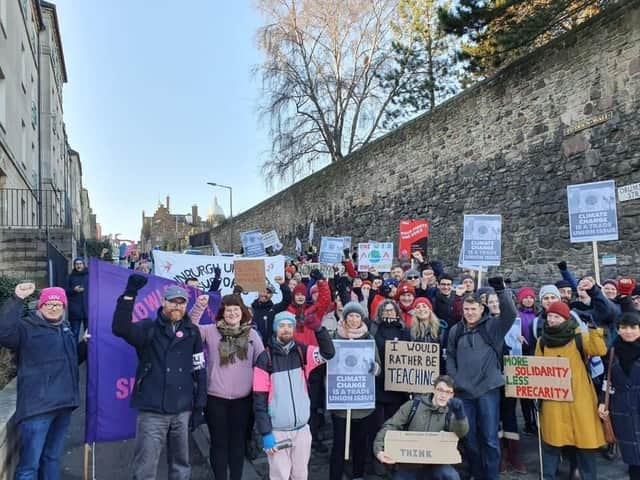 Picture of UCU Edinburgh (academics union) on strike earlier this year - for page 6/7
Students have been promised "at least some contact time with lecturers" each week by university officials and on-campus teaching is mandatory for academic staff.
Angry staff claim that this promise is bending the Scottish Government rules to "breaking point".
They believe that the decision to restart teaching has been driven by a desire to get cash from students and does not fairly consider the health and safety of teaching staff.
Head of University and College Union (UCU) in Scotland, Mary Senior, said the advice from the Scottish Government has been clear and most staff from Edinburgh University should be working exclusively from home.
The UCU represents 110,000 academic and related members in post-16 education across the UK, and is the largest union in the higher education sector in Scotland.
Ms Senior said: "The Scottish Government's clear advice for the vast majority is to work from home if they can, and coming on top of the recent Covid-19 cases on university campuses across Scotland, including in Edinburgh, we're clear that remote and online learning should be the default position.
Shocked by the university's "risky" decision, union representative and post-doctoral fellow at the university's law school, Dr Kevin McNicholl, surveyed university staff to gauge opinion.
The survey found that 68 per cent of teaching staff currently delivering classes on-campus believe their teaching could be carried out remotely.
Dr McNicholl said: "Scottish Government's guidance says the default should be working from home when you can and 68 per cent of our staff working on campus say their teaching can be done remotely.
"Most lectures are being broadcast so students who are self-isolating can attend. If they can learn remotely why can't all students? I do not understand how face-to-face teaching is not in breach of government guidelines."
Dr McNicholl added that many of the teaching staff have circumstances which mean they do not feel comfortable returning to the classroom as the number of cases continues to rise among the university populations.
This week, 125 positive Covid-19 cases were confirmed at university campuses across the city and NHS Lothian expects the number to continue to rise.
But academics who have asked for an exemption to teach on campus out of fear of rising cases have had their request refused and the university has not ruled out using disciplinary action against staff unwilling to teach on campus.
Dr McNicholl said: "Sixty-one per cent of staff say they feel anxious or very anxious about returning to teach and we have examples of vulnerable people at the university who have been refused requests to teach from home."
The institution's decision to restart on-campus lectures and tutorials has sparked threats of strike action from staff who say this is an "irresponsible decision".
The union has called for a halt to all face-to-face teaching for four weeks until health experts have been able to establish the impact of the students return to the city amid growing concerns about the spread of the virus.
Dr McNicholl said: "I think the university has approached the return to teaching as if it's a technical problem, there is a race going on between universities at the moment about who can return to normal first. The university seems more concerned with money from students than the welfare of the university population.
"They need to realise this is a moral choice and the health of the whole of the city is being put at risk."
A spokesperson from the university said: "The health and safety of all of our staff is of paramount importance. As we've been preparing for the start of the new academic year we have worked with staff and union representatives throughout the entire process. We have ensured that the return to teaching is as safe as it can possibly be and have adhered strictly to all public health and government guidelines."
Commenting on the findings revealed by Dr McNicholl, Ms Senior added: "The survey carried out by the UCU branch at Edinburgh university shows the high levels of anxiety amongst staff about the demands the employer is making to return to face to face teaching and working.
"We're urging the Scottish Government to clarify its guidance to universities, that all work that can be done remotely should be, and we'll keep negotiating with the employer on this serious issue."