Top students 'pulled down' as academic labels Scottish exam results moderation 'unfair' and 'arbitrary'
More than a quarter of pupils had their grade changed from teacher estimates by the SQA leading to heavy criticism from opposition politicians.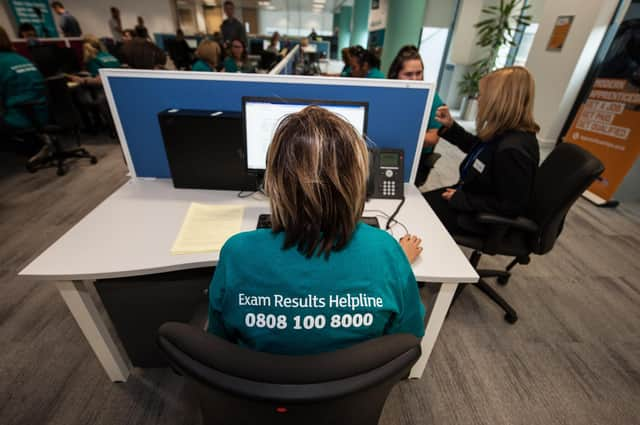 Exam results were released by the SQA yesterday
One of Scotland's leading education policy experts has labelled the SQA's moderation process around grades for 2020 "unfair" and "arbitrary" after more than a quarter of all grades were reduced by the exam board.
The comments come after Nicola Sturgeon and the Scottish Government spent yesterday under sustained criticism from opposition parties around the issue of exam results.
The University of Edinburgh's professor of education policy and one of the country's leading academics Professor Lindsay Paterson said the moderation process may have led to exceptional students losing out on top grades.
Nicola Sturgeon has been accused of failing a "generation" of Scots following the release of exam results
Criticising the use of historical data as a basis for moderation, Professor Paterson said: "The core of the SQA's methods is that each school's attainment is constrained to look more or less the same as it has been in recent years.
"So an outstanding student in an average school will be likely to have had their grades pulled down. This is very unfair.
"The approach is also unfair because students in small schools or in unpopular subjects will be less likely to have their grades adjusted than students in larger groups. That's totally arbitrary."
However, Fiona Roberston, chief executive at the SQA and Scotland's chief examining officer, rejected that assessment of the process.
Education Secretary John Swinney said the high number of grades which were moderated down was necessary to ensure the exam system was viewed as credible.
She said: "The relative historic attainment of a school was a feature of our moderation but there were flexibilities attached to that historic attainment which allowed for constraints to be attached to every grade for every course and that did allow for variation in attainment.
"I wouldn't accept the statement that has been made there because we were very aware, given the profile of entries for many subjects across Scotland that there were small numbers of entries in some schools and in some subjects and some inherent volatility as part of that.
"We were very conscious of the fact there were some subjects where there was some volatility. What we have tried to do is take an evidence based approach and the fact of the matter is some large subjects are more stable and some smaller subjects both at a centre level and nationally are more volatile because of the small numbers."
Yesterday, the First Minister was labelled as having "failed a generation of young Scots" by a senior Labour MP after parents and students reacted with shock to the scale of the moderation by the SQA.
More than a quarter of pupils saw their grades changed by the SQA from submitted teacher estimates with 124,565 grades being dropped by at least one grade.
Education Secretary and Deputy First Minister John Swinney said the moderation was necessary to ensure "fairness" across the examination system.
Overall, attainment has risen in Scotland with year on year rises of 2.9 per cent, 4.1 per cent and 5.5 per cent of those achieving grades A to C in National 5, Higher, and Advanced Higher qualifications, with Mr Swinney urging caution to those comparing 2020 with previous years.
However, the government was subject to fierce criticism about the fairness of the system which also saw the pass rate of pupils in the most deprived data zones reduced by 15.2 per cent compared to those from the most affluent backgrounds whose results dropped by 6.9 per cent compared to teacher estimates.
The SQA is understood to be standing by their methodology with the proof the system is working shown by a narrowing in the attainment gap this year and that results, higher than previous years, are what matters for pupils.
But Labour MP Ian Murray, the shadow Scottish Secretary said the moderation system by the SQA 'bakes in inequality'.
He said: "Nicola Sturgeon asked to be judged on her record in education, and she has failed a generation of young Scots. How can we improve the life chances of young children from the poorest backgrounds when the system bakes in inequality like this?"
Opposition parties in Holyrood rushed to criticise the government and Ms Sturgeon. The Scottish Conservative's education spokesman Jamie Greene questioned why teachers' estimates were not taken as accurate, while Labour education spokesman Iain Gray blasted the government for treating teachers "professional judgement with contempt".
Scottish Green education spokesman Ross Greer labelled the situation around moderation "frankly disturbing and grossly unequal" and urged parents to appeal through the SQA's free appeals process, while Lib Dem education spokesperson Beatrice Wishart labelled the communication a "trainwreck".
Scotland's biggest teaching union, the Educational Insititute of Scotland, said the new method of assessment had created "substantial additional workload" for teachers.
General secretary Larry Flanagan congratulated students and teachers on the results, and encouraged schools to use the appeals system.
He said: "The new method of assessment for this year's qualifications, based primarily on teachers' professional judgement, placed substantial additional workload and new pressures on teachers across the country. Scotland's teachers rose to the challenge to protect the best interests of young people.
"Schools will wish to examine in detail the impact of the SQA's statistical modelling on their results and where there is disquiet the evidence based appeal system should be utilised, in the endeavour to ensure that all young people receive results that accurately reflect their achievements throughout the year."
Ms Sturgeon rejected criticism of the system and said that the credibility of the results was what "matters" and that moderation was done to ensure they were not "so out of sync" with previous years.
At her daily briefing yesterday she said: "What matters to the government and what matters to young people is the credibility of the results.
"What we want to make sure is that this year's results have the degree of credibility which means they are not so out of sync with previous years that people are going to look at them and say they don't make any sense.
"As much as I would to be in the position of standing here credibly saying that 85 per cent of the 20 per cent of the most deprived areas, given that it was 65 per cent last year, that would raise a real credibility issue because you would then be asking what explains that 20 point increase in the space of one year.
"This is about the credibility of the results that young people have so that young people, and I believe this is the case, sitting there today can have confidence that that is a credible and well-earned result that you can hold your head up high and feel as proud this year as you would have done had it been last year, and that is the credibility that matters."
A message from the Editor:
Thank you for reading this story on our website. While I have your attention, I also have an important request to make of you.
The dramatic events of 2020 are having a major impact on many of our advertisers - and consequently the revenue we receive. We are now more reliant than ever on you taking out a digital subscription to support our journalism.
By supporting us, we are able to support you in providing trusted, fact-checked content for this website.
Want to join the conversation? Please or to comment on this article.