Survey shows students in Edinburgh and Glasgow face the highest cost of living in the UK
Students in the two cities also had the lowest average monthly incomes
Students in Edinburgh and Glasgow face greater financial pressures than their counterparts in the rest of the UK, a new study has found
The two cities had both a higher cost of living for students than other cities, and the lowest average monthly income, with Edinburgh worse than Glasgow on both counts.
The finding is contained in the latest NatWest Student Living Index, compiled from surveys of 3,052 students to determine the most affordable place to study.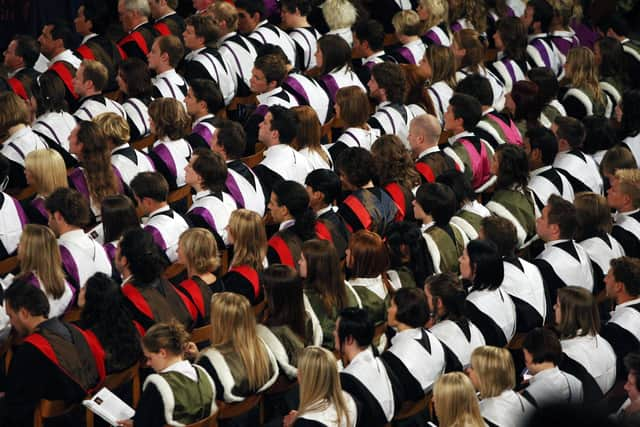 For the second year in a row, Edinburgh topped the cost of living index, which takes into account how much students spend on going out and the income they earn from part-time work.
Edinburgh and Glasgow were the only Scottish cities included in the study, alongside 19 others across England and Wales.
Figures for cost of living are calculated by taking average monthly living and accommodation bills and dividing it by average monthly income.
The study found that rent has increased by an average of 30 per cent for students across the country, with the national average monthly rent now at £591.90.
London is the most expensive city for students to rent, with an average cost of £840.30 per month.
Across the UK, close to half of students run out of money before the end of the semester, the surveys found,
Spending at supermarkets continues to be the second biggest outlay for students, after rent, jumping by 44 per cent since last year to £109.57 each month.
In Edinburgh, the survey found that students have a monthly term-time income of £1,453, the lowest of all the cities ranked, while their total monthly spending stands at £1,072.61.
The Scottish capital was also the only city which has seen an increase in the part-time working hours of students when compared to 2022.
NUS Scotland president Ellie Gomersall said: "This report shows that students in Scotland are being hit the worst by the cost-of-living crisis, they are skipping meals and not seeing friends just so they can pay the rent.
"For several years now, the cost of living – particularly student rent – has significantly increased while student support payments have simply not caught up."
In contrast to Edinburgh, Bournemouth tops the list of UK cities as the most affordable, taking the top spot from Cardiff.
Nine in ten students said they had made changes to their lifestyle in order to live within their budgets.
The proportion was as high as 96 per cent in Glasgow, Bournemouth and Cardiff.
One in five students had considered leaving or ending their course early due to financial difficulties, while 29 per cent said it was a concern for them.
Jaimala Patel, head of NatWest Student Accounts, said: "An increased reliance on student loans and double digit increases in spending on food shopping and rent is having a real impact on student finances.
"There are some reassuring signs that students feel far more comfortable budgeting than in previous years, and they are taking steps to live within their means."
Comments
 0 comments
Want to join the conversation? Please or to comment on this article.