Students should never have been let back in mass numbers, says health expert
Students should not have been allowed into university halls across Scotland in the mass numbers of recent weeks, a leading public health expert has said.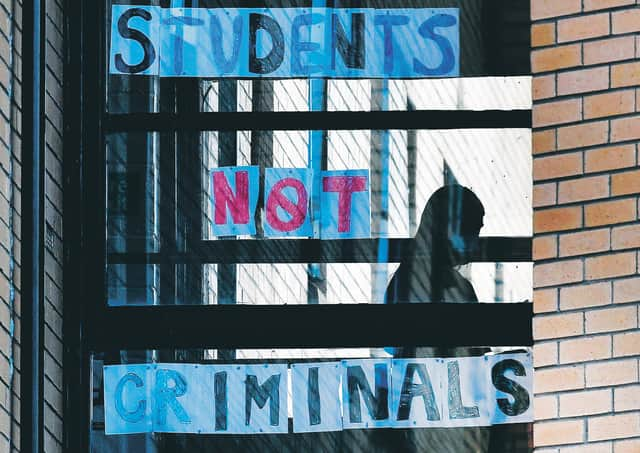 A message left at Glasgow University's Murano Street residences.
But university education must continue in Scotland the country needs to "get a grip" despite concerns over spiralling coronavirus numbers driven by students' return, according to Professor Linda Bauld of Edinburgh University.
The current ban on students visiting their families has been branded "completely unacceptable" by the academic, who warns there may need to be an even greater shift away from face-to-face teaching.
The surge in coronavirus cases in the country's student population since term began a few weeks ago is believed to be behind about half of all cases across Scotland, which reached 714 yesterday, 156 more than Friday's figure. The daily total is the highest number of cases confirmed in a day since mass testing began. Scotland's National Clinical Director Jason Leitch said the pandemic was now "accelerating" in Scotland. Outbreaks have been reported in student halls in Glasgow, Edinburgh, Dundee and Aberdeen.
This has prompted widespread criticism of the Scottish Government over shortfalls in testing and failing to predict the danger after similar outbreaks in universities globally.
It has resulted in a new crackdown across the country's campuses this weekend, with students told not to go to pubs or other hospitality venues. A ban on any kind of socialising outside their immediate circle – including a ban on returning to family homes for many first year students as young as 17 – has been controversial
"We knew that universities returning would be a challenge," Bauld told Scotland on Sunday.
"I think the big problem from my perspective has been perhaps too many of them returning than perhaps needed to be the case."
The academic said she has personally heard from students and their parents and many are "very distressed" over the stringent measures.
"On the other hand, we can't lock up society for another six months," she said.
Many students would have been left without any prospect of work and "nothing to do" if universities had shut down completely, she added.
"We need to get a grip a bit actually and say we do need to keep education going.
"But we're going to need to have a management plan for the halls of residence if they remain there and then we have to focus on as much online learning as we can."
High-profile institutions in the United States, the University of North Carolina, the University of Notre Dame, were forced to close down just weeks after reopening as Covid cases took off with many outbreaks linked to halls of residence.
Opposition leaders criticised the Scottish Government over the failure to ensure student walk-in testing centres on campuses were up and running across the country in time for the new term. Only those at Glasgow and St Andrews are so far operational, although further centres are poised to open in Edinburgh, Stirling, Aberdeen and Dundee.
"The testing has not been sorted out," Bauld continued.
"The walk-in testing centres were set up too late. We don't have enough home kits to send to them.
"It's not just a single test, we should have had, particularly for international students, repeat testing. So testing on arrival and testing a number of days later. That would have helped hugely and that hasn't been in place."
The Scottish Government is currently reviewing its rules, which prohibit students from returning to the family home amid growing concerns about the impact of self-isolation on many youngsters being away from home for the first time.
Bauld added: "There needs to be sector-specific guidance on household mixing for students. I think it's completely unacceptable to say that students can't return to their homes, particularly younger freshers who are 17 or 18.
"I know the Scottish Government have said they are going to look at that, so we need guidance on that ASAP.
"In terms of telling them not to go to pubs, I think the majority of them can probably cope with that for the weekend, that's not actually that big an ask, but we'll have to see how long that is in place."
If the current outbreak on campuses isn't brought under control, it is likely an online teaching model, which already applies to many courses, might have to be extended even further to avoid face-to-face contact though many courses, like parts of the medicine curriculum, require students to be present.
Bauld added: "I do think that we would have to move to a much stronger blended learning model."
Want to join the conversation? Please or to comment on this article.