SNP urged to deliver sustainable funding for colleges as research finds they are worth £52bn to the Scottish economy
Study by Fraser of Allander Institute says colleges are 'fundamental' to nation's prosperity
SNP ministers have been urged to finally deliver sustainable funding for Scotland's struggling colleges after a new analysis found they are worth £52billion to the nation's economy.
Pressure for a new deal for the sector intensified as a study by economists at the Fraser of Allander Institute concluded the 24 colleges were "fundamental to the prosperity" of Scotland, as well as being "crucial" to meeting Scottish Government objectives.
The experts said the "anchor institutions" generated more "value added" in the economy for money spent than almost any other sector.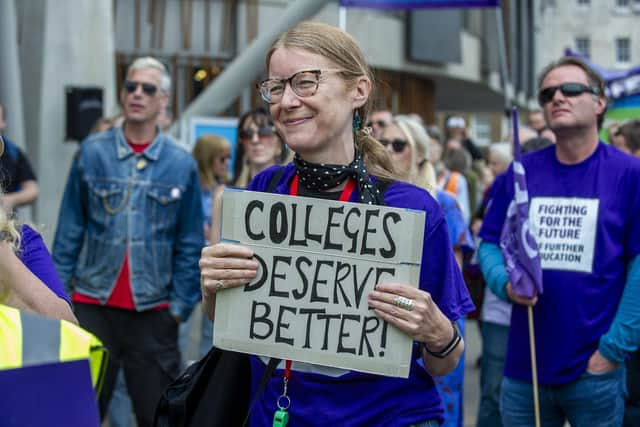 The research, commissioned by College Development Network (CDN) and Colleges Scotland, has emerged amid growing concern at the state of college finances.
The Scotsman recently revealed figures showing funding has been slashed by more than 10 per cent in just two years, before the impact of inflation is considered.
Industrial relations are also strained to breaking point, with lecturers and other staff striking over pay amid anger at controversial job-cutting plans.
The Fraser of Allander Institute report found the 2021/22 college graduation cohort would make the Scottish economy £8bn better off, with each graduate boosting productivity by the equivalent of £73,000.
The overall uplift in productivity they will contribute was estimated to support more than 31,000 full time jobs across the Scottish economy.
After assessing the impact of the college graduation cohort between 2016/17 and 2021/22, it was found this larger group would boost the Scottish economy by £52bn over their working lives, compared to a scenario without them.
And these graduates would also help to support the equivalent of an additional 203,000 full-time jobs in the economy, over their working lives.
In the same period, the Scottish Government's investment in colleges would be worth less than a quarter of what it would get back in revenues, and just 8 per cent of the boost it would give to GDP.
Professor Mairi Spowage, director of the Fraser of Allander Institute at Strathclyde University, said: "This research demonstrates the important and unique contribution that colleges make to the skills system and the Scottish economy overall.
"The analysis in this report highlights the value that skilling up the population – which leads to income and productivity gains – can have in the long-run, and the longer-term benefits this can bring to economic growth and government revenue.
"Interestingly, the study also highlights the role that colleges play in bringing educational opportunities to those from diverse backgrounds and across all parts of Scotland. Colleges are an important part of reducing inequalities in Scotland."
It said: "This includes the continual provision of highly skilled and experienced individuals to boost the overall skills of the Scottish workforce, but also through their widening access goals to make education more accessible to under-represented groups in society and breaking down barriers to education."
The report found that around half of Scotland's colleges are located in areas with relatively high deprivation when compared to other areas of the country.
It highlighted the "opportunities" colleges provide to close the attainment gap, with 95 per cent of people from the 20 per cent most deprived areas reaching a positive destination once leaving college, the same share as those from the nation's most affluent areas.
The role of colleges in providing opportunities for individuals to pursue further and higher education was also said to be evident for those from more deprived areas.
In 2021/22, there were around 5,600 first-degree entrants by Scottish-based students from the most deprived areas of the country, following a rise of about 40 per cent since 2015/16.
Of these students, 46 per cent entered university for their first degree through college routes.
Marie Hendry, chief executive of CDN, welcomed the report, saying it was commissioned by CDN and Colleges Scotland to "evidence the critical value our colleges make to Scotland's economic wellbeing".
She added: "The report underlines the value and importance of our colleges in helping learners from all backgrounds achieve their potential.
"The study shows that colleges are uniquely placed in providing access to further and higher education for everyone.
"The high-quality learning and teaching that colleges provide equip their learners with the skills to fulfil their potential, enrich their communities and contribute to regional prosperity.
"Colleges use digital innovation, knowledge exchange and industry partnerships to enable the development of a skilled workforce that is supporting the economy and helping to deliver the National Strategy for Economic Transformation."
Shona Struthers, chief executive officer of Colleges Scotland, said: "Colleges create wealth in the Scottish economy, pure and simple.
"This research comes soon after Audit Scotland warned that investment in colleges has dropped for colleges by 8.5 per cent over recent years."
She added: "Funding is falling for 24 colleges in Scotland – doing more with less year-on-year isn't viable any more. I hope this study drives home the need for sustainable, stable investment in the college sector.
"Society can't function without skilled people working in construction, in cyber security, in hospitality and across creative industries - college graduates truly are the lifeblood of Scotland's workforce and economy, and when colleges thrive, Scotland thrives."
A Scottish Government spokesperson said: "College graduates make a profound contribution to the Scottish economy and undertake a range of roles in skilled areas.
"We recognise the crucial role that colleges play in supporting the Scottish economy, which is why we have allocated £787m in funding for 2023/24, despite the unprecedented financial challenges facing government.
"The college sector's resource budget has been increased by over £168m since 2012/13."
Comments
 0 comments
Want to join the conversation? Please or to comment on this article.