Scottish school teacher strikes suspended as union recommends acceptance of new pay deal
Teachers are to suspend the strike action which has closed schools across Scotland after unions recommended members accept a new pay offer.
The Educational Institute of Scotland (EIS) union announced on Friday evening that it would ballot its members on the new offer, suspending all planned industrial action in the meantime.
The new deal offers a 7 per cent increase with effect from April 1 last year, with a further increase of 5 per cent from April 1 this year, and further increase of 2 per cent from January 1, 2024. It was described as "historic" by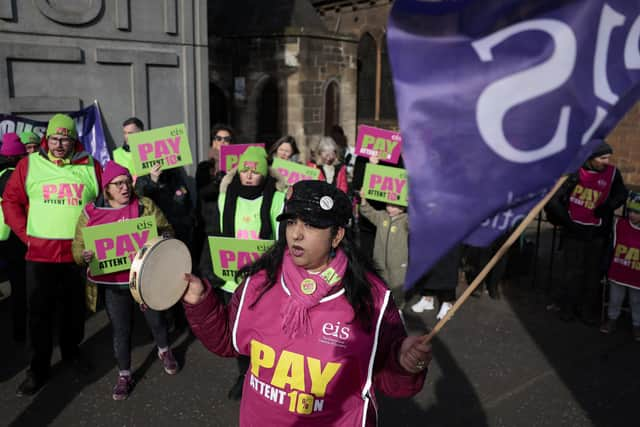 EIS General Secretary Andrea Bradley said, "The view of our negotiators is that this deal represents the best that can be achieved in the current political and financial climate without a much more prolonged campaign of industrial action.
"It is through the determination and collective action of teachers and associated professionals across Scotland, led by EIS members, that we have improved this pay offer from an initial 2 per cent for the current year to 7 per cent for the current financial year, with additional increases of 5 per cent and then 2 per cent within the following financial year. This will result in the majority of teachers seeing a 12.3 per cent increase on their current rate of pay by April of this year and by 14 per cent by January 2024."
The deal was struck as more strikes loomed across Scotland. The EIS had been set to walk out in the constituencies of some Scottish Government ministers, including First Minister Nicola Sturgeon, next week as part of their pay campaign.
Twenty days of rolling strikes had then been planned by the EIS across Scotland, targeting every local authority between March 13 and April 21.
The Scottish Secondary Teachers' Association (SSTA) and the NASUWT are also involved in the dispute. The SSTA said it would put the new offer to members next week.
The Association of Headteachers and Deputies in Scotland cancelled its planned participation in further strikes after a majority voted in favour of accepting the last deal put to unions.
Reacting to the move by the EIS, Ms Somerville said: "This will end the disruption to learning for our children and young people particularly in the run up to exams.
"We have worked closely with the unions to compromise and have arrived at a deal which is fair, affordable, and sustainable for everyone involved. The Scottish Government is supporting this deal with over £320 million of funding this year and next.
"I would urge teaching union members to accept this historic pay offer which would see teacher pay increase by 33 per cent since January 2018.
"This is the best and final offer possible and recognises the invaluable contribution teachers make to the lives of our children and young people."
A special meeting of the EIS Salaries Committee, comprised of teachers from across Scotland, took place on Friday and it was unanimously agreed to ballot members on the new offer. The Committee also agreed to recommend that members vote to accept the new pay offer.
Subsequent to the decision of the Salaries Committee, a special meeting of the EIS Executive Committee agreed to suspend all planned industrial action while members are consulted on the offer. The online ballot runs until March 10.
Comments
 0 comments
Want to join the conversation? Please or to comment on this article.