Scottish pupils risk being punished for schools' past failures
A row has erupted over the awarding of qualifications to Scottish schoolchildren this summer after the national exams body said it would "moderate" results based on the performance of previous students.
Fears are growing that pupils could see their grades lowered if their school has a previously poor academic record, despite the Scottish Qualifications Authority claiming the process would maintain "the integrity and credibility" of the system.
The SQA was forced to develop a new system to grade pupils after all examinations were cancelled in the wake of the coronavirus lockdown.
However its plan to "moderate" teachers' estimates of grades, "to ensure consistency across schools and colleges and with results from previous years", has drawn criticism, with concerns that it could further disadvantage poorer pupils.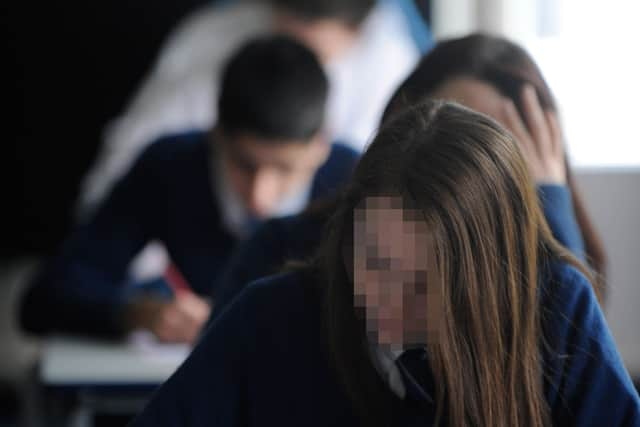 SQA chief executive Fiona Robertson yesterday said the aim was to get results to pupils by 4 August. She said: "Schools and colleges will provide us with their estimates of the grades, bands and rank order for each learner, for each course at National 5, Higher and Advanced Higher.
"We will then check and validate that information. We will moderate it, if necessary, to ensure consistency across schools and colleges and with results from previous years.
"We will use the information from these estimates, in addition to prior learner attainment. We will also look at schools' and colleges' previous history of estimating and attainment in each subject and level. We may moderate these estimates, up or down."
However last night Scottish Greens education spokesman Ross Greer said the SQA must "ensure pupils are not penalised on the basis of poor exam results from previous year groups at their school".
He added: "The SQA had a month to produce this document, yet it creates far more questions than it answers.
"I am seriously concerned that a grading model which judges pupils not only against others in their class but against the previous performance of their school will grossly disadvantage young people in our most deprived communities in particular. In no other year have Scottish pupils been awarded grades based on how well others in their school did in years before.
"I posed dozens of questions to the SQA nearly a month ago, so it's incredibly frustrating that today's announcement of supposedly detailed guidance answers so few of them."
The SQA has announced a free appeals service in light of predicted concerns about results. But Scottish Labour's education spokesperson Iain Gray said: "We have been arguing for years for a return of a proper, free appeals procedure – not just a one-year response to crisis.
"We have had to wait too long for full guidance on how awards will be made in place of exams. The focus on teacher assessment is right, but there are questions about the appropriateness of using a school's previous performance to overrule teacher judgment."
The Scotsman understands teachers will be asked to "rank" pupils in order of whom they are most confident would secure the grade they are estimating they should receive while SQA "moderation" would ensure a level of "consistency across centres".
But there are concerns that "moderation" based on previous year group exam results might be influenced by past successful appeals, which are costly and mostly used by private schools.
Larry Flanagan, general secretary of teachers' union the EIS, warned against "compromising" teachers' judgments.
He said: "The EIS has a clear view that the exercise of professional judgment by teachers is a sound basis for making this year's awards, which should not be compromised by additional pressures from any source."
However education secretary John Swinney praised the SQA, saying: "I am confident that they can deliver this vital role to ensure learners' achievements are recognised in these unprecedented 
circumstances."
Barry Black of research centre Urban Big Data, which specialises in education, said the the use of historical attainment data for statistical adjustment by the SQA "would seem to further disadvantage already disadvantaged pupils."
He added: "Young people's results may now be determined by the results of past cohorts. This policy is a further hurdle for disadvantaged pupils in Scotland. Under these criteria, a teacher awarding a top grade to a pupil in a school with below average attainment is more likely to have that challenged by the SQA than if they are in a school with higher average attainment. That cannot be fair. "
Comments
 0 comments
Want to join the conversation? Please or to comment on this article.