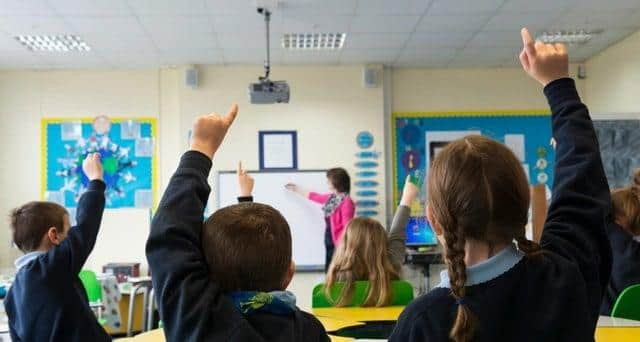 Usual transition sessions for P1s have been scrapped due to coronavirus in some council areas.
Instead, she is worried that she will collect an exhausted and overwhelmed child at the end of a long day in a brand new place after her usual gradual transition into school was ditched due to the coronavirus outbreak.
The five-year-old's planned transition sessions at the end of last term when she would have met her teachers and classmates and spent time in the building where she will learn for the next seven years were cancelled due to lockdown.
"We understood that these things couldn't go ahead because we were in the middle of a pandemic," says Ms Keddie, who lives in Kirkliston, near Edinburgh. "But we hoped there would still be some kind of proper transition."
Malissa Holland's daughter Eseela is starting school this week.
However, last week, parents of youngsters starting P1 in schools in the Edinburgh City Council area were told that even the provisional plans put in place by the school at the end of last term - for short days, building the children up to their first full week - would be scrapped.
And like children returning to older year groups in the school, they would instead attend one full day on either Wednesday or Thursday this week, dividing the class by surname - and then all together on Friday.
Eilidh, like most young children, has been at home with her family since lockdown began over five months ago and her parents are concerned that a full-on start to school may be too much for her.
Ms Keddie said: "We just don't feel that our children can cope with a full day at school, with a brand new building and a new teacher. They are being thrown in at the deep end. We have to remember that they are just little kids and they have been through a lot in recent weeks. They haven't had this kind of formal structure for almost six months, even the children who have been at nursery."
In most schools. following council and Scottish Government guidelines, only one parent is able to drop P1 children at their classroom door and, unlike previous years, parents of new children will not be allowed to enter the classroom with their offspring for the first time in a bid to reduce risk of infection from coronavirus.
Ms Keddie said: "My husband had taken a half-day from work for us to be able to take her in together. We had wanted it to be a special day. We can't allow a five-year-old to have to decide which of her parents she wants to take her into school for the first time - it's not fair."
While schools in some council areas, such as Fife, have held socially-distanced transition sessions, allowing youngsters to be introduced to their new classroom and teacher in small groups, most have not.
At Eilidh's school, staff sent a video, introducing children to their new teacher, in lieu of the six days they would have spent looking around their new school building - however other schools have not held any kind of transition sessions.
"It was quite a sad video," said Ms Keddie. "The teacher was going around an empty school with a video camera, saying 'This is where you will pack your bag, this is where you will hang your coat', but it wasn't the same."
Malissa Holland's daughter, Eseela, 4, will not have met any of her classmates or teachers at Edinburgh's Gilmerton Primary School before she starts school on Wednesday.
"They have had little contact with any other children for five months and then they're going straight into school for full days," she said. "E is quite a confident, bubbly little girl, but this just seems very difficult and for any child who is shy or anxious, it will be even more so. It just feels like we're dumping her in a classroom full of strangers."
Eseela has been sent a picture of her new teacher, but as she attends a private nursery, she has not met any of her classmates.
Ms Holland said: "We've managed to get together as parents in a Facebook group and we have a playdate with a few of them the day before they start, but it's not ideal. It's not the school's fault, it seems to be a council decision."
Sue Palmer, chair of the Upstart Scotland campaign, said: "The most important thing when they go to school for the first time is their wellbeing and feeling comfortable and enthusiastic - and shoving a little kid into school for five hours on their first day, especially in these circumstances, is very difficult. Starting school is such a critical thing and we need to be putting the children's needs at the centre of this."
She added: "It seems to be Edinburgh Council which is the centre of all this, a lot of other local authority areas have put some transition in place."
Tracy Heraghty from Giffnock in East Renfrewshire, is concerned that few plans have been made at Our Lady of the Mission Primary School in Thornliebank for her P1 son, James, who has additional support needs due to delayed speech.
She said: "They did have a session where he could go in with a small group of his nursery friends at the end of last term, but it had been so long since he had seen even his nursery teacher due to lockdown that he was very anxious and almost didn't go in," said Ms Heraghty, who has tried to apply for James's school start to be deferred until next year, but had her request turned down by the council.
"I have contacted the council and the school, but it is not clear how they are going to be able to report to me to keep on top of how he is doing at school when he can't tell me.
"He finds it very difficult to communicate, especially outside of the home, He is just expected to wander into a school which he has hardly been in, which is difficult for any child, but for a child who can't communicate, it is particularly difficult."
Ian Perry, education convenor of Edinburgh City Council, said: "This year our usual transition plans and experiences for P1s have had to be adapted due to the pandemic so our schools and nursery teams put together a creative online resource based on the children's book 'We're going on a Bear Hunt'. This involved six weeks of activities for all new pupils which took place over May/June so they had shared experiences for starting school.
"We've changed the reduced timetable for the first week as we've had to take into account several different factors this year such as bringing the children into school in smaller groups, siblings attending on the same day to support working families and giving new children sufficient time to become familiar with their new school and environment."
He added: "We do have targeted plans in place to meet the needs of individual children, where required. We fully understand some parents may have worries over their child's transition and in these cases they should contact their school to discuss alternative arrangements."
An East Renfrewshire Council spokesperson said: "We have worked hard to support all of our pupils during these challenging times, with a wide range of measures put in place. Transition sessions were organised for all primary one pupils before the summer break with nurseries and schools working closely with children and families with additional needs to support their next steps in learning. We would urge any parents who wish to discuss specific matters about their child to speak directly with the school, who will be able to provide the required support."