Scottish Government makes new pay offer to teaching unions with £156 million of additional funding
An improved pay deal for Scotland's teachers will mean most will see their salary rise 11.5 per cent in April, the Scottish Government said last night.
The deal – the fifth offered to unions – would mean an overall increase of more than £5,000 over two years for the 70 per cent of classroom teachers who are at the top of their main grade pay scale, and would bring the starting salary for a fully qualified teacher to £37,719.
The new offer means 6 per cent for all staff earning up to £80,000 from 1 April 2022, and an additional 5.5 per cent from 1 April 2023. It will now be put to unions.
Education Secretary Shirley-Anne Somerville said: "Teachers make an invaluable contribution to the lives of our children and young people. This significant offer, if accepted by unions, would see teacher pay increase by almost 30 per cent since January 2018.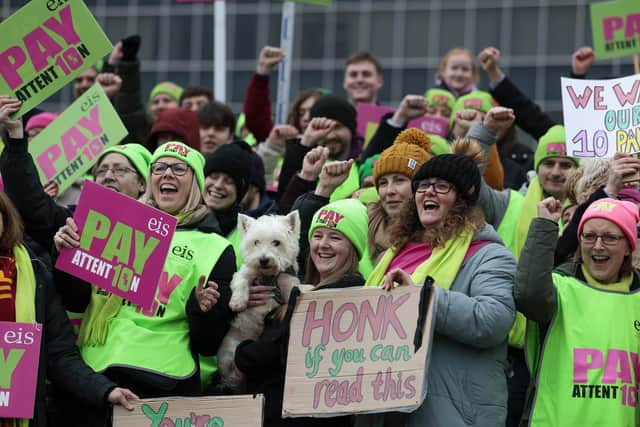 "While union demands for an in-year 10 per cent increase are unaffordable within the Scottish Government's fixed budget, we have looked for compromise and we have arrived at a deal that is fair, affordable, and sustainable for everyone involved.
"The Scottish Government is supporting this new offer with additional funding of £156 million. This is on top of the £50 million that we have already provided to local authorities in support of an enhanced pay offer for teachers.
"The offer is being made at a time of extraordinary financial pressure on the Scottish Government budget. Difficult decisions will have to be made to free up the required resources. This reflects our commitment to reach a fair agreement and avoid further disruption to children and young people's education.
"I have written to the unions asking that their members are given the opportunity to consider this new offer, which is the fifth to be tabled. While they do so, I have asked that they suspend any planned industrial action. This would minimise any further disruption to learning, particularly in the run up to the SQA exam diet."
Cosla's Resources spokesperson Councillor Katie Hagmann said: "Given the funding assurances received from the Scottish Government, leaders have agreed to submit a revised offer to the Trade Unions tonight.
"Cosla Leaders are clear that it is in all of our interests, not least those of children, young people and families, to conclude the teachers' pay negotiations as quickly as we can to bring back stability and certainty in our schools."
Schools have been disrupted by teacher walk-outs frequently since November, with further strikes due to take place on February 28 and March 1. The EIS plans 20 further days of rolling strikes across all local authority areas from March 13 until April 21.
Comments
 0 comments
Want to join the conversation? Please or to comment on this article.