A secondary school has closed off more than 20 rooms following the discovery of a potentially dangerous construction material.
Parents and pupils at Preston Lodge High School in East Lothian have been told to expect "inevitable disruption" as structural surveys continue.
The move follows inspections of the same type of "reinforced autoclaved aerated concrete (RAAC)" recently found in roof slabs at the Brunton Theatre in Musselburgh, which has since been closed for performances pending repair work.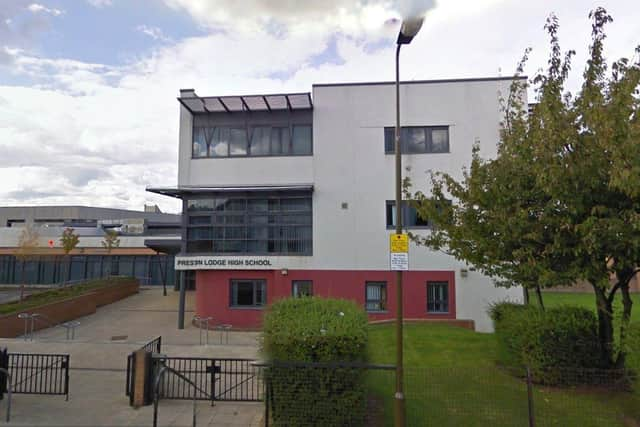 The UK Government has called for checks to be carried out into the use of the material in schools, warning it is "much weaker" than traditional concrete, raising the "risk" of sudden or gradual structural failure.
East Lothian Council is believed to be ahead of many other authorities in carrying out assessments of public buildings for RAAC. But fears are growing that repair work across Scotland could cause significant disruption to pupils, and have a huge impact on stretched council finances.
At Preston Lodge High, in Prestonpans, the PE hall and games hall have been closed, as has the maths "gallery" corridor and the three adjoining classrooms, the top floor of C block, covering modern languages, business/IT and RME, and the top floor of the art and science block.
In a letter to parents, head teacher Gavin Clark said: "Although we do expect some disruption, we will minimise the impact on learning by invoking our business continuity plan. Because there are only three year groups in school at present, due to SQA exams, we have sufficient room capacity to ensure learning can continue in other parts of the school.
"Staff are now working to put these arrangements in place, including some necessary timetabling adjustments."
He added: "While survey work at Preston Lodge has already started, it is clear, following discussion with the contractor, that temporarily restricting access to some parts of the building will enable inspections to be carried out efficiently and effectively.
"Carrying out these inspections to establish the extent to which any RAAC was used in the construction of the building will provide us with important information, and support the continued health and safety of all our students and staff.
"I do appreciate there will be some inevitable disruption, but I am confident we can keep that to a minimum, because there are fewer students in school at present."
RAAC was used in schools, colleges and other building construction from the 1950s until the mid-1990s. The UK Government has said that if authorities are unsure of the date of construction and any modifications, they are advised to assess all buildings thought to be constructed between the mid-1930s and mid-1990s.
Local councillor Lachlan Bruce said: "Having to close rooms at school to make investigations around the safety of the RAAC in the school is obviously bad news for the students at Preston Lodge.
"Luckily disruption is currently being kept to a minimum, with students out of the school for exams helping around capacity. But obviously we need this situation to be sorted quickly, safely and as efficiently as possible so that the education of our young people isn't affected."
The Conservative councillor for Preston, Seton and Gosford added: "This is the second building in East Lothian to be affected by RAAC and if this problem continues to grow, not just here, but across the country, then I think the issue of making the necessary repairs and replacement of buildings will require Scottish Government assistance."
RAAC panels were generally precast offsite and used for flat and pitched roofs, eaves, floors and walls within building construction.
In 2019, the independent Standing Committee on Structural Safety (SCOSS) raised an alert highlighting the failure of a RAAC panel roof construction within an operational school.
The material has low compressive strength, being around 10-20 per cent of traditional concrete, and is also "very porous and highly permeable".
A spokeswoman for East Lothian Council said: "East Lothian Council, in common with other local authorities across the UK, has actioned structural surveys to be undertaken of buildings constructed during the mid-1950s to early 1980s to assess possible use of RAAC precast concrete materials.
"In order to facilitate these surveys, some parts of the building have been temporarily closed.
"Head teacher Gavin Clark and his staff have put in place alternative arrangements to ensure the continuation of education provision, including the current SQA exam timetable, while more detailed survey work is carried out."