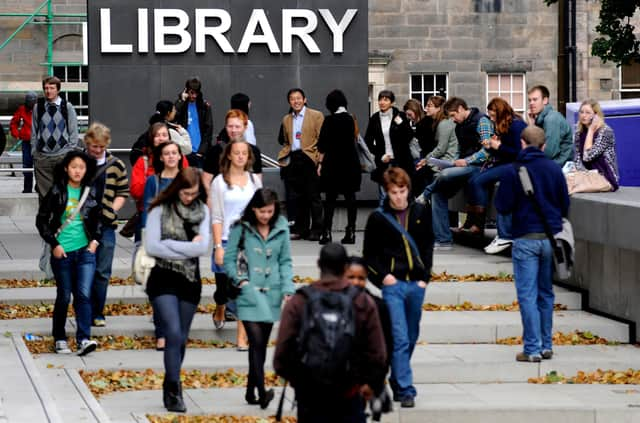 The prospect of Scotland rejoining Erasmus despite Brexit is "doubtful", warn academics
Nicola Sturgeon labelled the decision by the UK Government to ditch the scheme as "cultural vandalism" while Scottish Greens education spokesperson Ross Greer described it as "a pointless, spiteful move from British isolationists".
Ending the scheme means students from other European countries will no longer be able to easily work or study in the UK as part of their education with the same barriers facing British students on the continent.
Announcing the Brexit deal with the EU, Boris Johnson said the UK was losing out financially on the initiative and unveiled a new "Turing" scheme replacement for British student.
However, speculation around whether Scotland could join the scheme without the agreement of the UK Government has grown after the Irish Government announced it would fund the scheme for Northern Irish participants.
But whether Scotland and potentially Wales would be able to join the scheme was described as "doubtful" by one of the leading academics on the topic.
Paul James Cardwell, professor of law at the University of Strathclyde, said there are "considerable barriers" to Scotland rejoining the scheme without the UK's blessing.
In a Twitter thread, Professor Cardwell states that the fact Erasmus is governed by an international regulation covering exactly how it works, including funding, meant it was difficult for Scotland to re-enter legally.
He said: "Since a bilateral, legal agreement is required, this reveals several barriers for Scotland or Wales in 'rejoining' Erasmus. The lack of competence of the devolved governments to enter international agreements is thus a major hurdle."
Prof Cardwell added that the requirement for a financial contribution plus the fact immigration – which would cover students – is a reserved matter would add further barriers.
He said: "Even if this could be overcome, there would need to be a financial contribution by the Scottish Government (I defer to others on how this might work and whether permitted). There are some other barriers to full participation of Scotland/Wales that spring to mind.
"Immigration is not devolved, therefore incoming students (a vital part of exchanges) would need to apply for UK student visas. These do exist already for non-EU exchanges (or non-EU citizens coming from EU unis) but cost £348 and involve paperwork.
"Scottish/Welsh university students would also face immigration hurdles at their destination (which would vary from place to place). Potentially meaning lower take up of places (?) and administrative hassle, with uncertainty over rights and costs.
"In short, I am doubtful that Scotland or Wales could rejoin Erasmus unless the UK govt was conclude a bilateral agreement on their behalf. This is unlikely I would have thought as it undermines the new 'UK wide' Turing scheme."
Non-EU states such as Norway, Iceland and Liechtenstein are able to participate in Erasmus as is Switzerland but all required a bilateral agreement between the EU and their governments.
A message from the Editor:
Thank you for reading this article. We're more reliant on your support than ever as the shift in consumer habits brought about by coronavirus impacts our advertisers.
If you haven't already, please consider supporting our trusted, fact-checked journalism by taking out a digital subscription.