Jenny Gilruth's comments came as unions raised concerns about pupil behaviour in recent months after a number of violent videos surfaced on social media.
Addressing the NASUWT Scotland conference in Aberdeen, the recently appointed minister said the conduct was "unacceptable" adding: "The graphic videos that we've seen in the press in recent times… are completely unacceptable, but we need to recognise that our schools are dealing with real challenges at the current time. There is no place for that type of behaviour in our schools. I think it's also true today that our young folk are struggling."
Ms Gilruth said there has been a "huge increase" in young people with additional support needs, adding: "I want to work with you on how we can better support staff wellbeing, but also meet the needs of our pupils, and when behaviour is challenging, I expect there to be policies in place in every school in Scotland to help support our pupils and support our staff."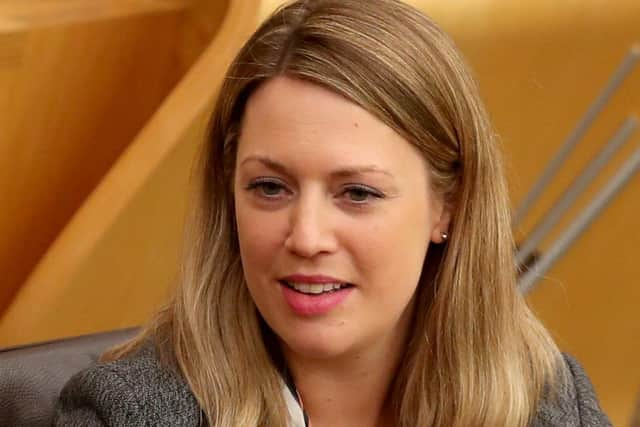 Her comments came the day after three teachers at Johnstone High School in Renfrewshire were taken to hospital after an incident involving a former pupil. A 16-year-old girl has been charged in connection with the incident.
Scottish Government research on pupil behaviour is due to be released this year, and Ms Gilruth said it is important not to "use one-off events to typify the system", saying the work will provide a "national picture".
The minister – a former teacher – repeatedly said she wanted to hear from teachers at the frontline of education, adding: "You can't do big reform pieces without the backing of trade unions. They're our partners. I rely on them to tell me how things are in our schools, and how to make things better. The presumption that government has all the answers, I don't think anyone will accept that."
The minister suggested the exam-heavy current system may be scaled back after the release of a report reviewing the current landscape by Professor Louise Hayward.
Pointing to different approaches taken by universities towards assessment, Ms Gilruth said: "Why in the school system do we still have a system largely dependent on a final examination? I think we need a reset – but I'm only going to consider these changes in partnership with our trade unions because they're key to unlocking this."
Ms Gilruth also wants to "de-politicise" education and is set to meet counterparts from other parties.
Opposition politicians attacked the Government's record on education, with Stephen Kerr, Scottish Tory education spokesman, describing it as "lamentable".
"As a former teacher herself, you would hope the Education Secretary is aware of the scale of the task she faces in restoring the once-proud reputation of Scottish education after 16 years of SNP neglect," he added.
Willie Rennie, Lib Dems' education spokesman, said: "If I were a new minister seriously looking to de-politicise debates over education I'm not sure I would be pinning the blame for toxicity on opposition parties in the same breath. If I were cynical, I would suggest that this is a crude attempt to limit scrutiny of the SNP's failure on education."