School strikes Scotland: Union warns of bigger strike action by school support staff in Scotland
Staff walked out in 24 council areas this week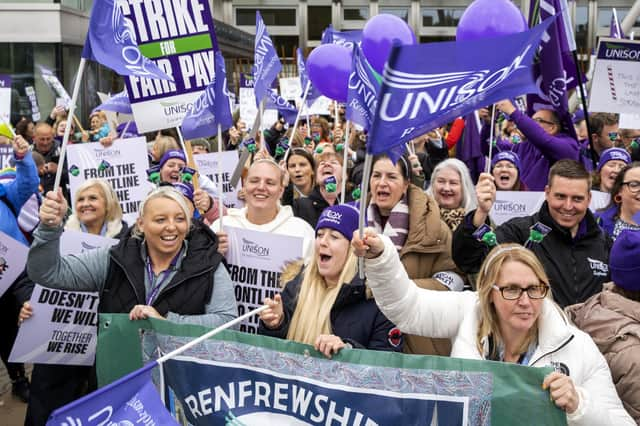 School support staff could take further strike action in a dispute over pay, a union has warned as it called for more clarity over the latest offer from employers.
Unison members in 24 local authorities in Scotland walked out for three days this week, leading to school closures across much of the country.
The union said the latest offer from council umbrella body Cosla was "too little, too late and too vague".
In a letter to Cosla, it called for a copy of the revised pay scales which would apply to the latest offer, saying staff need the information to help them decide whether to accept it.
Mark Ferguson, Unison Scotland chair of the local government committee, said: "For Cosla to tell council staff to 'sign up now and we'll tell you how much you'll get later' just adds insult to the injury of the ongoing wait for a pay deal that should have been in wage packets in April.
"Most council staff want to know 'what does this offer mean for me?', but if the pay scales aren't published, it's impossible to know."
Unison said its local government committee will meet early next week to discuss and agree the next stage of industrial action, with the details released in due course.
In the letter to Cosla, the union warned: "You will wish to note that future strike days are likely to be even bigger than the ones this week since we have welcomed several thousand new members to the Unison family over the last week."
Unite and the GMB suspended strike action after the new deal was offered last week, opting to ballot their members, but Unison went ahead with a three-day walkout from Tuesday this week.
It emerged on Wednesday that money used to compensate the survivors of historic abuse and provide school-level funding will be "re-profiled" as part of Cosla's £80 million pay offer to non-teaching staff.
Scottish Education Secretary Jenny Gilruth said there will be "no detriment" to either scheme as money is moved around within Government budgets to cover the pay deal.
Cosla has said the new offer represents a minimum wage increase of £2,006 for those on the Scottish Government's living wage and a minimum increase of £1,929 for workers who are earning above the living wage.
The living wage of £10.85 an hour will rise to £11.89 under the new offer, equivalent to a 9.6 per cent increase – but Unison has said that remains a "real terms pay cut" and "below the rate of inflation".
A Cosla spokesperson said: "Cosla has made every effort to avert these strikes – we have listened to our trade unions, met their asks and worked with Scottish Government to put an incredibly strong half a billion pound pay package on the table.
"Strikes are in nobody's interests and benefit no-one, least of all children and young people and their families."
A Scottish Government spokesperson said: "Local government pay negotiations are a matter for local authorities as employers and unions. We would encourage those involved to continue negotiations in the hope that a resolution can be found."
Comments
 0 comments
Want to join the conversation? Please or to comment on this article.