School strikes Scotland: Union suspends strikes and recommends staff accept pay offer after more money found by council leaders
Schools had been due to strike in Edinburgh, Fife, South Lanarkshire, and Dumfries and Galloway on Wednesday
A union has suspended strikes planned by school support staff in some parts of Scotland later this month after securing a "ground-breaking" improved pay offer from local government body Cosla.
Unison Scotland said it has secured a commitment to tackle low pay across local government, which should deliver above-inflation increases for the lowest paid workers for at least the next three years. It will now put the pay offer to members with the recommendation they vote to accept it.
It comes after tens of thousands of children missed lessons on Wednesday as school staff in Glasgow, Inverclyde, Renfrewshire and East Renfrewshire walked out, which followed three days of national strike action which shut schools in September.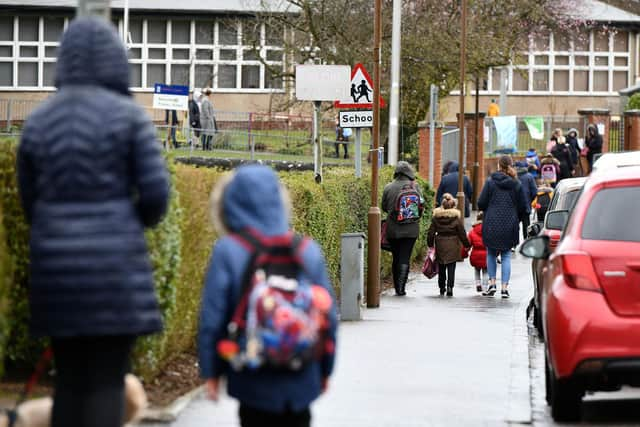 Unison has now suspended walkouts planned in various local authority areas on November 8 and 15 as part of a rolling programme of strike action.
Unison Scotland's head of local government Johanna Baxter said: "Over the past few months, from the employers' original offer to today, the action of Unison members has secured more than an additional £100 million into the pockets of local government workers. This includes an additional £17.2 million secured in the last couple of weeks.
"The improvements put forward today help address low pay and support those in the squeezed middle. The commitment to delivering a minimum rate of pay of £15 per hour for all local government workers by April 2026 will go a long way to tackling low pay across the sector.
"Backdating the full offer to April this year will see an improvement for four in ten local government workers."
Local government body Cosla said after "intensive talks" with the Scottish Government, a way had been found to underwrite some "limited one-off funding" to improve the deal.
In a statement, it said: "This is the final £17.2m to get a package worth more than half a billion over the line, which will increase the wages of our lowest paid employees by £2,000 a year, for the second year in succession, in the midst of a cost-of-living crisis."
The GMB and Unite unions had already accepted the deal put forward by Cosla in September. Cosla said the additional funding that can now be put into the offer will allow for all elements of the pay deal to be backdated.
It stressed: "Leaders recognise the importance of getting money into the pockets of our workforce as early as possible, and today's decisions will hopefully make that possible. The priority of leaders today is ensuring that nobody is left out of pocket ahead of the winter period, especially given the ongoing pressures of the cost-of-living crisis."
Unison had served notice of strike action in South Lanarkshire, Dumfries and Galloway, Edinburgh and Fife on Wednesday and in Stirling, Clackmannanshire, Dundee, Angus, and Perth and Kinross on November 15, but this has all now been suspended.
Mark Ferguson, chairman of Unison Scotland's local government committee, said: "The commitment to deliver a minimum of £15 per hour for local government workers is ground-breaking and should see above inflation increases for those on the lowest pay for at least the next three years. This will make a real difference to their lives."
Keir Greenaway, GMB Scotland's senior organiser in public services, said: "It is welcome that our members will get the offer they voted for but this process has dragged on far too long. Our members accepted an offer that prioritised the lowest paid and should not have to wait any longer to receive their money. It must be with them before Christmas.
"We also welcome a renewed commitment to deliver a minimum wage of £15 an hour, but ambitions and aspirations don't pay bills.
"There is no reason to celebrate until our members get that wage instead of being promised it."
Comments
 0 comments
Want to join the conversation? Please or to comment on this article.