Robots help budding coders get creative at Scottish primary school
A £3,000 grant boosted interest in the Edinburgh school's popular coding club
Robots have been helping pupils at a Scottish primary school get creative while learning about computer coding.
Corstorphine Primary School head teacher Neil Stannett launched the Technicoders and Coding Club to try to stimulate interest in technology and computing. The group, which is made up of ten boys and ten girls from P6 and P7, has been meeting every week at the Edinburgh school to learn how to code.
A £3,000 grant from Digital Xtra Fund, a charity whose backers include global IT company CGI, enabled the school to buy new Sphero BOLTs, which are small, ball-shaped robots designed for learning.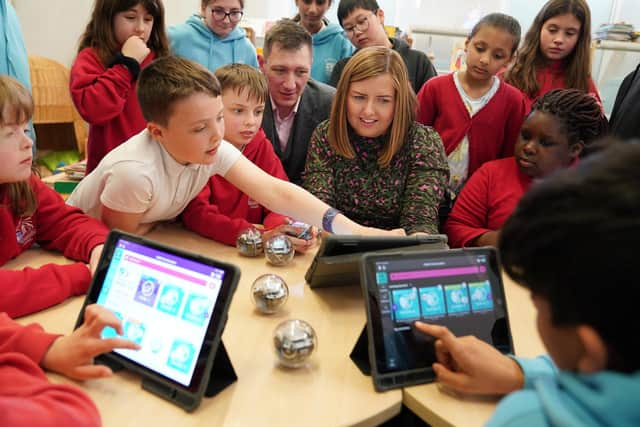 Mr Stannett said: "I was excited at the prospect of being able to support our new pupil group to learn about coding, and experiment creatively with robotics. Thanks to the Digital Xtra Fund grant, we were able to purchase a set of 15 Sphero BOLTs in a travel charging case, along with a variety of accessories to go with our school sets of micro:bits.
"The BOLTs were ideal for our pupil group to learn with as they can be coded using different programming languages. They are also just great fun.
"The club itself was formed just before we purchased the robots. We were incredibly lucky to have a number of pupils who were keen to support the school with its digital journey."
The school has since decided to set up a P5 Code Club as well.
Mr Stannett said: "One of the stand-out moments from the group for me has to be when, during our initial sessions with the P5s, a small group started creating a spooky story using the text-speech function on the iPads and had the Sphero BOLT move across a haunted house drawn on paper on the floor.
"This instigated the next few weeks of learning, as all the groups began creating stories and using their robots to move through a setting or act as the main character. I was so impressed at the creativity and innovation on show."
Comments
 0 comments
Want to join the conversation? Please or to comment on this article.