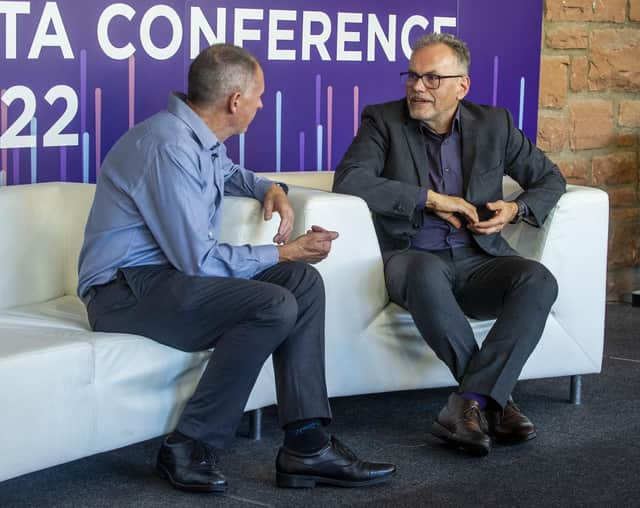 DAVID LEE asks Executive Director Jarmo Eskelinen what it has achieved so far for the Edinburgh city region, and its people - and his hopes for the future.
2022/3 is the halfway point in the DDI's delivery timeline. How do you assess your progress - and why is this such a crucial point?
DDI has always had two sides, capital investment - the physical buildings (the hubs and the Edinburgh International Data Facility) and the operations, which is the innovation which happens in those hubs.
We are beautifully on track with the capital investment programme, despite the pandemic.
The National Robotarium opened in September and we'll finalise the Edinburgh Futures Institute (EFI) and Usher Institute in 2023. Then our capital programme has come to an end, roughly following the original timeline. I think that's a trick to pull after the pandemic crisis.
In terms of measuring success. DDI hubs aim to support the formation of almost 450 businesses by the early 2030s and put almost 100,000 people through DDI courses - can you assess the early momentum towards these ambitious targets?
We are either on track or ahead in all of the five performance indicators. In talent, there are already more than 50,000 enrolments to data courses by students. Over 150 start-ups have been launched with our support, so we are nicely on track also with that. And we have seen the first concrete cases of actual impact - real health benefits from using health data.
What needs to happen next?
Where we could be better and must make progress are partnerships, both national and international, and visibility as a data capital. We are a superb local data capital at the moment, but not yet recognised as a European or global data capital.
Also, data infrastructure is like a never-stopping train, you need to keep renewing the gear every 3-5 years. Our data infrastructure is part of wider supercomputing activities at Edinburgh led by EPCC. ARCHER2, the current national supercomputer, will be decommissioned in 2025 and hopefully replaced by an Exascale system – more than 50 times more powerful. But this isn't just about size or capability of infrastructure; we need to make sure our region can compete internationally. That means ensuring we keep up with our European counterparts and what's happening globally, particularly in the US and Japan.
The EFI is a DDI flagship in a very prominent location in the old hospital building at Lauriston. You said you want EFI to bring all parties together in a 'What If?' environment. What do you mean and how do you measure success when there's a strong element of blue sky thinking?
Blue sky thinking needs to be tied to either concrete research questions or clear global challenges. There are six DDI hubs, but they are also a network which can work as one. That's the new opportunity. Together, the hubs will add 53,000 square metres of innovation space to Edinburgh – the equivalent of ten football pitches.
Universities have built buildings before, but what we've done now is build a holistic research and innovation machinery spanning two universities (Edinburgh and Heriot-Watt), touching almost every discipline. We can get people to work together across disciplines, across organisations, whether inside or outside the university.
I want to challenge our innovators to tackle the most pressing issues and systemic challenges we face, like climate change, healthcare and data ethics; doing data right. We want to support policies which promise a fair deal on data, as opposed to the 'Wild West' of data innovation we've seen before.
Is it possible to deliver the dream of embedding data learning across all areas of the University of Edinburgh curriculum? How far developed is that - and what will it mean?
Currently, students study data by default, and lots take elective courses. People come in from different corners of the university to join data courses. Medical students are keen to understand how transformative data can be for the future of health and care, which is truly positive.
The next phase will be the curriculum transformation programme, and that's a long process. We are doing something the University has not done in over 100 years; combing through the whole curriculum to redesign it. We are planning to introduce some key topics which every student would learn. The shortlist is still being discussed, but data will quite certainly be one of them, together with global issues such as climate.
Transformation will take time because there's going to be an overlap between the old curriculum and the new. Around the time when the DDI initiative delivery phase ends, in 2028, I hope the new curriculum will be fully embedded and every student coming to the university will study data.
How will that benefit the university and wider society?
Data is present in any discipline and industry sector. Understanding of its innovation potential varies; using data for operational excellence, more personalised services, personalised care and personalised education, etc. We believe learning the basics of data as part of studies enables people to see these opportunities. Shared understanding of data also supports cross-cutting innovations, where people from different domains join forces. This can benefit all ten industry sectors of DDI: public sector; financial services; health and social care; tourism and festivals; space and satellite; robotics and autonomous systems; financial technology (fintech); digital technology; agriculture technology (agritech); and creative industries.
In terms of wider community impact, the annual report says "DDI projects and activities deliver long term outputs and lasting impact". What might that mean in a tangible way for people in Midlothian, West Lothian or Fife, who don't know much (or anything) about DDI?
First, we're bringing investments to the city region - data infrastructure, like the hubs, or data-savvy companies who come here. These have positive effects on the local economy, from construction to service businesses - bringing work opportunities and prosperity.
Second, prosperity often gets distributed unevenly. We are very conscious of that and want to ensure everybody can benefit. Whoever is bright and ambitious must have a chance to benefit from data innovations, regardless of their societal background, gender or race. We work together with different skills stakeholders, to ensure people have opportunities to learn data skills across the whole spectrum, from schools to working life, by reskilling and upskilling. We work with local schools, colleges and employers to ensure the skills pipeline really covers the complete demographic and social profiles of the region, from Fife to Scottish Borders.
Third, people benefit from service transformation - better healthcare, more personalised old age care, more flexible financial services, and better visibility for your personal finances.
Personally, what are you proudest of in terms of what the DDI has achieved so far?
I would pick the Covid-19 response, the data collaborative, led by colleagues from the Usher Institute. They speeded up our health data loch preparations by more than half a year and had a working system in place already in spring 2020.
The project was ambitious and produced world-first research outcomes about vaccination safety for pregnant women, and more than 30 other projects, such as vaccinations providing protection for serious forms of illness, including against Omicron. Those results have saved lives, and that's something to be proud of.
The other thing I would pick is the ability of our hubs to jump into new territories. Academics join forces across disciplines and work with both internal and external partners across a wide array of topics from climate modelling to inclusive education.
And what is your biggest hope for the DDI over its lifetime?
My nightmare is that when the DDI initiative ends, we just have nice new buildings, but no lasting change. That would be pretty underwhelming as an achievement.
I want the DDI to make Edinburgh a data capital on a permanent basis - to put the city at the frontline of data innovation and research. That means delivering innovation we cannot even imagine - data innovation two decades from now will be wildly different from today. We are building the foundation for Edinburgh to be at the forefront in key domains like sustainability, food safety, health and social care and data ethics.
And while it's great for Edinburgh to be the data capital, the central belt and Scotland as a whole is becoming quite a unique place for firepower in data and digital. We should join forces across the nation to build on that.