Parents told seven schools in Edinburgh have been found to contain weak concrete material RAAC
The city council said mitigation measures have been put in place
Council chiefs have revealed that a weak concrete material has been found in seven schools in Edinburgh.
Officials moved to reassure parents after the Westminster government ordered the closure of dozens of schools in England over the presence of reinforced autoclaved aerated concrete (RAAC).
The Scotsman previously reported that pupils in two schools in Edinburgh were facing disruption, with some youngsters from Trinity and Cramond primaries being moved to temporary classrooms while roof repairs are carried out.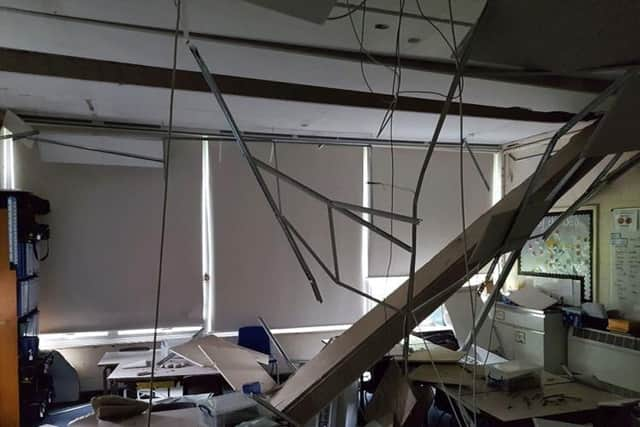 It is understood the other affected Edinburgh schools are Pentland and Colinton primaries, Fox Covert and St Andrews Fox Covert primaries, which are both situated on the same time, and Currie High School.
In England, it was announced on Thursday that more than 100 schools were being closed just days before the start of the new term after the UK Government was made aware of "new evidence" in relation to RAAC.
Scores of schools and other public buildings are already known to contain RAAC in Scotland, with the Holyrood Government saying appropriate mitigation plans have and will be put in place to ensure the safety of pupils and staff.
Amanda Hatton, executive director for children, education and justice services at the City of Edinburgh Council, wrote to parents and carers on Friday. She said: "Following recent media coverage about schools in England having to close due to the presence of reinforced autoclaved aerated concrete (RAAC), I wanted to reassure about what we are doing here in Edinburgh.
"We have been assessing schools for its presence since April and carried out a significant number of surveys over the summer prioritised based on known potential risk factors such as the age of the building and type of construction. To date, RAAC has been identified in seven schools and, at each, appropriate mitigation measures have been put in place.
"In all the other schools surveyed over the summer, there has been no RAAC identified and they can remain open. Surveys will continue across the estate in line with current UK Government guidance.
"If any further mitigation measures are necessary, the schools involved will be fully supported to ensure learning and teaching can continue."
The UK Government previously called for checks to be carried out into the use of RAAC in schools, warning it is "much weaker" than traditional concrete, raising the "risk" of sudden or gradual structural failure.
The "bubbly" material was used in the construction of schools, colleges and other buildings from the 1950s until the mid-1990s.
The panels were generally pre-cast offsite and used for flat and pitched roofs, eaves, floors and walls within building construction.
RAAC has low compressive strength, being around 10-20 per cent of traditional concrete, and is also "very porous and highly permeable".
A Scottish Government spokesperson said: "This is an issue the Scottish Government takes very seriously and so we have been working with partner bodies to understand the scope and nature of what we are dealing with.
"Reviews of RAAC in property are being conducted by local authorities, NHS Scotland and other public sector organisations.
"Work is currently underway with local authorities to fully understand the presence of RAAC across the school estate. We have received returns for the majority of the school estate and expect to have full returns from all local authorities this week.
"For those schools were RAAC is found, appropriate mitigation plans has and will be put in place to ensure the safety of pupils and staff. Ministers are clear that they expect local authorities to prioritise this work.
"We issued guidance and background on RAAC to the Association of Directors of Education in Scotland (ADES) and Scottish Heads of Property Services (SHoPS) networks. We will continue to work closely with all those bodies in responding to the challenge."
The Scotsman previously reported that staff and pupils faced disruption for several months at schools where structural upgrades were needed, including Preston Lodge High School in East Lothian, as well as Trinity Primary and Cramond Primary in Edinburgh.
It emerged last month that RAAC safety work would be carried out in phases at both Nairn Academy and Charleston Academy in Inverness.
In West Lothian, RAAC was previously found in the extension at Balbardie Primary School in Bathgate, as well as in the nursery area of Windyknowe Primary in Bathgate, and a small section of the first floor.
Repair works have already been ordered at both schools.
Other West Lothian schools affected are Riverside Primary and Knightsridge Primary in Livingston, and St. Kentigern's Academy in Blackburn.
Work was also required at Lanthorn Community Centre, Whitburn Community Centre, and Fauldhouse Partnership Centre, with Stoneyburn Community Centre being monitored.
Several Aberdeen buildings were found to contain the material, including St Machar Academy, Northfield Academy, Hazlehead Academy, Abbotswell Primary, Cornhill Primary, Quarryhill Primary and Westpark School.
However, the city council previously said there was no structural damage so no remedial action was required.
One school in Argyll and Bute "has an area of RAAC", while it is also in one school and one community centre in North Lanarkshire, and one school in Perth and Kinross, where work was also being carried out over the summer.
Local authorities previously said no RAAC had been found at schools in Glasgow City, Fife, South Lanarkshire, East Renfrewshire, West Dunbartonshire, Inverclyde and the Western Isles.
Comments
 0 comments
Want to join the conversation? Please or to comment on this article.