No more funding for school staff pay offer, says Yousaf as new strikes planned
School staff in four more areas will strike next month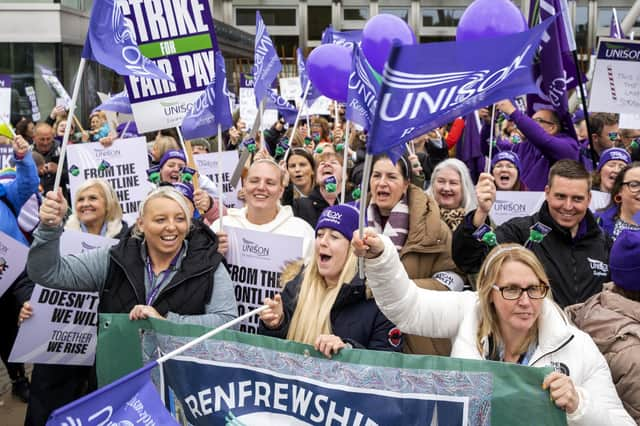 There is no more funding for a new pay offer to striking school staff in Scotland, the First Minister said as a new wave of action was announced.
Unison is the only union not to have accepted the most recent offer for non-teaching staff, and fresh walkouts are due to take place on November 1 in four council areas.
On Wednesday, the union also announced staff in South Lanarkshire, Dumfries and Galloway, Edinburgh and Fife will strike on Wednesday November 8.
First Minister Humza Yousaf said there will be no more money for local authorities to offer increased pay to staff.
"There is no more funding, I've been really clear about that," he said.
"We have significant additional funding in order to get a really good pay deal on the table for our local government workers, and that's why two out of three trade unions have accepted the deal."
Unite and the GMB suspended planned action after the deal, which represents a minimum increase of £2,006 for workers on the Scottish local government living wage and at least £1,929 for those above that rate, was accepted by their members.
But 90 per cent of Unison members voted in a ballot to reject it.
The pay rise will be introduced on April 1 next year based on a 37-hour working week.
The living wage of £10.85 will rise to £11.89 per hour – equivalent to a 9.6 per cent increase.
The offer also means council leaders will establish an advisory group to achieve a minimum of £15 per hour in local government.
Cosla said the offer is "as far as local government can go without impacting on essential services and jobs locally".
Unison Scotland's head of local government Johanna Baxter said: "Despite our repeated calls for Cosla and the Scottish Government to get back round the table for meaningful discussions, we have had no invitations to even exploratory talks.
"The union is committed to reaching a resolution to this dispute as soon as possible.
"There is still time for Cosla and the Scottish Government to get back round the negotiating table to explore every avenue to reaching a negotiated settlement and avoid further disruption for parents and students.
"The strength of feeling amongst Unison's 91,000 local government members, who voted overwhelmingly to reject Cosla's latest pay offer, is clear. They are determined to continue to fight to get an improved pay offer."
A large proportion of schools in Glasgow, East Renfrewshire and Renfrewshire will be closed during the strike next Wednesday.
In Glasgow, all nurseries, primary schools, and additional support learning schools will close, while secondary schools will only open for S4–S6 pupils. Glasgow Gaelic Secondary School will be closed to all pupils.
In East Renfrewshire, all primary schools, nursery classes within schools and Isobel Mair School will be closed, while secondary schools will be closed to S1-S3 pupils.
The position will be similar in Renfrewshire and Inverclyde, with arrangements for S4-S6 pupils still being finalised in the latter.
Unison Scotland chair of the local government committee Mark Ferguson said: "The current offer amounts to a real-terms pay cut and adds further stress to a dedicated workforce already suffering from the cost-of-living crisis.
"Cosla and the Scottish Government need to give school staff a decent wage rise, fund any increase properly and commit to implementing a minimum underpinning rate of pay of £15 per hour for all local government workers."
Cosla resources spokeswoman Katie Hagmann said: "The ballot result from Unison was very disappointing given the strength of the offer on the table.
"I would like to make the following points: Firstly, Scotland's council leaders value their workforce.
"Secondly, we have listened to our trade unions, met all their asks and worked with Scottish Government to put an incredibly strong half a billion pound pay package on the table – which our other trade union partners have voted to accept.
"Finally, offering almost 10 per cent, or a £2,006 pay increase for our lowest paid workers, which the unions specifically asked for, and £1,929, or at least 5.5 per cent, for everyone else is as far as local government can go without impacting on essential services and jobs locally."
A Scottish Government spokesman said local government pay negotiations are a matter for local authorities as employers and unions, and he encouraged those involved to continue discussions.
He said the Government has already committed to providing £235 million in 2023-24 to support a meaningful pay rise for local government workers, and provided assurances over funding in 2024-25.
He said: "The Scottish Government and Cosla will continue to work together to minimise disruption in the event of further industrial action."
Fife Council's head of education and children's services Shelagh McLean said: "​​We will be assessing the potential impact this action could have in Fife ​and will work ​to minimise the effect of this locally.
"We cannot rule out closures of school buildings to pupils during any industrial action and we will be in touch with parents and carers as soon as possible with more information."
A spokesman for South Lanarkshire Council said: "We have just received formal notification from Unison and are considering the consequences for education services on the proposed strike day.
"We will make sure parents and carers are kept up to date through schools and our social media channels."
Comments
 0 comments
Want to join the conversation? Please or to comment on this article.