New wave of school closures expected this month as Unison names the next five Scottish council areas to be hit by strikes
Thousands of pupils have been impacted by industrial action on Wednesday
Strikes will close schools in five more council areas later this month after the Unison trade union announced a fresh wave of action.
Staff working in schools and council-run nurseries in Stirling, Clackmannanshire, Dundee City, Angus and Perth and Kinross will walk out on Wednesday, November 15.
It follows one-day strike action on Wednesday in Glasgow, East Renfrewshire, Inverclyde and Renfrewshire.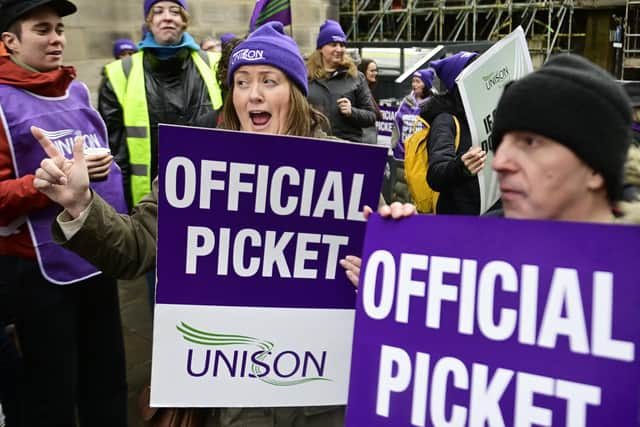 More strikes were already planned for South Lanarkshire, Dumfries and Galloway, Edinburgh and Fife on Wednesday next week.
The action is part of rolling strikes by Unison members, scheduled to take place across the country in the coming weeks after the union rejected a pay offer from council umbrella body Cosla.
Mark Ferguson, chairman of Unison Scotland's local government committee, warned against the move.
"We've had some constructive dialogue with Cosla this week, I met with them on Monday, we're waiting on a response," he said.
"We're hoping that they take on board our concerns and the fact that we're taking industrial action and try and resolve the dispute.
"If imposition happens then I'm pretty sure and confident there'll be an escalation, our members' resolve is quite strong and they want a settlement that means something to them in this cost-of-living crisis.
"We urge Cosla not to impose this offer, but if they do then the union will respond in the way that it needs to."
Workers including janitors, cleaners and pupil support assistants are among those taking strike action in East Renfrewshire, Renfrewshire, Inverclyde and Glasgow.
A large proportion of schools are shut, however some secondary schools may remain open for pupils in S4-6 preparing for exams.
The revised offer represents a minimum increase of £2,006 for workers on the Scottish local government living wage, and a minimum of £1,929 for those above the rate.
The living wage of £10.85 will rise to £11.89 per hour – equivalent to a 9.6 per cent increase.
Johanna Baxter, Unison Scotland's head of local government, said: "The strength of feeling among Unison's 91,000 local government members, who voted overwhelmingly to reject Cosla's latest pay offer, is clear.
"They are determined to continue to fight to get an improved pay offer."
Speaking on the picket line outside Castlehead High School in Paisley, Renfrewshire, Mr Ferguson said members do not want to disrupt children's education but are being "forced into it".
"I say to parents, stay with us because if we win this dispute it will be an improvement to everybody's lives and the children in the longer term."
Cosla resources spokeswoman Katie Hagmann previously said it had put "an incredibly strong half a billion pound pay package on the table", and that it is "disappointing" Unison members had voted to strike.
She added: "Offering almost 10 per cent, or a £2,006 pay increase, for lowest paid workers, which the unions asked for, and £1,929, or at least 5.5%, for everyone else is as far as local government can go without impacting service and jobs."
Comments
 0 comments
Want to join the conversation? Please or to comment on this article.