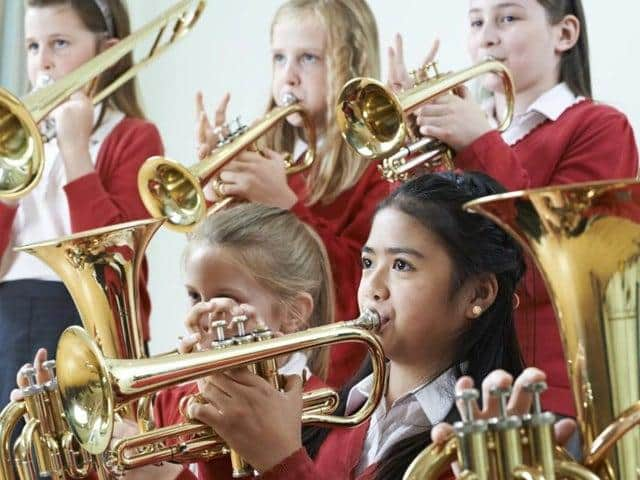 Some councils have introduced - or increased - charges for music lessons in schools.
Ralph Riddiough made a complaint under section 70 of the Education Act that it is unlawful for local authorities to charge fees for the provision of musical instrument tuition in state schools - but was told this week that it has not been upheld.
Many local councils have introduced - or increased - charges for group instrument lessons held in schools in recent months.
The Scottish Government's response told Mr Riddiough that education authorities had an "express power" to charge fees "subject to certain limitations", as well as in relation to cultural and social activities.
However, it said that the government was "concerned by moves" that would limit access to music tuition in schools.
Mr Riddiough's complaint was only allowed to refer to the breach of one local authority, which was South Ayrshire Council, however, similar charges have been applied in many council areas across Scotland, pricing many children out of being able to learn an instrument in school.
Mr Riddiough said: "It is a flat 'no' with no analysis. I just feel they have tried to call my bluff on this. I complained specifically about South Ayrshire as it is my local authority, but they said it has the power to charge fees. I now need to find out whether I can push forward more and how much more."
He is now asking supporters to give to his crowdfunding page, where he previously raised £15,000 to fund the complaint, to take further action over the issue. He believes he will need around £30,000 to continue his fight. However, he is concerned that many of the musicians who previously supported him may be struggling financially, due to the coronavirus outbreaks, which has seen concerts and performances cancelled across the country.
He said: "I had 500 backers and I know a lot of them were musicians. I had really hoped that this decision would go our way."
He added: "I have received legal advice to the effect that I may now proceed to raise judicial review court proceedings against the Scottish Government on the basis that the Scottish Ministers have misdirected themselves on the relevant points of law.
"I remain of the view, supported by the legal advice I have received and by the 'Note of Concern' report from the Education and Skills Committee of the Scottish Parliament, that musical instrument tuition is part of the curriculum, and therefore "school education" that may not be charged for unless adequate free provision is also made available to all children who wish it."
A Scottish Government spokeswoman said: "Following careful consideration of all the evidence, the Scottish Ministers are not satisfied that there has been a failure by South Ayrshire Council to discharge any relevant statutory duty. It is therefore not necessary or appropriate for Ministers to make an order under section 70 of the Education (Scotland) Act 1980.
"Based on the information provided by South Ayrshire Council, the Scottish Ministers are satisfied that the education authority has exercised its power to charge fees for music tuition in schools within the limitations set out in the 1980 Act."
She added: "Decisions about the provision of music education and instrumental music tuition are for local authorities to take in accordance with local circumstances, priorities and traditions. All local authorities should consider the Education and Skills Committee's recommendation that music tuition should be provided free of charge and we would be concerned by moves by any local authority to limit access to instrumental music tuition."
Mr Riddiough, who previously gathered almost 10,000 signatures on a petition to urge the Scottish Government to change the law surrounding musical instrument tuition fees, garnered the support of high profile musicians including Glasgow violinist Nicola Benedetti.
Parents and young musicians have campaigned against local authority cuts for the past year. Some councils have raised existing tuition fees for instruments - some to as high as £524 a year - while others have introduced them for the first time or started charging for the hire of local authority instruments. Others, like Midlothian, unveiled plans to axe instrument tuition entirely for those not taking a Scottish Qualifications Authority (SQA) exam in the subject - but made a u-turn following strong opposition.
A year ago, an investigation by Holyrood's education committee stated that music tuition in Scotland's schools should be provided free of charge. It recommended children should not have to pay fees to learn a musical instrument "in principle", but admitted it could not force local authorities to change their policies.
A report out 18 months ago – after some councils had already introduced fees – found that 1,200 fewer children were learning an instrument in Scotland than a year earlier. According to figures from the Improvement Service, the national organisation tasked with driving up standards in local authorities, there were 60,326 pupils learning an instrument in Scotland in 2017/18, down from 61,615 the previous year.