Mum takeover of closing down nursery shows childcare challenges in rural communities
A mother of two working a full-time job and who took over a nursery to prevent it from closing down has said the experience highlights the challenges parents face finding childcare in rural areas.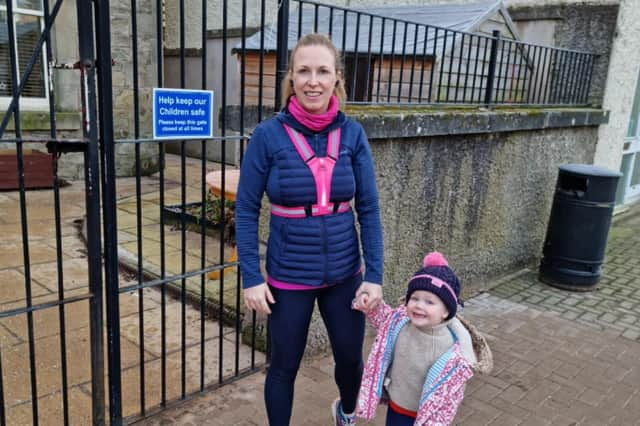 Nicky Seed, 35, who works in recruitment, banded together with a group of mums to make an emergency plan after The Links in Duns announced its nursery - the only private childcare facility in the town - was to close.
In a matter of weeks, the parents, all in full-time work, secured a new lease with the Berwickshire Housing Association and set up a board of directors and a committee of parents, which now has about 18 members.
They came up with a new pay structure, which meant the original staff were able to stay on, and set the nursery up as a not-for-profit community interest company.
Once the old lease ended at the end of March, Ms Seed and a few other parents, armed with DIY kits, stormed the premise over a period of 48 hours over the weekend to give it a swift makeover so that no families would lose out on its essential childcare services.
The site then reopened on Monday, April 3, as Duns Community Nursery.
But in the first week, families were already being put on the waiting list.
Ms Seed, whose children are one and three, said some toddlers are having to wait until August before there is space.
"It just shows the challenges of childcare in rural areas," she said.
"I never thought when moving here that I wouldn't be able to access childcare.
"You just assume those fundamental parts of life will be there, but that's not the case; it's fragile."
According to a survey the parents carried out, the nursery, whose four directors are all mums from the area, provides services for families living roughly a half an hour drive away in every direction, including places such as Eyemouth and Kelso.
Ms Seed said there are other, smaller childcare services around, but they all have "massive waiting lists".
She said the nursery closure would have led to job losses - both at the nursery and the wider community - worth almost £800,000 per annum.
"I myself felt I would have had to choose between giving up work or driving 40 minutes to find an alternative nursery," she said.
With the waiting list growing, Ms Seed said she and the committee want to expand the site to accept more children.
"We want to provide what the community really needs.
"There are some changes we can do to the current nursery that could help make more space."
The parents have been running a few fundraising events to help with the refurbishment plans.
Ms Seed said the nursery has also had support from the national lottery community fund, Blackhill wind farm and the rotary club of Duns.
She said local parents have also raised more than £7,000 between themselves.
Scottish Borders MP John Lamont, said nursery closures are "very difficult" for families in rural areas.
"This group of mums have worked tirelessly to help families in and around Duns," he said.
"I hope other people will take inspiration from the community model they have established."
The nursery is open for 50 weeks of the year, from 7.30am to 6pm.
Comments
 0 comments
Want to join the conversation? Please or to comment on this article.