Lockdown conferencing has helped us put autistic people in the picture – Nick Ward
These are unsettling and challenging times for all of us. However, they are ­particularly unsettling for many of Scotland's 58,000 autistic people together with their families.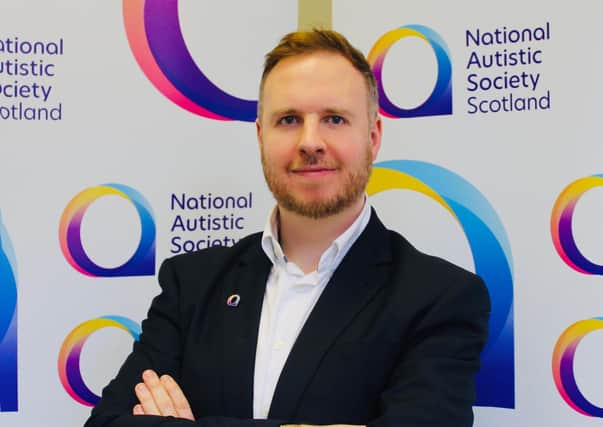 We know that 70 per cent of autistic people have mental health difficulties and can face intense anxiety during normal times, so during a period of profound social isolation, distancing and near universal anxiety, these ­feelings are of course heightened.
The lockdown has also had a huge effect on our daily routines and ­habits. Our usual structures have disappeared as we adapt to staying at home, working differently, with new ways of shopping and interacting. This is challenging for us all but intensified for many autistic people, particularly where familiarity and routine is important.
We know that two-thirds of ­autistic people in Scotland say they feel socially isolated – something which the lockdown will only have worsened. This is extremely worrying, not least because of recent research in Scandinavia linking social isolation and detachment from the community as a significant contributing fa­ctor to self-harm and suicide among ­autistic adults – a group which is sadly already much more at risk from taking their own lives.
We as a society, and us as a charity, must respond to this with compassion, understanding and action. We hear daily from families struggling to support autistic children who are home from school, anxious, frustrated, often with extremely challenging behavior, responding to a ­situation they don't always understand or struggle to process. We also hear from autistic adults, isolated from friends, family and their community, with little or no support as the ­system fights to deal with the pandemic.
At the National Autistic Society Scotland we are working hard to ­support people at this time – through our care services, helpline, and by providing concise and clear information on our website.
But a key focus now is tackling social isolation by bringing our ­services online. We currently ­support ­hundreds of people through face-to-face social groups, coffee clubs and our 15 volunteer-led branches, a ­fantastic network run in the main by families and autistic people ­themselves. These offer the chance for people to connect, talk about the things important to them, make friends and support each other.
Moving these online has been ­challenging – our staff and volunteers have been incredible at figuring out how to do it safely, getting the technology right, user testing, writing guidance and enrolling autistic ­people smoothly and quickly. It's forced us to innovate faster than ­usual but we feel it will have lasting benefits long after this crisis passes.
In our user testing we have had some interesting findings. Our staff report that many autistic people are 'coming out of their shells' more using ­video conferencing rather than meeting face-to-face – somehow the barrier of the screen can make some people feel more at ease. They can regulate communication more, make eye contact when they want to and take longer to process information. It has opened up more social ­support and interactions for autistic people, which is wonderful to see.
We really want to grow our online social groups beyond those we ­usually support, so we are applying for Scottish Government funding to expand them rapidly.
Also, very excitingly, our local branches are digitising the work that they do, sharing news, information and tips and hosting social calls. We know our branches are often a lifeline for families in particular, and in tough times we all need those lifelines more than ever. That's why we're looking at setting up online only branches, which could be particularly effective in remote and rural areas.
I hope this has given you an idea of some of the work we have been doing to support autistic people and their families over the past couple of months and what we want to continue doing.
I want to leave you with a plea: please check in on each other, support those in your community who may need it most, and remember that for autistic people and their families these times can be especially hard.From myself and everyone at the National Autistic Society Scotland, we wish you all the best and thank you for your ongoing support, but more importantly for autistic people and their families.
Nick Ward, director, National Autistic Society Scotland.
Comments
 0 comments
Want to join the conversation? Please or to comment on this article.