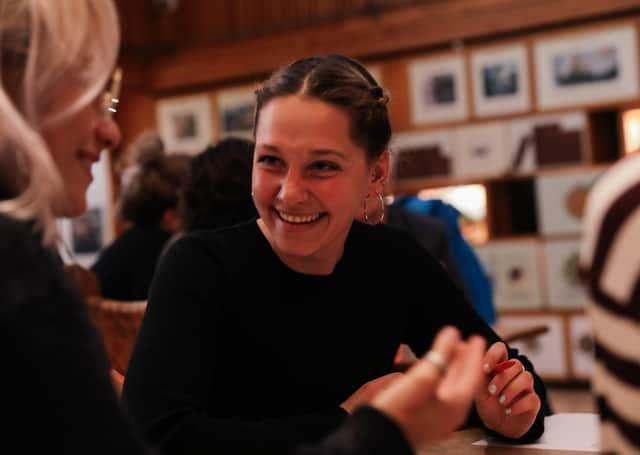 Held at the KW Institute for ­Contemporary Art in Berlin, I ­represented the Young Academy of Scotland in order to learn, make connections and think about how the conference could be adapted to the Scottish context.
But what is meant by rebellious teaching? In their own words "teaching methods that cross borders, that are so didactically and conceptually innovative that they are everything but 'scholarly'."
Our present education system is characterised by rigid structure National Achievement Frameworks and a focus on assessment and ­performance. This has produced a system with clear outputs and linearity, but it comes with a cost, at times stifling creativity and wellbeing.
A National Education Union ­survey in 2019 reported an 83 per cent increase in poor ­mental health for students, with strong links to anxiety around academic ­performance.
The conference was brought to ­reality by Nausikaä El-Mecky, a ­professor in History of Art & Visual Culture. After hearing the increasing frustration of students studying to be teachers, who felt there was no space to experiment or innovate, she wanted to ­provide hope and inspiration.
For two days the conference gathered educators, dancers, performance artists, students, entrepreneurs and researchers – anyone interested in the future of teaching and learning. Nine different speakers from a broad range of educational perspectives shared their practices and methodologies in pushing boundaries, from virtual reality in classrooms to ­teaching about pornography at university level through a feminist lens.
The first theme that stood out was the need to disrupt hierarchies within teaching, allowing students to lead and shape their learning ­journey. Saraya Gomis, a teacher in Germany, facilitated her students to set up the Black Diaspora School that met on its own time to challenge ­institutional racism. Each project, from a Martin Luther King Jr. ­walking tour to ­mentoring younger students, was decided upon by the learners. It was then up to Saraya to follow and find ways to work around the system's barriers, particularly as the project didn't fit the curriculum framework.
Failure was another topic that ­permeated the conference. In our pass-fail system, success is presented as the ultimate achievement. This dichotomy leads to feelings of shame, dissatisfaction and rejection when the perfect result isn't achieved.
Pol Capadevila, a lecturer in ­contemporary art, brings clowning exercises, rituals of doing nothing and cooperative learning into his classrooms to shift the focus from output to process. Yet, he acknowledged that his approach did leave some dissatisfied students who ­wanted clearer guidance and frame.
As a group, we explored failure further. Guided by Artur van Balen and Shailoh Phillips, both artists and activists, we were tasked with creating a zine. Among the paired chats and group discussion a different ­picture of ­failure emerged, one that was necessary for growth and evaluating your direction. After only three hours of talking, scribbling and ­collating we emerged with an imperfect artefact – a printed, self-published magazine made by us all.
Rebellious teaching was also explored through disrupting the societal image of an ideal scholar. El-Mecky argued that impatient, biased and angry teachers are the best. This feels at odds to the serious, all-knowing lecturers I had at university (and ended up leaving because of). As humans we feel contradiction, make mistakes and, at times, are ignorant. Here the invitation was to embrace this inner turbulence as teachers, so that students could too. Then both groups can journey into learning, changing minds and holding ­complexity.
Overall, I had a sense of rebellious teaching as intuitive, playful, reflexive and anchored in process. I left ­feeling buoyed by the connections and inspiration I experienced.
We had shared our failures, our hopes and our hesitancies with the education system. We also understood that its failings weren't our own, but that our small actions mattered. Now I'm ready to see what our response in Scotland will be. I hope that at YAS we can hold space to celebrate local examples of rebels in teaching.
Lily Asch, performance storyteller, facilitator and founder of Real Talk CIC.