John Swinney set to announce rethink as fury over exams grows
John Swinney is set to announce a rethink of the Scottish Government's policy on this year's exam results after coming under pressure from opposition parties.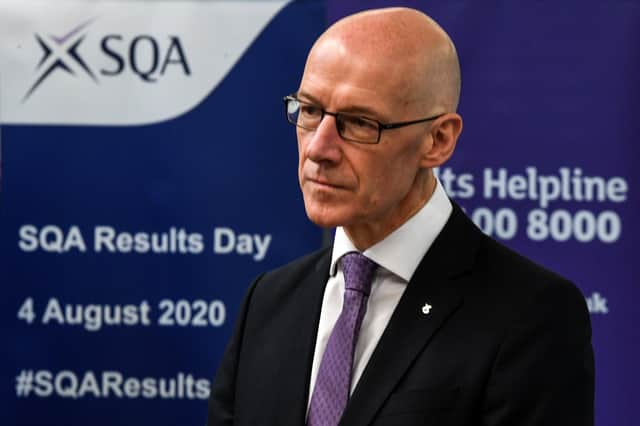 The Education Secretary will make a statement to the Scottish Parliament tomorrow after a week of controversy over the decision to change the grades of more than a quarter of all pupils in this year's results.
It is understood that the threat of the Scottish Greens backing a potential no confidence motion from Scottish Labour, which had already been backed by the Scottish Conservatives, led to the rethink.
The shift comes as the Children's and Young People's Commissioner Scotland (CYPCS) has called on the Scottish Government to apologise over the exam results chaos, and to change the methodology for calculating grades.
In a statement yesterday, Mr Swinney made the first admission by a senior minister that the methodology of the moderation of this year's exam results might be wrong.
The deputy first minister said he was "determined to address" the anger of pupils, some of whom protested in Edinburgh and Glasgow last week, and "act quickly".
He also admitted the government would "not get everything right first time".
Mr Swinney said: "I have heard the anger of students who feel their hard work has been taken away from them and I am determined to address it.
"These are unprecedented times and, as we have said throughout this pandemic, we will not get everything right first time. Every student deserves a grade that reflects the work they have done and that is what I want to achieve.
"I have been engaged in detailed discussions over the way forward and I know that we need to act and act quickly to give certainty to our young people.
"I will set out on Tuesday how we intend to achieve that."
Green education spokesperson Ross Greer said he welcomed the "admission" the government had got exam results "badly wrong".
Mr Greer has been calling for a "no detriment" policy, where no pupil is awarded a grade below their preliminary exam results, but it is understood the Greens will push for more from the Government.
This could include the use of teacher estimates as the basis for grades for all pupils.
He said: "The widescale downgrading of working class young people was unacceptable and entirely avoidable, as the Scottish Greens warned over four months.
"The fairest, simplest solution is to trust the professional judgment of teachers, as the SQA and Government initially claimed they would before they adopted this awful postcode lottery system."
The news of a potential deal between the Greens and the SNP angered some, with Labour MSP Monica Lennon branding it a "new low in Scottish politics".
She said: "John Swinney dismissed the concerns of opposition MSPs until his own job was on the line.
"If he's done a deal with the Scottish Green's to save himself, this is a new low in Scottish politics. He should fix this and then go, and others should show some integrity."
The sentiment was echoed by Tory education spokesman Jamie Greene, who said: "Time will tell if Scottish Greens have indeed "done a deal" to save Mr Swinney from parliamentary humiliation.
"Whatever happens in Holyrood, I do know that any change of tack by the Scottish Government is a result of incredible pressure/outrage from pupils and parents. Not backroom poltical deals."
Labour education spokesman Iain Gray added on Twitter: "He [Swinney] was told in April this was going to happen. He did not act quickly. He did not act at all until we tabled a motion of no confidence.
"It is amazing how a no confidence motion concentrates the mind. Meanwhile thousands of young people left twisting in the wind until Tuesday. This is no way to run education."
Labour had led the calls for Mr Swinney to resign last week, announcing its planned no confidence motion on Friday after it claimed the SQA would not release the results of appeals for nine months.
The SQA said that was a "meaningless date" but did not give a firm date for when appeals would be released.
Scottish Liberal Democrat leader Willie Rennie said the "admission of error" was the first step in resolving the exam results crisis.
He said: "Thousands of young people have endured much pain this week – avoidable pain.
"Why we ever got into this sorry state is a question that needs answered too."
In a letter to the SQA and the Scottish Government, the CYPCS lays out a series of steps to make the appeal process for pupils fairer.
It includes allowing young people to disagree with the grade estimated by their school, and grades being awarded based solely on the evidence presented and not "statistical modelling or moderation".
Nick Hobbs, CYPCS head of advice and investigations, 
criticised the SQA's "refusal to discuss its proposed methodology in advance" and said pupils are now "experiencing significant anxiety and distress".
He added: "This situation has placed process before people, and in endeavouring to protect the system has delivered results to individual students that are simply unfair.
"It appears that too many young people have not received the results they deserve and they are due an apology as well as redress.
"Children from more deprived areas report being downgraded, not based on an assessment of their own abilities and potential but on the historic performance of the school they attend."
The announcement from Mr Swinney followed a weekend of intense pressure from opposition parties and from some from within the SNP.
Former minister Alex Neil, who served in Nicola Sturgeon's cabinet between 2014 and 2016, had branded the downgrading decision "unforgivable".
Freshly crowned Scottish Conservative leader Douglas Ross echoed Mr Neil's assessment of the decision as "unforgivable" and called on Mr Swinney to be sacked by the First Minister.
He added:"The answer to this scandal cannot simply be a lengthy appeals process going at a snail's pace because the SQA don't have the necessary resources.
"We've all got to be prepared to put country before party, 
as I have in the past, and 
Nicola Sturgeon must do that now and remove Mr 
Swinney."
Comments
 0 comments
Want to join the conversation? Please or to comment on this article.