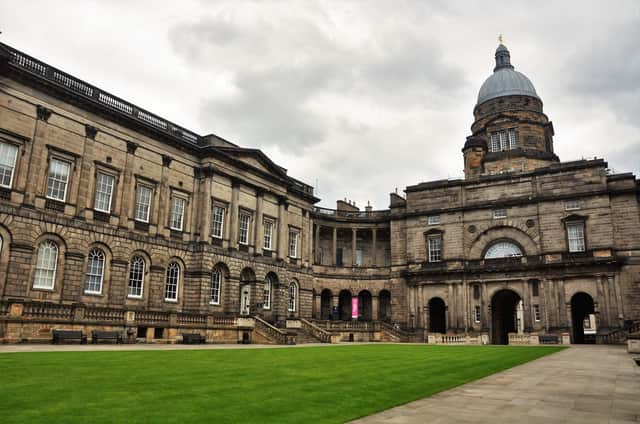 Jobs are at risk at Edinburgh University, it's principal has announced.
Staff at Edinburgh University are set for a nervous wait after principal and vice-chancellor Peter Mathieson announced the university is set to reduce staffing costs through voluntary redundancy and pay freezes.
Staff were already reeling from an email sent last week, seen by the Evening News, detailing plans for a six-day work week, with teaching hours extended to 8am-8pm Monday to Friday, and 9am to 5pm on Saturdays.
Professor Peter Mathieson made the announcement in a staff-wide email on Thursday
The university is the Capital's third biggest employer behind only NHS Lothian and Edinburgh City Council in terms of the number of staff on its payroll.
Alongside pay freezes for those earning more than £100,000 announced in May, Prof. Mathieson added that all staff now face a pay freeze with all promotions, increments and contribution awards suspended.
A voluntary redundancy scheme is also being considered by the university, with compulsory redundancies left on the table and described as a "last resort", with Prof Mathieson stating the university is "aiming to protect as many jobs as possible".
The principal adds that many of the university's core financial assumptions including increased student numbers, particularly international students, and income from accommodation, catering and events, have had their "fragility" exposed.
In his email, Prof Mathieson states: "Even prior to the coronavirus pandemic, we knew that we were facing some serious challenges and that without change, the University would struggle to maintain its position.
"Brexit will alter our access to EU funding and sadly now also looks likely to threaten our continued participation in Erasmus
"Covid-19 has added to those challenges, not least by the creation of even greater uncertainty. One thing that is not uncertain is that there will now be a major economic recession.
"What Covid-19 has done is expose the fragility of some of our assumptions: that we could count on student numbers including international students to continue to be buoyant; that our accommodation, catering and events would continue to provide surplus for reinvestment in our future; that our research excellence would guarantee our future etc.
"In addition to the immediate suspension of our capital building programme, which we undertook at a very early stage, and a range of proposals to address non-staffing operating costs, we must also look at reducing our staffing costs.
"We are aiming to protect as many jobs as possible and will only contemplate compulsory redundancies as a last resort."
One disgruntled staff member who spoke to the Evening News on condition of anonymity said :"I feel there is a disconnect between what the University says about valuing staff contributions, and their consistent failure to provide long term job security and fair pay to so many of their staff.
"It seems that they are using the coronavirus crisis as another yet excuse to continue this policy. There was already a high level of discontent amongst my colleagues over these issues and the latest communication from the Vice Chancellor has darkened the mood further."
Another staff member said that colleagues were approaching burnout and added that there was no sign of the university caring about staff and student welfare.
They said: "People are exhausted and have been working above and beyond before and during lockdown when we closed and switched to online teaching, that required a lot of effort and time online and now, in the summer which is a time usually for research and leave, we are planning online learning for next summer.
"We are doing this in the context of our conditions getting worse and worse so morale is really really low.
"There is not really a sense that health and safety of staff is being prioritised and why these cuts are being made now when we don't know what our student numbers are going to be."
The staff member added that the risk of further strike action following strikes earlier this year is a risk and said many are worried that a freeze on promotions and pay would disproportionately affect women and people of colour who are mostly in junior roles.
They added: "Our wages have not risen with the cost of living for many years and meanwhile our vice-chancellor's pay has gone up and up.
"Some are in a situation where they may be in a difficult position care-wise and may be losing jobs. We are going to have people going off with stress-related illness.
"People are approaching burnout."
Mary Senior, Scotland official at the University and Colleges Union (UCU) called on the university to take a "jobs first approach" to the crisis.
She said: "This is a difficult time for all universities and their staff and students. There's still great uncertainty and the forecast reduction of international students will be tough for universities like Edinburgh.
"That said, the university has very significant reserves, and this really is the rainy day to start using them. The university needs to take a jobs first approach to keep workers in employment, and provide the education and development for the workers of the future.
"Edinburgh university really doesn't have excuses to take a slash and burn approach to the Covid-19 pandemic. As a major employer in our capital, and in Scotland, with a world class reputation, the university must support its staff and students through this difficult time – and that includes supporting the army of fixed term and hourly paid tutors who contribute so much to the learning and teaching of this great university."
The University of Edinburgh declined to comment further.