Insight: Why digital divide dogs schooling at home across Scotland
Parents and teachers are doing their utmost, but lockdown isn't a great leveller which can close the educational attainment gap, writes Dani Garavelli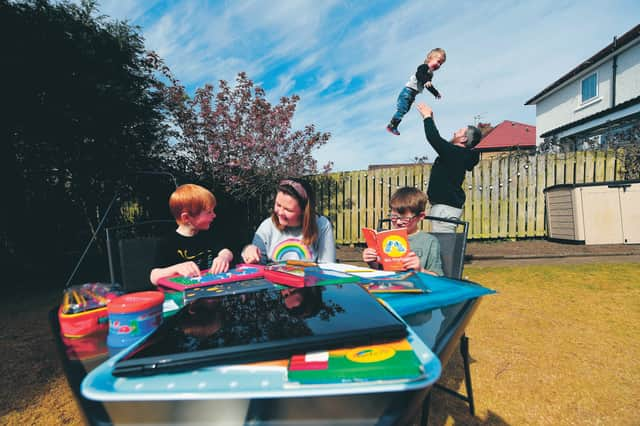 The family of nurse Clare Colligan enjoy a home lesson in their Burnside garden. Picture: John Devlin
At 9am every weekday, Robyn and Anan Devlin, aged six and eight, finish their breakfast, brush their hair and settle down to their schooling just as they did before the coronavirus pandemic.
Their classroom is now the kitchen, their teacher is now their half-sister Daisy, and learning is less formal; but the structure is the same: lessons, playtime, lessons, lunch, lessons, hometime.
Life for the family could have been an impossible juggling act. When Covid-19 took hold, mum Eleanor had just started a new job with a large engineering consultancy. Dad John is a photographer for Scotland on Sunday; both are working from home. But then John's grown-up daughter Daisy, who lives with them, was furloughed from her job in a high-end jewellers, and immediately offered to take on the role of carer/teacher.
Every evening, she prepares a fresh schedule. An average day might include sums, some baking, painting, sewing and an episode of Horrible Histories. As Daisy, 23, is half-Spanish, she is also taking the opportunity to pass on some of the language, and she throws in some chores, such as hanging out the washing for good measure. Initially, she found it daunting. "Every time I asked them to do something they just laughed at me, but we now have a thing where I say: 'You don't want to hear my shouty voice," and they say: 'No, we don't want to hear your shouty voice.'
"They can get very hyper, especially after we have been painting or listening to music," she says, "but I found some meditation for kids on YouTube and now when they are over-excited I wrap them up like burritos and they lie on the floor listening to those."
Daisy's efforts have made a huge difference to Eleanor and John. And they have also brought the family closer together. "Before all this, Daisy would be out half the week and would often eat her meals in her room," Eleanor says. "Now we all sit down and have a cooked dinner together. I know we are incredibly lucky, but there have been real positives for us out of all of this."
With no real likelihood of pupils returning to the classrooms before August, families across Scotland are having to reorganise their lives to combine home-schooling with jobs and other stresses.
Some – like the Devlins – have set up their own mini-classrooms using their own resources or those set up by their schools through Microsoft Teams, Google Classroom Glow and other apps.
Others are taking a less structured approach to suit their children's ages, personalities or fluctuating moods. Barry and Fiona Leatham's son Alex, who is in S4, was initially devastated by the cancellation of his National 5 exams, but having come to terms with that, is content to work away independently on whatever assignments his school sets. Their daughter Charlotte, on the other hand, who is in P7, has struggled a bit emotionally.
"It's been trickier with her as she was really anxious for the first couple of weeks," says Barry, who co-owns the gift shop Gifted in the southside of Glasgow with his wife. "She did bits and pieces of work, but we didn't impose any school routine on her. Being frustrated or worried about schooling would probably have rubbed off on her so we've been laissez-faire other than making sure she's up and dressed at a reasonable time.
"We've been doing baking instead, introducing her to Father Ted, listening to music that isn't Ariana Grande, sewing, gardening, continuing with her choice of school work and just keeping her happy. Tonight she helped make chicken ramen. Initially it was a distraction from the real world, but hopefully it's now introducing her to new skills."
For single parents, those struggling financially or those whose children have special needs, simply navigating their way through the ups and downs of the day without trauma may be achievement enough.
Lauren Hughes is a care assistant at a home in Dumfries, so her five-year-old daughter, Emmy, would be entitled to continue going to school. But Emmy was in the process of being assessed for autism when Covid-19 struck, and Lauren believes the change in setting, teacher and classmates would have been too much for her. For the first two weeks, she tried to encourage Emmy, who would usually be supported by a speech and language therapist, to engage with the work the school provided, but it proved too upsetting. "She was having meltdowns left, right and centre. She didn't want to do the work and kept storming off," Lauren says.
Since she took home-schooling out of the equation, Emmy has been a different child. "I would rather she was happy," Lauren says. "She can pick up school when she goes back."
Covid-19 presents a massive educational challenge. How can parents – facing their own domestic trials – ensure their children continue to learn without adding extra pressure to an already tense situation?
And how can teachers reach the maximum number of pupils, while continuing to respond to individual abilities, needs and socio-economic backgrounds? In particular, what can they do to mitigate the risk that this downturn will exacerbate the country's existing educational attainment gap?
Most schools have risen to the challenge. The pandemic has been the catalyst for a technological revolution, with teachers creating interactive lessons their pupils can log in to at a time that suits them.
There has been an explosion in creativity. As reported in Tes Scotland, St Columba's Primary in Cupar has set up its own online TV channel. In one video, the principal teacher demonstrates how to grow trees from the pips in apples; in another, pupils are challenged to work out how many elastic bands are necessary to prevent a bungee-jumping Barbie doll from meeting an untimely end.
Nor have the teachers forgotten the importance of pastoral care, Drakies Primary in Inverness, for example, is posting virtual assemblies to foster a sense of community.
"Digital literacy is something that is really being pushed at the moment in Scotland, and this has brought everything forward, " says Blair Minchin, P7 teacher at Victoria Primary in Edinburgh, who produces regular teaching vlogs called Blair's Bites.
"We have P3 upwards on Microsoft Teams so we can interact with our pupils. We set assignments every day and they can pick and choose what they do. There are two of us manning it from eight to four, so there is a flexibility over when they work, and if they don't like typing or using PowerPoint, they can just write in their jotter and take a photograph and send it to us."
Nurse Clare Colligan has nothing but praise for the way her children's school has responded to the crisis. She and her husband, Matthew, a bar manager, have three sons: Jack, eight, Finn, five, and Cian, two. Clare works part-time shifts at the coronary care unit of the Queen Elizabeth Hospital. When they are both at home, Matthew tends to keep Cian entertained, while she oversees the older boys' learning.
The primary school the boys attend has been uploading a learning grid on an app pupils have been using all year. The grid has a set of tasks the school would like the pupils to complete in the coming week.
"Finn's P1 teacher has been doing mini teaching sessions on YouTube, exactly as she would do them in the class," says Clare. "The video links have been great. I think it is really important at that age to be able to see their teacher. The first time the video was uploaded, my wee boy's face was a picture.
"The children have a magnetic board of letters at home. His teacher does everything she would do in the class, and then they copy it on to their magnetic board. It's great because it gives them a bit of consistency."
One of the things Clare likes about the school's approach is its emphasis on the children's physical and emotional well-being. "Mostly the boys are quite receptive, but there are some days when they are like, 'You're not our teacher, you are our mum' or when it's difficult for them to concentrate because the TV is on in the background for Cian. The fact the school has been clear that there is no need for us to stress about completing work has taken so much pressure off."
Of course, one of the hurdles teachers face is that parents do not always agree with them, or even with each other, when it comes to what is best for their children's education.
The initial results of a survey carried out by parents' organisation Connect, suggests they are divided on the use of technology, with some complaining about the sheer range of platforms being used. "Our children's school is currently using Glow, Twitter, Facebook, Showbie, Microsoft Teams, Diagnostic Questions, as well as booklets on the website for certain subjects," one parent wrote. "It has been hard to navigate it all."
Minchin has also encountered parents who have asked him to send out written work – rather than have their children engage with Microsoft Teams because they don't want them to have any more screen time.
A more intractable problem is the digital divide. Brian Donlin is a principal geography teacher in northern Scotland, who has concerns about the entrenchment of existing inequalities.
"Firstly, you have some children who have no internet access," he says. "Where I work that's not a massive number, but if you go into more deprived areas it will be greater. Those pupils cannot use Microsoft Teams. As a centre, we are able to post material out to those young people and yes, that's something, but all written material requires input from a teacher – everything is built around the idea of there being some form of interaction.
"Then there are young people who are having to share one device – or very few devices – with multiple users. I have pupils who live in a house with one computer, but they have two or three siblings and their parents may be working from home too. That limits the amount of time they spend on them, which in turn has an impact on how well they engage with the material. It also increases the pupils' anxiety and places a huge strain on families."
Finally, there are the homes where the types of devices young people are using just aren't suitable for the task set. "I have lots of pupils who will send me a message saying, 'I can see the file you have uploaded but I can't access them on my mobile phone' and I suddenly realise, this isn't going to work very well," Donlin says.
Such inequalities always existed. But prior to lockdown, pupils could stay on after the bell to use the laptops, or go to the local library. Now the disparity between the digital haves and have-nots is more starkly apparent.
As schools have begun to embrace digital learning, some local authorities have recognised the need to bridge that gap. Glasgow City Council has already begun the roll-out of 52,000 iPads to pupils between P6 and S6, which is due to be completed next year. Ditto Borders Council, while post Covid-19, some other local authorities, including Aberdeen and East Renfrewshire, have been handing out laptops and dongles to children who would otherwise miss out.
Yet technology is not the only issue likely to increase the educational attainment gap during lockdown. There are some schools where the chief concern isn't whether or not pupils have their own laptop, but whether or not they have enough to eat, a table to eat it at or outdoor space in which to play.
"There were already concerns, before all this happened, about a learning lag during the summer holidays," says Henry Hepburn, news editor of Tes Scotland. "From a middle-class point of view, we look forward to heading off to Italy or France, but for a lot of people, the summer holidays is a very different experience – a lot of the stresses people have are magnified because schools are a source of immense support.
"I am not sure how much formal evidence there is of this happening [during lockdown], but it is certainly something that is being talked about.
"On the plus side, however, one of the strengths of Scottish education is there is a sense of social justice – you are really seeing that come out in what schools are doing to make sure they don't lose touch with kids."
Like the children of key workers, vulnerable pupils were offered the chance to stay at school during the pandemic, but the numbers choosing to do so have been low.
Bruce Adamson, Scotland's commissioner for children and young people, blamed the low uptake on stigma, poor communication and logistical difficulties.
Some schools are trying to address the inequalities themselves. At Victoria Primary, teachers have handed out old laptops and Kindles to pupils without devices, while at St Bride's Primary in Govanhill, Glasgow, teachers have been delivering food parcels to struggling families. But such piecemeal intervention, while laudable, will only go so far.
Adamson has called for direct payments of at least £20 per week per child to be paid into the bank accounts of families who children claim free school meals – double the amount many councils are currently giving families.
Others would like to see the Scottish Government to do more to ensure digital inclusion than merely encouraging cash-strapped local authorities to spend existing funds on laptops and tablets.
Living between Fettes College and Pilton Primary, Minchin is constantly reminded of the gap between rich and poor. "I take the football team on a Saturday morning," he says. "Our pitch is the muddy rubbish one next to Edinburgh Academy's lovely blue hockey pitch and every week the kids say, 'It's not fair: why can't we play on that pitch?'
"I am very aware that the private schools are pushing their pupils at this time. I know a pupil who goes to Fettes – he has a full-on schedule and is online all day."
While Minchin does not want to place additional pressure on families, he wants to make sure his pupils don't fall behind.
"Before Easter, it was about getting the kids settled, but now we are starting to push the kids a bit: to say you do need to get online, you do need to look at these things. Don't worry if you are struggling, we are here to help, but we need to get some work done.
"If [as looks likely] the schools do not go back until August, there is plenty of time for the gap to widen and we do not want any of our pupils to lose out."
On the bright side, it is already clear there will be a technological legacy from the pandemic.
"Teachers always have great ideas about using digital platforms and never get the opportunity to see it through," says Donlin. "Having time when they were not in school has not only allowed it to happen, it's put young people in the position where they have no choice but to engage with it." When this is over, the use of Microsoft Teams, Glow and other apps will be well-established. "One of my intentions is that we will have a go at making one of our Higher or National 5 classes entirely paper-free," he adds.
Hepburn claims the crisis has forced those who were sceptical about online teaching to adapt. "A lot of people who didn't grow up with digital technology are suddenly realising its potential," he says. "I am seeing lots of teachers revelling in a new way of doing things."
Hepburn believes another dividend of the pandemic will be a renewed appreciation for teachers from parents who are looking forward to handing their offspring back over when this is over.
"All these families thrown into a school setting are suddenly realising what a difficult job it can be," he says.
Want to join the conversation? Please or to comment on this article.