Insight: Is another exam crisis brewing in Scotland?
WHEN Eve McTiernan heard Nicola Sturgeon say there was no requirement for senior pupils to sit prelims or exams this year – a message also publicly promoted by the Scottish Qualifications Authority – her reaction was one of disbelief.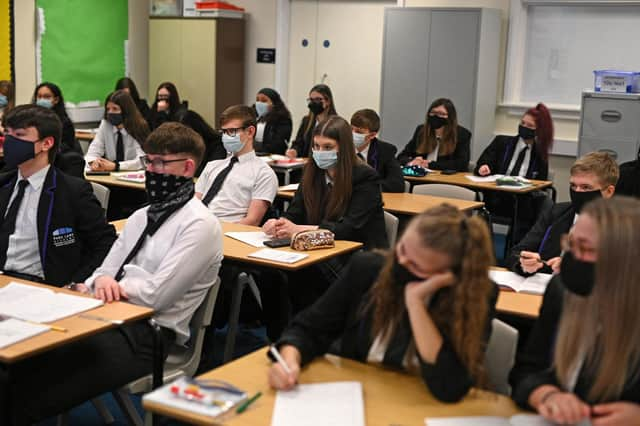 "To be honest, I laughed," she says. Eve, who is a sixth year pupil at Kilsyth Academy, is crashing three Highers: French, Politics and PE, and needs at least one B to take up her conditional place to study politics at Glasgow University.
Despite the Scottish government's pronouncements, she already has her timetable of what may officially be termed 'assessments' - but which, to her, look very much like exams.
"The first assessment [for senior pupils] is on April 20 - day after we come back - and they go on until June 3," she says. "Mine don't start until May 21, but the only way I can describe it is an exam diet - to the point where I have three of them one after the other on Wednesday, Thursday, Friday.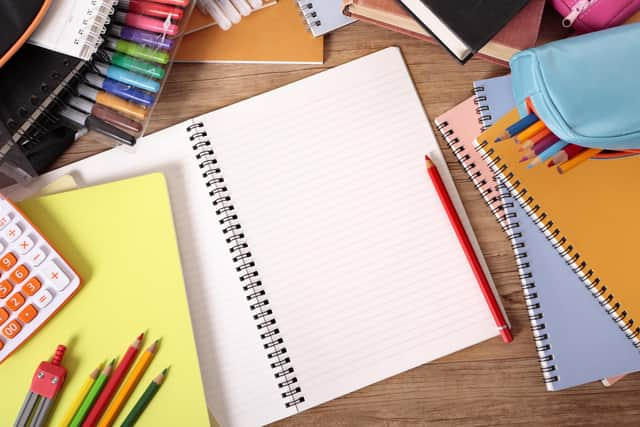 "The exams are divided up a bit more than usual - in an SQA timetable you would have the French written paper in the morning, say, and then French listening in the afternoon, whereas the school has done a good job of trying to limit us to one assessment a day. But they are still being held in the hall, whereas we thought they would be in a classroom, so they look and feel like exams."
Crucially, all of this is being done without the usual study leave - because study leave is only given for exams, which, technically, these are not.
McTiernan's confusion is shared by many other pupils and teachers. Twins Kate and Lucy Yeadon, who are in fifth year at Hyndland Secondary in Glasgow, for example, are sitting not one but two sets of assessments - effectively prelims and actual exams with only a week in between.
"The prelims run from April 21 to May 4 and the main exams from May 10 until June 4," explains Kate, who hopes to study maths at university. "They are having to squash it all in. Sometimes I have two in one day - for example I have French listening in the morning and Spanish listening in the afternoon."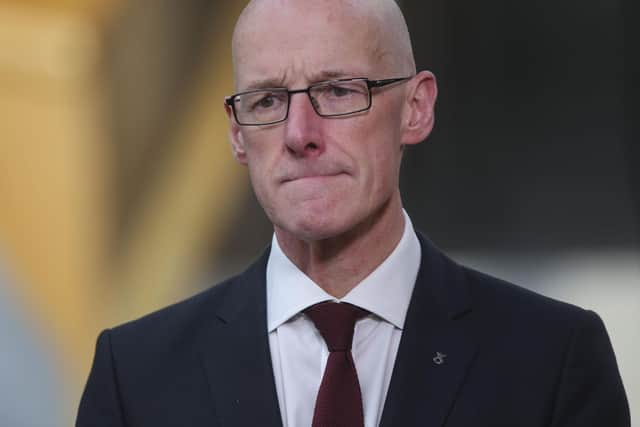 None of the three pupils have any complaints about their schools. "I have seen loads of people on social media trying to blame teachers, but it is not their fault - they are just trying to follow what they've been told," Eve says.
"I think it is having an impact on them. My assessment timetable was put on Microsoft Teams at 12.52am by our deputy head - and if she is up at that time trying to get things sorted, how stressed must she be?"
But the pupils are stressed too. This is their second year of disrupted schooling. Eve was caught up in last year's exams results fiasco - her German Higher was downgraded from an A to a B before education secretary John Swinney's U-turn meant her teacher's assessment was accepted - and she says the constant uncertainty has taken its toll.
Lucy, who wants to be a PE teacher, says she found it difficult to focus in the months from January when everyone was learning online. "I found motivation difficult - to be at your desk all day and not see your friends," she says. "The teachers told us we would be getting prelims when we went back. But we didn't know when that would be, so it was all day sitting at your desk learning by yourself, and then trying to study after that."
Kate is worried about what lies ahead. "If you don't do well in the prelim it's going to stress you out for the actual exam because there isn't much time to improve or change the way you revise," she says.
Meanwhile teachers are furious about what they see as the shambolic way the year has been handled: from the failure to cancel the exams last summer to the confusing and often contradictory instructions they claim they are being given by the SQA.
Last week, many contacted me to express their concerns for their pupils' well-being and their fear that the Scottish government is walking into another educational catastrophe of its own making.
The SQA continues to claim there is no requirement for exams, yet it is handing out question papers to be completed under supervision within a set timescale. For some subjects, schools have been told they must base "provisional results on demonstrated attainment" and that key evidence must be gathered "in closed-book conditions".
The teachers believe the SQA attaches greater weight to assessments that come as close as possible to replicating exams, and insist any suggestion otherwise is a flagrant attempt to shift the responsibility for any fall-out onto their shoulders.
"I keep watching the education committee and hearing [MSPs] say: 'There is an alternative assessment model and schools have been given all this information' and I am like: 'Either you are lying or you are being gas-lit by the SQA and Education Scotland', " one biology teacher said. "There appears to be no understanding of what is actually going on."
The teacher - who works in a school with a mixed catchment - claims the panic and uncertainty is taking a terrible toll.
"In the last few years there's been an uptake in students presenting with stress and anxiety and mental health - those kids haven't been coping well, and I have received emails from some who have self harmed," she said. "Even the ones who are normally all right are crumbling - they don't have the resilience or life experience to be able to cope with everything.
"It's awful to watch and it doesn't feel as if any of last year's lessons have been learned."
*********************************************
The story of how we got here, again, is a difficult one to fathom. Scottish education expert James McEnaney is one of many who believe the 2021 exams should have been cancelled before the start of the new school year, with the SQA coming up with an alternative model of assessment which was "robust enough to survive a year of ongoing disruption."
But Swinney had just backed down over the results and endured (but survived) a Vote of No Confidence, something McEnaney believes he struggled to recover from. Under pressure from various parties, including the lobby group UsforThem, he opted to send pupils back into school full-time.
"The government allowed schools to start the academic year without knowing how they were going to finish it. I think that's indefensible on an organisational level," McEnaney says. "They kept on delaying the cancellation of the exams though everyone could see there were more and more teachers going off with Covid and more and more classes having to self-isolate; they did nothing because they were trying to get to Christmas."
Swinney announced the cancellation of the National 5s in October, but it took until December 8 for him to accept it would be unfair to press ahead with Highers and Advanced Highers. By that time, of course, schools were on the brink of being locked down again. They closed on December 18 and will only fully open again after the Easter holidays. For the intervening weeks, all students have been learning online, with the degree of interaction varying across individuals, departments and schools, and making assessments impossible.
McEnaney says if the exams had been cancelled earlier Swinney could have asked the SQA to provide a clear, but light-touch framework that would guide teachers, but largely allow them to do what they did last year: assign marks for their students based on their own knowledge.
"Instead - because the SQA refuses to trust teachers - it has put in all this bureaucracy, insisting schools have to do all different kinds of assessments," he says. "In some subjects - particularly the science subjects - it is almost explicitly saying: 'That has to to be an exam'."
The EIS says it supports the Alternative Certification Model (ACM) and believes teachers' professional judgement, based on demonstrated evidence, remains "the most equitable way to deliver qualifications for students in this pandemic disrupted year".
"Lockdown has created a very real pressure in terms of the completion of teaching and learning and the production of assessment evidence," adds general secretary Larry Flangan.
Flanagan says in most subject areas the qualitative evidence required will be three or four pieces of work spread across the key skills areas. In English, for example, this might be close reading, textual analysis/critical essay and extended writing. "Crucially, these do not need to be produced in one sitting nor do students need to be limited to only one opportunity to produce their best work," he says.
He insists schools should avoid running full exam diets which simply replicate the high stakes testing of the normal exam programme. "These are not normal times and the aim should be to provide every opportunity for students to produce their best work. Final grade estimates are not required until the end of June and schools should seek to use as much of that time as possible to support pupil progress."
But last week Seamus Searson, general secretary of the Scottish Secondary Teachers' Association union, said his members had to defend their gradings at all levels "hence the current panic to collect evidence including setting internal SQA exams".
"The SQA tail is wagging the education system dog," he added. "The answer is simple - the SQA should trust the teacher's judgment and not rely on this bureaucratic nightmare for all."
McEnaney says everyone who reads the SQA documents understands the subtext. "They may say we don't don't need to do exams, but we need to provide evidence that meets all these requirements and, at this stage, probably the only manageable way to generate that evidence is through exams.
"In any case, if schools are not being asked to do exams, why has the SQA released an exam paper for every subject?"
The majority of teachers who contacted Scotland on Sunday believe the approach being taken by the SQA is, at best, suboptimal and, at worst, damaging to the children's welfare.
"We could have had lots of smaller tests assessing different parts of the curriculum as you worked through it - that's how universities work," one teacher of Religious, Moral and Philosophical Studies said. "That would have allowed pupils to work consistently when possible and, if they had to self-isolate, to catch up on that one assessment later
"But the SQA seems to be fixated on high-stake assessments done in fixed periods. In my opinion, under the current circumstances, that's absolutely bonkers and a threat to the kids. "
The biology teacher described how her department was still receiving conflicting instructions. "Last week, we got one official email through to our SQA coordinator to say 'if you have only managed to cover 50% of the course then only assess the 50% you have done', but, at the same time, we got another official email saying 'you have to cover the whole course'."
Teachers feel particularly hard done-by because they - not the SQA - are being expected to take on the lion's share of the responsibility.
"They are designing the assessments, running the assessments, marking the assessments, and then there is quality assurance, cross-marking across their own schools, and across several schools across the local authority," McEnanay says.
Some teachers are already SQA markers, but others are not. For the extra work they have been offered just £400. But of equal concern is the length of time all this it is going to take.
"All of the last few weeks has been spent making assessments and then we are going to be marking to make sure we meet the school's deadline which is a couple of weeks before the SQA's deadline - so that means three [more] weeks with very little teaching," one teacher said.
They are also worried what will happen after the results are released. The Scottish government has already said there will be an appeals process but it is unclear what this will involve. Teachers are worried that once again the burden will fall on them.
"There are a huge number of kids who are going to be massively disadvantaged," says McEnaney, "and, unlike last year, when we were able to undo that by saying this algorithm has been wildly unfair, we need to revert to the original teacher grades, this year it's the original teacher grades that are going to be the issue because they will have been constrained by this appalling system."
Some teachers are worried about the enduring impact the chaos of the last two years will have on their most vulnerable pupils.
"I have a duty to consider the emotional wellbeing of pupils as well as their academic progress, but the SQA doesn't," the biology teacher said. "I know their mental health is suffering because some of them have been emailing me in the early hours of the morning."
When they returned to the class for blended learning, she was struck by how quiet they were. "I said to them: 'Why aren't you whispering, trying to sneak time on your phone, why am I not hearing gossip about who fancies who?' That's how teenagers are supposed to behave."
The teacher says fifth and sixth year give teenagers space to learn about themselves; to test out their identities and develop resilience. For this reason she believes they should be offered the option to repeat the year if they wish.
"I have one pupil - she is 15, both her parents are drug addicts and she is the main carer for her siblings," she says. "School is her place - somewhere she can be kept an eye on. Her academic life has suffered because she has not been in school, but her academic life is the way out of her situation."
McEnaney believes once again the needs of children have been subordinated to needs of the system. "The reason I was so furious last year was that what we saw was the system deciding the most important thing was not protecting young people but protecting itself," he says.
"That is exactly what is happening now - it's the same mistake in a slightly different form. The SQA said here's how your grades will be put together in order to make sure your qualifications are'"well-respected', which is just a tweak on what John Swinney was saying last year about how they had to be 'credible'.
"It's basically: 'If we don't have all these structures in place and all these hoops for teachers and pupils to jump through, then we don't trust these grades'. It's ending up in a situation where young folk are once again being sacrificed in order to pretend everything is fine with the system."
Comments
 0 comments
Want to join the conversation? Please or to comment on this article.