Humza Yousaf urges Unison to suspend school strike and let members have say on pay deal
Schools are set to close across Scotland this week
First Minister Humza Yousaf has urged Unison to suspend strike action across schools in Scotland and to put an improved pay offer to members to vote on.
Unison rejected an improved offer from the Convention of Scottish Local Authorities (Cosla), with members planning to strike in 24 areas on Tuesday, Wednesday and Thursday unless a new offer is made.
Essential school staff including cleaners, janitors and support workers have been locked in a pay dispute, with a new offer estimated to cost £580 million.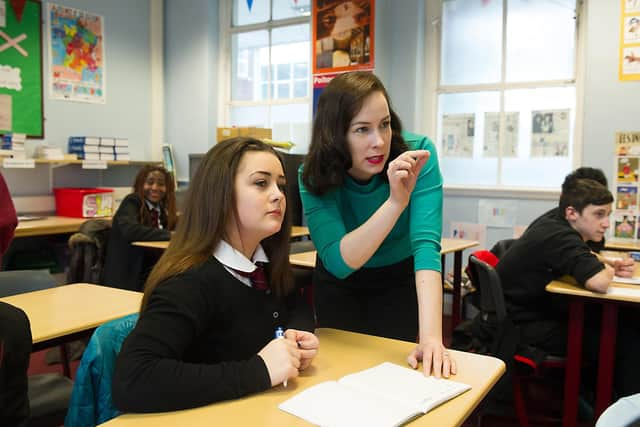 However, it has split trade unions, with two others presenting it to members to vote on – with Mr Yousaf urging Unison to reconsider.
GMB Scotland said the offer is "not perfect but it is a clear improvement" and moved to suspend strikes, along with Unite.
The additional funds were previously "ringfenced", and GMB Scotland said Cosla would be held to its assurance that no services will be cut to fund the pay offer.
Mr Yousaf said "we have been engaged with Cosla right throughout this process" and insisted flexibility had been given to provide extra funds.
But the Scottish Government was urged to "work flat-out to avert strikes" by the Scottish Tories.
The new offer represents a minimum wage increase of £2,006 for those on the Scottish Government's living wage and a minimum increase of £1,929 for workers who are earning above the living wage.
The living wage of £10.85 will rise to £11.89 under the new offer, equivalent to a 9.6% increase.
Keir Greenaway, GMB Scotland senior organiser in public services, said: "The latest offer from Cosla is not perfect and came far too late, but it is a clear improvement on those that came before it.
"Each union will do what it thinks best for its members, but we have consistently demanded Cosla do most for the lowest-paid council workers suffering most during an enduring cost-of-living crisis.
"This offer would deliver significant improvements to council workers but particularly the lowest paid and, given that, it is absolutely right our members are now given the detail of that offer and asked to vote on it."
Shadow cabinet secretary for finance and local government Liz Smith MSP said: "The failure of talks means it seems inevitable this three-day strike will hit schools across most of Scotland.
"That will be hugely damaging for pupils and very inconvenient for parents but councils have very little room for manoeuvre, given the way their funding has been consistently undermined by the SNP government.
"Even the Scottish Government's 'new' money to settle this dispute is nothing of the sort.
"It has simply been taken out of existing council budgets – so the SNP shouldn't trumpet it as some kind of extra boost.
"The Scottish Government has to work flat-out to avert these damaging strikes."
Asked if the Scottish Government could have done more to prevent school strikes, Mr Yousaf said: "These are negotiations obviously for Cosla but we have been engaged with Cosla right throughout this process, providing additional funding, additional flexibility so more funding can be made available.
"I don't think anybody could accuse the Scottish Government of not being involved alongside Cosla. But it is for Cosla to lead these negotiations.
"It is a very good offer, that is why a couple of unions of course have suspended strike action and will now consult members.
"There's government involvement, government funding – it is a very good offer and I would urge Unison, who I understand continue to have concerns, to follow the other trade unions, suspend strike action and do a consultation with their members.
"I've got tremendous respect for Unison, I have dealt with Unison for many years in various different ministerial portfolios, most recently as health secretary. So I have got tremendous respect for Unison.
"I believe they are doing what they believe is in the best interests of their members but I would very politely to suggest that with the further detail we have provided over the weekend, I am hoping there is enough to give them reassurances, that particularly for the lowest paid, but for everybody across any of the pay bands this is a very good offer indeed."
A spokesperson for Cosla said: "This is a very strong offer that equates to 10% or £2,006 for the lowest paid at the request of the trade unions.
"Throughout these negotiations we have met every request of our trade union colleagues."
Cosla's resources spokesperson Katie Hagmann said: "I am heartened both Unite and the GMB will suspend strike action whilst they consult with their membership on the pay package.
"We have met every ask of our trade union colleagues and this best and final offer which will see every single local government worker receive an in-year pay rise of between 6% and almost 10% on the basis that strikes would be suspended.
"We are talking about a pay package which not only compares well to other sectors but recognises the cost-of-living pressures on our workforce and which would mean the lowest paid would see an in-year uplift of over £2,000 or just under 10%.
"This is the best funding package that Scottish and Local Government can provide and I hope their members accept the offer."
Comments
 0 comments
Want to join the conversation? Please or to comment on this article.