Humza Yousaf urged to intervene in his old private school's 'bully tactics'
​First Minister Humza Yousaf has been urged to intervene in his former private school's "bully tactics" amid fire and rehire accusations.
NASUWT general secretary Dr Patrick Roach used his speech at the union's annual conference in Glasgow to urge Scotland's new leader to take action against his alma mater, Hutchesons' Grammar School in Glasgow.
The union balloted members at the school, with 87 per cent in favour of industrial action amid claims the school is forcing teachers to agree to new contracts which would see their pensions downgraded or face dismissal.
The school, however, has "strongly rejected" the accusations of fire and rehire and pension downgrades.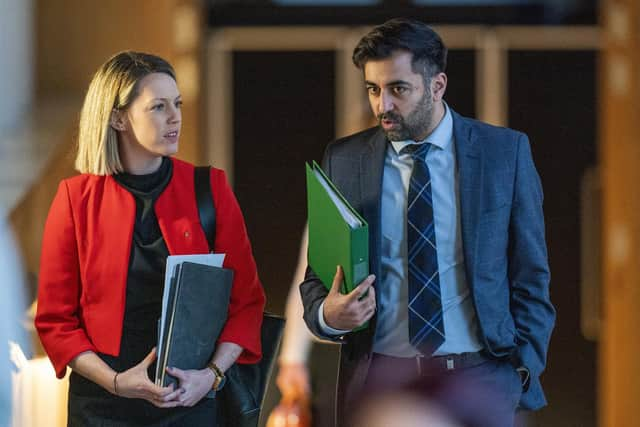 In March, 80 per cent of EIS members – Scotland's largest teaching union – at the school indicated their willingness to take strike action.
The EIS ballot will open on Tuesday and end on May 4, with strike action likely to commence two weeks later.
Unions have said the school issued teachers with "contract terminations and offers of re-employment" for those who have not yet signed the new terms, with a deadline of April 14 imposed.
Fire and rehire refers to when an employer fires an employee and offers them a new contract on new, often less-favourable terms.
Speaking in Glasgow on Sunday, Dr Roach urged Mr Yousaf, who attended the independent school between 1997 and 2003, to tell the school to "desist" in its action.
He said: "I'm today calling on Humza Yousaf to use his new position as Scotland's First Minister to fix this broken system.
"Intervene to stop the use of those bully boys tactics and to tell his alma mater Hutchesons' Grammar School here in Glasgow to desist from bullying our members and withdraw immediately their threat to fire and rehire dedicated and committed teaching staff, otherwise our members will have no other option than to take strike action to defend their jobs and their livelihoods.
"Our members there have a mandate now for industrial action and they will use it if they have to and they will have our fullest support for as long as it takes."
It follows Scottish Labour leader Anas Sarwar – also a former pupil at the school, which charges fees of up to £14,000 per year – saying the school should "see sense" over the alleged policy.
Mr Sarwar told STV last week: "I've met with the unions directly, I've met with representatives of the teachers themselves and I've engaged with the school.
"I think the actions are open to serious questions. Any approach to fire and rehire is unacceptable.
"To do things unilaterally without the backing and support of the workforce I think is unacceptable.
"Therefore I'll continue to engage with the trade unions, I'll continue to engage with the workers and I'll continue to urge the school to see sense."
Hutchesons' Grammar School has been approached for comment, but previously said the contracts offer "slightly higher rate employer pensions", alongside a raft of other benefits.
Comments
 0 comments
Want to join the conversation? Please or to comment on this article.