How a book called Bongles and The Crafty Crows is teaching primary one pupils in Scotland about cybersecurity
Until now, educational materials on cybersecurity have been targeted at older primary and secondary school-aged children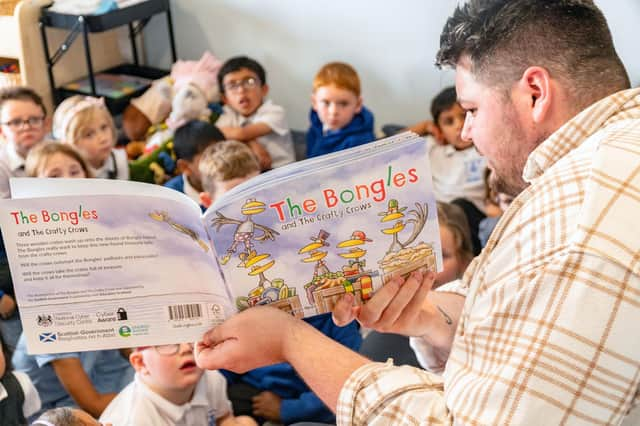 A "ground-breaking" illustrated children's book designed to teach youngsters aged four to seven about cybersecurity is being launched in what is said to be a world first.
The Bongles and The Crafty Crows teaches young learners how to create passwords and passcodes using three random words, helping them to explore, play and communicate while using digital technologies, while keeping their online information safer and more secure.
It is being launched on Monday by Education Scotland in partnership with the Scottish Government and is described as a first of its kind.
Every Primary One child in Scotland will receive a copy of The Bongles and The Crafty Crows in their Book Bug Bag – due to be distributed next month ahead of Scottish Book Week from November 13-19, with Gaelic language versions sent to schools delivering in that medium.
Scotland's Education Secretary Jenny Gilruth said: "This is a fantastic story and a great opportunity to introduce young children to cybersecurity.
"Digital technology is going to be at the heart of these children's lives and it's so important to help them learn how to stay safe online.
"I'm pleased that every P1 pupil in our schools will be receiving a copy of the book ahead of Book Week Scotland.
"I hope that teachers, parents and carers will use this engaging story and the learning activities that come with it to help their children learn about the importance of online safety."
The book – which follows the adventures of Big Bubba, the Twins, Brainy and Pet Robot – has been designed to equip teachers, parents and carers with an attractive resource to deliver important cyber resilience skills, and is supported by a range of learning activities and materials.
It is the latest in a series of illustrated children's books, ebooks, and animated audiobooks from Story Learning that tell stories about The Bongles – colourful bouncy creatures who reuse, repair and upcycle objects that wash up onto the pristine shores of their paradise-like island.
Frances O'Neill, founder and creative director at Story Learning, said: "Using recognisable, well-known children's characters is a fantastic way to educate young children about the importance of staying secure online.
"Until now, educational materials on cybersecurity have been targeted at older primary and secondary school-aged children, with no recognised resource for younger learners.
"The Bongles and The Crafty Crows equips teachers and parents alike with a vibrant and fun tool to talk to four to seven-year-olds about the importance of keeping their online information safer and more secure, and impart knowledge that will help foster a generation of responsible and internet-savvy citizens."
Sophie Watson, aged seven, from the 18th West Lothian Beaver Scouts, enjoyed reading the book.
She said: "The book helped me learn all about passwords and passcodes. You need to make a responsible one and not make easy passwords that people will know.
"I had lots of fun learning about passwords and I want to read the book again."
The book is being launched at a special event at the Abertay cyberQuarter, Scotland's multimillion-pound cyber security research and development centre at Abertay University in Dundee.
Professor Liz Bacon, principal & vice-chancellor at Abertay, University said: "This ground-breaking resource for Scottish schoolchildren draws from global best practice in the cybersecurity sector and we are proud to be supporting its launch at Abertay cyberQuarter, Scotland's centre for cybersecurity research, development and innovation."
Comments
 0 comments
Want to join the conversation? Please or to comment on this article.