High Dunoon: Why one Scottish secondary school is being hailed as a model for others to follow
Experts were 'absolutely blown away' by the way the school created its own 'ecosystem'
Every day, pupils and staff using the main entrance to Dunoon Grammar School walk past a plaque that was given to the head teacher.
The inscription on the gift, which was handed to David Mitchell by a departing S6 pupil, sums up the affection many appear to feel towards the school and its leader. "A very special place," it reads.
Mr Mitchell, who can be found at the same door most mornings to greet the staff and students as they arrive, says it does not take long for visitors to experience the school's warm welcome.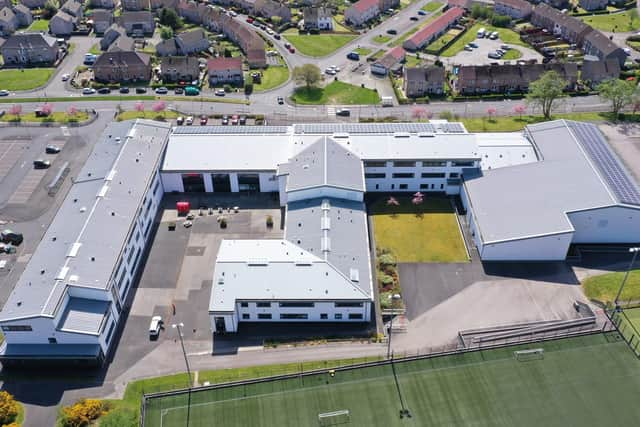 "That's one of the things people tell me as soon as they come into the building, when they've been in it for a very short period of time – they feel it," he tells The Scotsman.
"They know it's a very special place. They feel that everybody knows each other. The relationships are very, very strong.
"There's a real sense of purpose, but also a sense of fun at our school as well."
Gillian Hunt, a consultant who has worked in education for more than three decades, has been following his work at Dunoon Grammar. She has now written a report for the Reform Scotland think-tank, due for publication today, entitled: "High Dunoon: How one Scottish school empowered its staff and pupils and empowered a community".
Ms Hunt says: "I invited myself to go for a visit in January and I saw around the school and, as an educator of nearly 35 years, I was absolutely blown away by what they were doing.
"I asked David if I could come back and speak to everyone involved. I did 17 interviews when I went back and I spoke to students, teachers, parents and folks from the community.
"They really all spoke about the same thing – about that family feeling, that community, that entrepreneurial spirit, the empowerment of everyone.
"Everyone feels able to go out and try things and know that the head teacher particularly has got their back. And he also feels that from his local authority, which shouldn't be unusual, but is unusual."
Her report aims to show others that a school can work as an "eco-system" and can do it within existing budgets.
The culture is now so "embedded" at Dunoon, Ms Hunt was told it would continue even if Mr Mitchell departed, although she praises his leadership as "phenomenal".
Mr Mitchell was born and brought up in Dunoon, went to Dunoon Primary and Dunoon Grammar, serving as head boy in 1992/93. After starting his teaching career in Oban, he became head at Castle Douglas and then returned to his "dream job" leading Dunoon Grammar in 2013.
One of the first changes he initiated was to redesign the school's curriculum to "meet the local context". It included an "exit into employment" programme for disengaged youngsters to go and do work placements, which proved popular.
Mr Mitchell says he believes these kind of links to the local community and economy can enable the school to play an important role in attempting to halt the depopulation crisis facing Argyll and Bute and other areas. Every year, he holds an event for local employers to tell the school "what skills they need".
"We try and design our curriculum every year to what that looks like," the 48-year-old head teacher says.
"We want to try and keep our young people, where possible, in the town. We also want our university graduates to come back to the town and work.
"That's what our goal. It's to try and thrive our population."
The school is also closely linked to the ambitious "Dunoon Project", which aims to put the town "back on the map" by regenerating the area and turning it into a tourist attraction.
A "junior advisory board" has been established, so that young people can tell the project directors what they want to see happen. These community connections are instilled from the moment pupils start at the school.
"Our history department has created a unit of work in S1 that relates to local history," says Mr Mitchell, who has also been the joint head teacher of Campbeltown Grammar School since last year.
"So they are still meeting all the experiences and outcomes that we are to meet for Education Scotland, but they are delivering it using local history.
"It means our young people can go home and speak to their mums or dads, grannies and grandpas, and can have that conversation at home as well."
Ms Hunt admits Dunoon Grammar has specific characteristics that have helped it create its "eco-system", such as the fact it is "one school in one town", and that many of the teachers and parents are former pupils. But she still believes the model can be replicated at schools across Scotland.
"It's there for the taking, you've just got to be outward-looking and try things," she says. Ms Hunt's report concludes with her "final reflections" on Dunoon Grammar School.
"If I was still a teacher, this is where I would want to work and if a parent, this would be where I'd want my children to go to school," she writes.
In other words, it's a very special place.
Comments
Want to join the conversation? Please or to comment on this article.