SNP ministers have been urged to act after First Glasgow stopped youngsters from Knightswood Secondary School from using local routes.
The move followed reports of alleged attacks on a driver and passengers, as well as vandalism and an emergency door being repeatedly activated.
Scottish Conservative education spokesman Stephen Kerr said it was a "shame" the bus company was forced to take the action.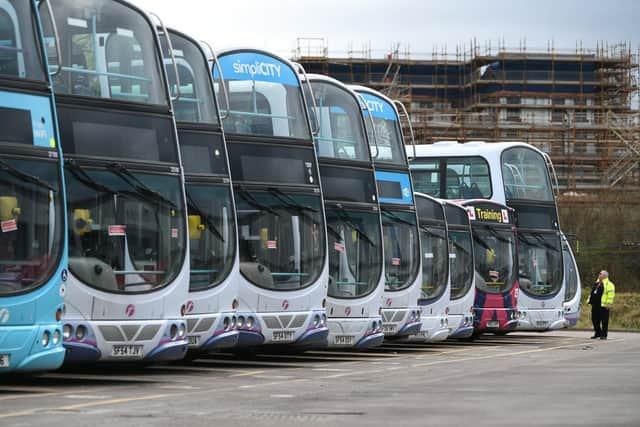 "It means all the pupils at the school are paying the price for the actions of an unruly few," he said.
"That being said, any form of anti-social behaviour on public transport is unacceptable and must be dealt with effectively.
"This kind of conduct is particularly concerning after the recent spate of classroom violence across Scottish schools.
"The SNP Government must reverse their savage budget cuts to councils, who are often best placed to deliver activities that ensure young people can thrive and ultimately stay out of trouble.
"The Scottish Government must urgently take action to support teachers and tackle classroom violence."
A spokesperson for the bus company told The Herald there had been a significant number of anti-social behaviour incidents since December.
It resulted in pupils from Knightswood Secondary School being banned from services 6 and 6A on Wednesday.
"This is not a decision that has been taken lightly, but is only in place for today (Wednesday)," he said.
"We have been liaising with the school in recent months and will continue those discussions alongside the campus police representative to try and reduce the chances of repeat incidents.
"If these incidents do continue, we will be left with no option other than to remove services for pupils from Knightswood Secondary School in future."
A Glasgow City Council spokesperson said: "It is unfortunate that the behaviour of a minority of young people has resulted in this action being taken by the bus company.
"Pupils have been reminded that they are ambassadors of their school in the local community and should respect others at all times.
"This is not acceptable behaviour, and we will be working with the bus company."