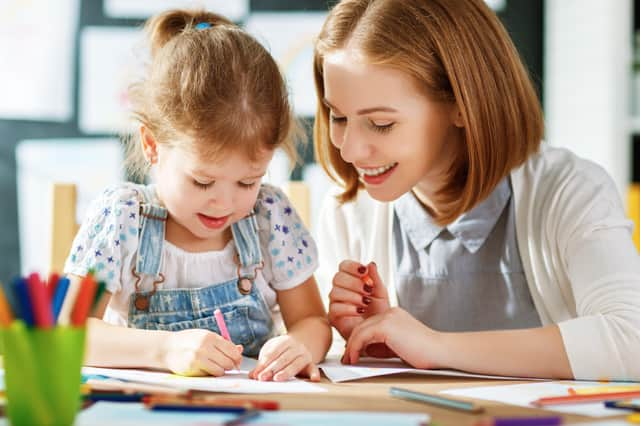 Plans to double free childcare face staff shortages while while fewer than a third of the new or refurbished buildings are finished. Picture: contributed
But the public spending watchdog said "steady progress" had been made in the shift to introduce 1,140 hours of free childcare a year, the equivalent of the primary school week.
It has been hailed as "transformational" and potentially getting a generation of mothers back into work.
But it will need more than 8,000 staff and Audit Scotland said only about half of these have been recruited in a report, while fewer than a third of the new or refurbished buildings are finished.
There are now "significant risks" about the policy being delivered in time, according to today's report.
It adds: "It is likely that some aspects of the policy, such as delivering flexibility and choice, will not be fully implemented by August 2020."
Children's minister Maree Todd insisted that plans remain on track.
"We are committed to delivering the roll-out from August and councils have contingency plans in place for all critical projects due to complete this summer, so we can be confident that the places will be there to deliver the expansion for Scotland's children," she said.
"The expansion also opens up more opportunities for playgroups, private and third- sector nurseries, and childminders to be involved in delivering funded hours."
Auditor General for Scotland Caroline Gardner said the Government and councils have worked well together and evaluation of the 
policy has seen improvements.
But she said: "The timeline remains tight and there are big risks around infrastructure and workforce."
Tory education spokesman Jamie Green said: "This was Nicola Sturgeon's flagship policy, yet the necessary work to make it happen has been left to the last minute.
"As it stands, the fact we're still waiting for so many buildings to be 
finished and staff put in place – there's a huge risk that this won't happen in time."
Labour Iain Gray added: "It is pretty clear from this report that Audit Scotland do not believe the necessary workforce numbers, or the new infrastructure, are going to be in place to deliver this flagship Scottish Government policy on time."
More than £2 billion has been invested with 40,000 staff in place to nearly double childcare provision from 600 hours a year.