Last week Kingspark school in Dundee reported an outbreak of coronavirus, with 27 people, including 21 members of staff, two pupils and four community contacts, testing positive for the virus.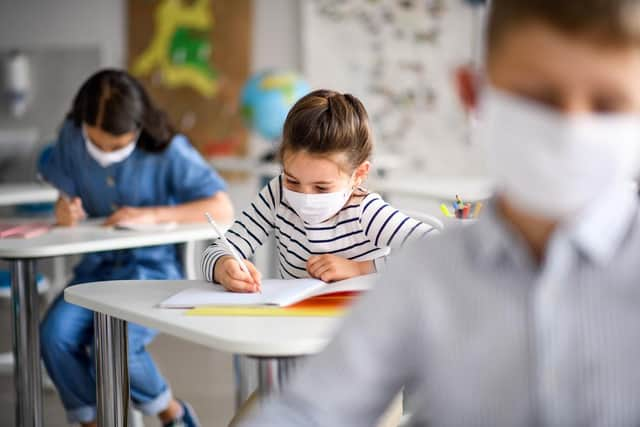 It's hoped the introduction of face masks will help reduce the risk of virus transmission and cluster outbreaks such as the one in Dundee.
Who will have to wear face masks?
Education Secretary John Swinney said the new guidance will apply to all pupils aged 12 and over.
The new guidance will be obligatory in all secondary schools, special schools and grant-aided schools, but it will state that pupils should not be excluded from school if they do not wish to wear one.
Mr Swinney told the BBC's Good Morning Scotland programme: "From August 31, young people over the age of 12 in secondary schools should be habitually wearing face coverings when they're moving around in schools and corridors and in communal areas where it is difficult to deliver the physical distancing."
He added that there will be exemptions because wearing face coverings is not suitable for all individuals.
Why has the guidance changed?
The change in guidance comes following an update in the advice from the World Health Organisation (WHO) on children and face masks.
WHO now advises that "children aged 12 and over should wear a mask under the same conditions as adults, in particular when they cannot guarantee at least a 1-metre distance from others and there is widespread transmission in the area."
What about schools in England?
Currently, there are no blanket plans for pupils to have to wear face coverings when they return to school in England.
Schools minister Nick Gibb has said that school children will not be expected to wear masks in either primary or secondary school, explaining that this decision is "led by science".
"Within a school, of course, you're not with people that you don't meet normally, you see these same children every day, so there are different circumstances – when you're on public transport for example, when you're encountering people you've not come across or met before," explains Mr Gibb.
"And that is why you have different rules and things like face coverings for public transport and being in shops from where you are with the same people in the same bubble day in and day out."
However, the UK government announced on Tuesday evening (25 August) that face coverings will be mandatory in communal areas and corridors for pupils in towns and cities that are currently subject to stricter coronavirus restrictions.
The change in advice came just hours after the Scottish government recommended the wearing of face masks for children over the age of 12 in secondary school corridors and communal areas.
There have also been calls for the decision regarding face masks in England to be kept under review.
The shadow education secretary, Kate Green, told Good Morning Britain, "It's certainly something that I think needs to be kept under review, because in other countries they have been used particularly where there have been high levels of infection."
The Association of School and College Leaders (ASCL) has echoed this call for the guidance to be reviewed.
General secretary, Geoff Barton told the Daily Telegraph: "We would expect the government in Westminster to review its guidance on the use of face coverings in schools - which currently says they are not required - in light of the WHO guidance and the consultation taking place in Scotland.
"The evidence is clearly evolving on this issue and it is important that it is kept under review and that clear direction is provided to schools."
England's deputy chief medical officer, Jenny Harries, said evidence on whether children aged over 12 should wear masks in schools was "not strong".