Exclusive: Scottish university told to explain why its governing body has 19 men and just six women
Greater gender balance found at many other higher education institutions
Heriot-Watt University is facing a call to explain why its governing body is made up of 19 men and just six women.
The Edinburgh-based institution has been accused of failing to address the need to diversify, unlike many other Scottish universities.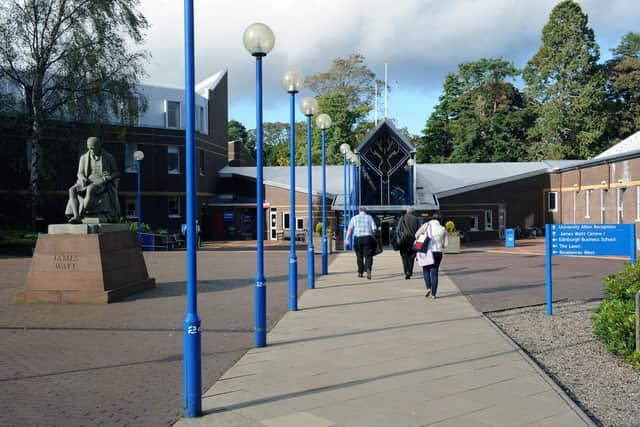 An investigation by Scotland on Sunday found the gender gap on Heriot-Watt's ruling court was greater than any other university north of the border, with more than three-quarters of its 25 members male.
The court has a male chair and nine of its 12 "co-opted" members are men, according to the university's website, with the rest of its membership being staff and student representatives.
Heriot-Watt University, which also has a male principal and vice-principal, said several women had reached the end of their terms on the court in recent years.
The imbalance appeared to contrast with the picture in much of the rest of the country, although only six of the nation's 19 higher education principals are women.
There are male majorities on 10 of 18 courts or boards at Scottish universities, while seven have more women than men, and one is gender balanced.
In terms of senior management teams, six are now gender-balanced, nine have more men than women in the top jobs, and four have a female majority.
Mary Senior, Scotland official at the University and College Union (UCU), said: "It's very welcome to see the gender balance on university courts and within university management teams improving, and underlines the significance of the introduction of legislative changes to address the historic and persistent underrepresentation of women in public life.
"It is important that universities and all public bodies continue to commit to ensuring gender balance and greater diversity on governing bodies, so as the decisions taken better reflect the interests of whole of the population."
However, she added: "The governing body at Heriot-Watt University does appear to stand out as one which has not addressed the need to diversify and include more women and people from underrepresented backgrounds.
"The university should explain why its governing body is not gender balanced and look to address this at the earliest opportunity.
"It is really important that those taking the decisions about students, staff, education and communities are representative, with diverse backgrounds and experiences, to get better decisions and outcomes for all."
A spokesperson for Heriot-Watt University said: "Our court at Heriot-Watt University currently has 19 men and 6 women members."Thirteen of our 25 court members are independent non-executive members and among these, several women members have naturally reached the end of their terms of membership in recent years.
"The recruitment process to replace these members has prioritised the necessary skillsets, and we actively promote court membership to a diverse pool of candidates.
"This includes advertising through platforms such as Women on Boards and the non-executive director network and we continue to strive to achieve a good balance on our court and committees in terms of experience, skills and diversity, including gender."
Comments
 0 comments
Want to join the conversation? Please or to comment on this article.