Exam results Scotland 2020: why was the pass rate reduced for pupils from the most deprived backgrounds?
Some politicians have claimed that pupils from deprived backgrounds were worse affected by grade moderation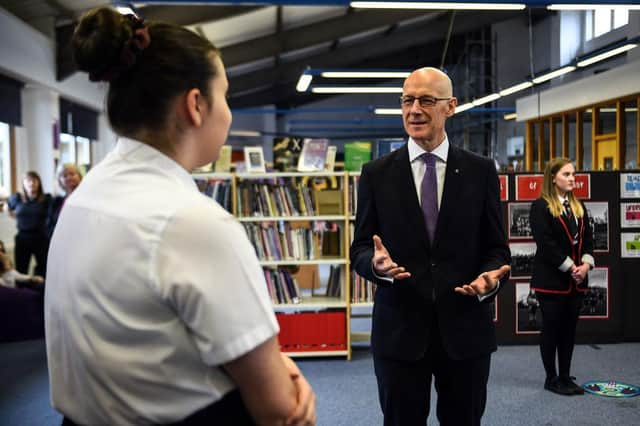 Thousands of Scottish pupils were left disappointed after they received lower grades than they had been expecting, with SQA reducing 125,000 estimated marks.
Students across the country received their National 5, Higher and Advanced Higher certificates on Tuesday (4 August).
Exams were cancelled this year due to the coronavirus pandemic, and results were calculated using estimates from teachers based on pupil performance over the school year.
However, a moderation system has meant that pupils have had their marks downgraded.
Pupils from deprived areas have complained that they have been affected disproportionately.
How were grades worked out?
Following the cancellation of exams due to the coronavirus pandemic, schools were informed that coursework would not be marked.
Instead teachers were asked to use their professional judgement to assign pupils a mark based on their coursework and exam results over the school year.
Pupils were then ranked by teachers and assigned to an existing grade band.
The SQA then validated these results in order to "ensure consistency across schools and colleges, and with results from previous years".
They also studied the schools' history of estimating results in the past and assigned each school with a maximum and minimum pass rate based on previous results. The body allowed for some flexibility in order to reflect year-on year change.
When a school made grade awards outside the range developed by the SQA, pupil rankings were used to decide which pupil would remain in a given grade bracket.
Were deprived pupils worse affected?
Concerns had been raised that pupils from deprived areas could be marked down due to their school's poor performance in the past.
Figures do suggest that a child from a more deprived background was more likely to have their predicted grade downgraded.
Higher pass rates for pupils from the poorest backgrounds dropped by 15.2% compared to 6.9% among the pupils from the wealthiest backgrounds.
At National 5 level, the pass rate for the poorest pupils was moderated from 84.5% to 74%.
Government and SQA response
The SQA says that steps were taken to ensure that no background was disproportionately affected by the grading system.
The First Minister has defended the moderation saying that without it pupils from the most deprived areas would have seen an "unprecedented" 19.8% increase of the pass rate, which would have called the credibility of this year's exam results into question.
An SQA spokesman said: "The most disadvantaged young people have achieved better results in 2020 compared to both 2019 and the average results for the last four years.
"At grades A to C, the attainment gap between the most and least disadvantaged young people is also narrower this year for National 5, higher and advanced higher than for last year or the average gap for the last four years."