Education Scotland: School leaders back calls to scrap the historic name for Scotland's 'Higher' qualifications
Head teachers tell MSPs the continued use of the 'Higher' grade is 'inequitable'
A head teacher has backed calls to axe the historic name of Scotland's "Highers" as she warned many pupils are "voting with their feet" because of inequity within the nation's school curriculum.
Pauline Walker, head teacher at the Royal High School in Edinburgh, told MSPs the word "Higher" makes other qualifications at the same level appear "second class".
She also joined other school leaders in calling for progress on reform of Scotland's qualifications model, after education secretary Jenny Gilruth delayed a decision last week on changes proposed as part of a review led by Professor Louise Hayward.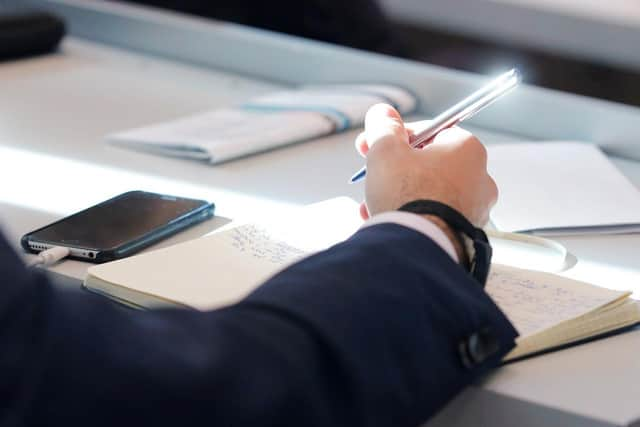 Highers date back to 1888 in Scotland, when a leaving certificate was introduced, with "honours", "higher" and "lower" grades offered. However, it was suggested earlier this year, as part of discussions linked to the Hayward review, that qualifications should be referred to by their Scottish Credit and Qualifications Framework (SCQF) level, which would be "SCQF Level 6" for Higher.
The idea was tabled amid fears "Higher" was seen as being a greater achievement than other qualifications at the same level, which can include Scottish Vocational Qualifications (SVQ) and foundation and modern apprenticeships.
In the end, Prof Hayward recommended using the SCQF Level followed by the name of the qualification in promotional literature and in recording of results, such as "SCQF Level 6 Higher".
Giving evidence to Holyrood's education committee on Wednesday, Ms Walker backed the removal of "Higher". She said: "Even just the word 'Higher'. The fact that Higher is considered the gold standard immediately makes the Level 6 as a second-class citizen.
"By not changing that wording, that is inequitable, straight-up. There is no other way to look at it."
Graham Hutton, general secretary of School Leaders Scotland, agreed, saying he would "much prefer" to use "Level 6". Meanwhile, Ms Walker also suggested a lack of equity in the curriculum was contributing to poor attendance across Scotland.
She told MSPs the curriculum was geared towards youngsters in "the top 50 per cent", but was letting down many others.
"These young people are particularly from disadvantaged backgrounds, who potentially have come from cycles of poverty for many generations, who are very disaffected by society – they see no purpose or point to education and quite often vote with their feet," she said.
"More and more so because of poverty [they vote with their feet] within the school. So they will come to school, because we are able to offer heat, food, clothing, but will not go to class.
"And the fact they are voting with their feet in so many numbers is a cry out, right across Scotland right now, that we are not meeting their needs."
The Hayward review recommended ending exams for S4 pupils and introducing a new Scottish Diploma of Achievement.
Ms Walker said: "What they [disaffected pupils] need is a purpose to see where it is going to take them in life, because they really are feeling they are coming to do things without purpose.
"What we are constrained with is a curriculum that doesn't allow us to make changes to meet that need. We need more pathways. We need our national curriculum to open up to allow us to make changes."
Comments
 0 comments
Want to join the conversation? Please or to comment on this article.