Edinburgh University's historic student newspaper is battling for survival after 136 years
Famous writers, journalists and politicians have been involved in producing The Student
A campaign has been launched to save a historic Scottish student newspaper which was founded by Robert Louis Stevenson.
The Student has been published at Edinburgh University since 1887, evolving from a magazine established by the writer of Treasure Island, Kidnapped, and the Strange Case of Dr Jekyll and Mr Hyde.
Other editors and contributors have included former Prime Minister Gordon Brown, Foreign Secretary Robin Cook, Liberal Party leader David Steel, BBC journalist Laura Kuenssberg, The Guardian's Helen Pidd and ITV News at Ten anchor Tom Bradby.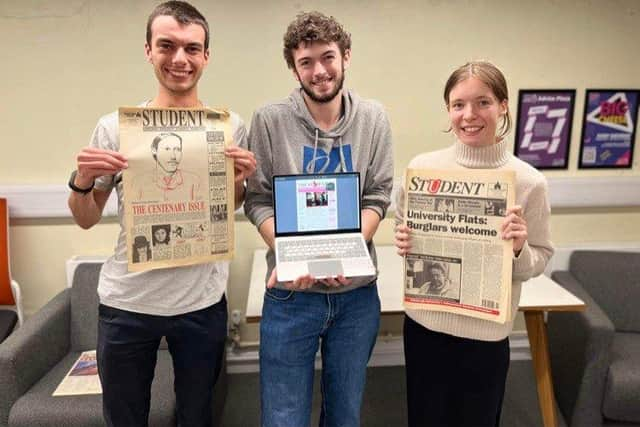 But the newspaper is now facing a fight to secure its print future following the recent loss of a major advertiser.
An online fundraising campaign was launched at the end of last week, quickly hitting its initial target of £750, which should enable it cover the cost of printing two editions of the paper.
However, doubts remain over the longer term viability of the publication, and others across Scotland.
The team of 30 volunteers involved in producing The Student, which does not receive funding from the university or the local students' association, is now searching for a sustainable financial model.
Lucy Jackson, president at The Student, said: "I'm devastated that the landscape of print journalism has proved to be so rocky for us.
"Unfortunately, we're at the point where sheer dedication and passion for journalism simply isn't enough.
"This isn't unique to us, we know that journalism as a whole is struggling and whilst we're adapting to the new digital age, we can't abandon print - it forms such a central part of our identity and our university experience.
"The Student is often the first place students will get to try their hand at journalism. It's vital we remain open and accessible to all, so that future generations of young journalists have the space to develop and grow."
She added: "We'd like to be able to secure our printing for the foreseeable future so that the people who take over from us won't have the stress of having to find money every time they want to print.
"We don't want to just rely on the GoFundMe, we're looking at securing more advertisers and we're also running lots of fundraising events to raise money, but realistically they don't raise that much in the grand scheme of things compared to how much it costs to run them."
The Student is currently funded by a combination of advertising and membership fees.
There is a fortnightly print edition of about 750 copies which are distributed to more than 20 locations across Edinburgh.
It has previously faced threats to its future, folding temporarily in 2002 before being relaunched.
Similar battles for survival are being fought by student journalists at other long-running campus newspapers in Scotland.
About £2,700 was raised this summer to fund the first term print run of The Gaudie, which was founded at Aberdeen University in 1934.
However, the students behind the paper fear they may have to cut the number of editions next year due to ongoing financial uncertainty.
Comments
 0 comments
Want to join the conversation? Please or to comment on this article.