Early learning and childcare services are closing, but there are solutions to fix the Scottish Government policy - Susan McGhee
Early learning and childcare, it's a hot topic at the moment – one that's being discussed by leaders in national and local government, lobbying and research groups, providers and the families it is intended to help.
Everyone has an opinion, and despite the aims of the Scottish Government Policy being admirable, those opinions aren't always positive ones. Administration and management of the policy at ground level means multiple different systems, different funding rates, and different levels of support are in place across our 32 local authorities.
Truth be told, despite underlying support for the policy, there are a lot of worried people out there. There's huge concern about the long term, and increasingly short term, sustainability of private, voluntary and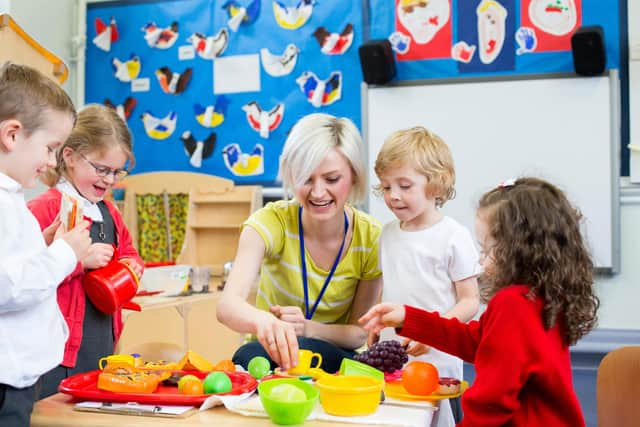 Providers who collectively deliver around 30 per cent of funded early learning hours, for only 21.5 per cent of the funding from local authorities, are vital in ensuring parents are able to source the
early learning and childcare they require. Providers are struggling to make ends meet, there is little left in budgets for training, resources and day-to-day running costs.
Ever increasing costs of consumables, heat and light, and cost of labour leave little to invest in quality of provision, a situation that directly impacts on the children and families the policy is designed to support.
The high-level aims of the 1,140 funded early learning hours programme were threefold, these being: children's development improves and the poverty-related outcomes gap narrows; parents' opportunities to take up or sustain work, study, or training increase; family wellbeing improves.
Yet how can we, as a sector, deliver on these aims when financial resource is so constrained? How do we deliver improved child development and reduce the poverty-related attainment gap when we have little to invest in training, when funding rates suppress our ability to pay our team members a fair and equitable rate, equal or even close, to that of their local authority peers?
How do we address child poverty when so many services are unable to provide the wrap-around, holistic provision, flexibility and affordability they want to offer, because the numbers just don't add up?
How do we support parents to remain in, or return to work, education or training, if they don't have the choice of early learning and childcare providers' they need to support this?
How does family wellbeing improve if the services children and families are settled and happy in are forced to close due to lack of funds?
All these are really important questions, and ones that must be answered if we are to deliver on those initial aims of the 1,140 funded hours programme and rise to the challenge of delivering the aspirational expanded offer, as described by Humza Yousaf in his recent Programme for Government.
Yet it's not all doom and gloom. This is a sector led by some incredibly resilient, talented, and committed people. It is a diverse sector with many different service offerings including parent and community led, charitable groups, private businesses, indoor and outdoor blends, fully outdoor services, and our local authority partner colleagues.
Every day, across Scotland there are 'wow' moments happening in our ELC services, joyous breakthroughs in a child's emotional wellbeing, delightful nuggets of outstanding learning, parents who are able to return to work and improve their family's financial wellbeing. There are happy transitions to school and beyond, and so many more achievements, all of which contribute to achieving those three high-level policy goals around development and attainment, supporting parents to work study or train, and family wellbeing.
From my perspective in my role as chair of Blackhall Nursery in Edinburgh, and chief executive at Flexible Childcare Services Scotland, and the stories I hear from fellow business leaders across the country, I know that great work is being done. However, I also see and hear the financial challenges created by the current administration of funding.
I see the uncertainty from the management team and fellow board members at Blackhall, as for the first year since its launch as a community led service 24 years ago, costs aren't met and reserves will begin to be eroded.
I know from my own organisation that we have a challenging gap in our budget that must be filled if we are to continue to operate. I see the fantastic services that are closing, or restricting capacity and I think, enough. It's time for change.
So, what next? Where do we go to solve this problem and ensure Scotland's children, families and communities have access to the services they need?
The policy at core is a good one, take up of the offer is high, and there's a big investment from government in getting this right. But there are changes we could consider to better support our providers, and ultimately the children and families who benefit from the investment.
Firstly, we must ensure that providers are paid a base level sustainable funding rate, a rate that allows them to pay a fair wage, at a minimum rate that meets the £12 per hour commitment made in the recent Programme for Government, and to maintain differentials within pay structures.
Beyond that we could consider removing the condition of funding that blocks parents from topping up fees and enable those who can afford to, and are willing to, to contribute to the costs of their child's early learning and childcare. For those whose economic position means they can't top up, particularly those in the priority groups identified in the tackling child poverty report, an uplift on the base level funded rate could be provided.
We could look at ways to increase the budget available for early learning and childcare through an employer contribution scheme. The apprenticeship levy model could be a way to manage this, protecting small employers, but raising a contribution from larger organisations.
And we could look at spreading the cost of investment across multiple directorates within government, as the service delivered meets aims around early learning and childcare, social justice, parental employability, wellbeing, and more.
Perhaps it is time for a long-term return on investment calculation for all of these areas to demonstrate the immense positive impact and long term savings that could be possible through a system shake-up and enhanced investment in early learning and childcare and the wider childcare offering planned for the future.
- Susan McGhee is chief executive of Flexible Childcare Services and chair of Blackhall Nursery.
Comments
 0 comments
Want to join the conversation? Please or to comment on this article.