Dragons' Den: Pioneering investment competition for schoolgirls praised by Scottish teachers
Dragons' Den-style initiative is open to small teams from Scottish schools
Teachers have praised the way a pioneering competition for schoolgirls is helping build a range of key skills in younger generations.
The Growing Future Assets investment competition is a Dragons' Den-style scheme that has been open to small teams of Scottish school pupils since 2019/20. Participants, who are mentored by volunteers from the world of finance, choose a company, research it and pitch it to the judges as an investment opportunity.
Hannah Fox, principal teacher of the business and computing faculty at North Berwick High School, said: "It's the most valuable initiative we have ever taken part in. The students are genuinely getting the experience of working inside investment firms and this is something that you really don't get with other initiatives."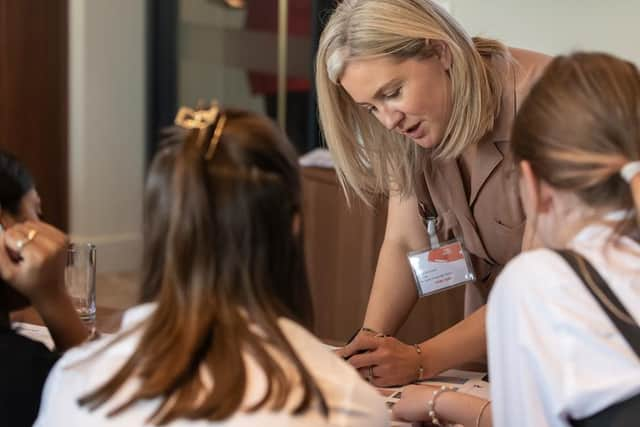 Elaine Cuthbertson, business teacher at Hillend High School, said: "The investment management industry is one that is predominantly male-dominated and in addition to this, there are so many pupils who don't even know about it.
"There is also even a lack of knowledge about the opportunities available amongst the business education teachers, so this competition not only benefits the students, but also the teachers too."
Angela Herd, principal teacher of business, computing and languages at Alva Academy, said: "Team building is definitely a core skill here. They all have really different skill-sets focused on different areas and they all came to the table with their own individual expertise.
"They also learned a lot about time management and it was great to see how enthusiastic they were about doing extra work on this outwith school hours. It also taught them a great deal about the extra responsibilities of meeting important deadlines."
Kate Gascoigne, who teaches business Management at Preston Lodge High School, said: "Investment management is not a career that everyone understands or even considers to be a realistic possibility for themselves.
"The truth is that it is most definitely a tangible possibility for everyone because there are so many transferable skills required. It's also so great for the girls to be able to put on their university applications and has given them so much confidence."
Comments
 0 comments
Want to join the conversation? Please or to comment on this article.