Defence chiefs face claims the level of spending on school fees is "scandalous" at a time when many families are struggling to cope during the ongoing cost-of-living crisis.
They were urged to overhaul the controversial "continuity of education allowance (CEA)" scheme after Scotland on Sunday obtained a full breakdown of the expenditure north of the border.
The Ministry of Defence (MoD) initiative, which aims to provide stability to the children of Armed Forces personnel who can be regularly posted to different locations, has been worth more than £7.2m to independent schools in Scotland since 2017/18.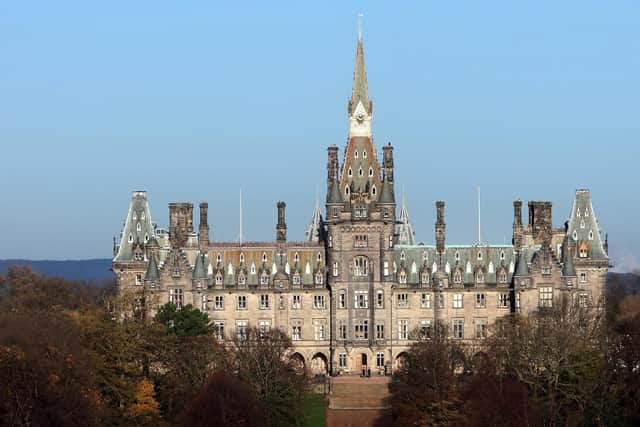 Fettes College in Edinburgh, which is one of the most expensive schools in Scotland and counts Tony Blair as a former pupil, receives far more than any of its Scottish competitors.
According to figures released under Freedom of Information laws, Fettes was handed more than £510,000 in 2021/22, dropping slightly to £480,000 this year, to help fund about 20 places.
Other Scottish schools receiving six-figure sums were Ardvreck School in Crieff, where about £130,000 has been spent on fees for roughly ten places in each of the past two years, as well as £120,000 for a similar number of places at Strathallan near Perth, and £100,000 at Dollar Academy.
The amount given to Gordonstoun in Moray, which was attended by King Charles, as well as his father and brothers, dropped from £223,000 in 2017/18 to £88,000 last year and about £100,000 this year.
Ross Greer, education spokesman for the Scottish Greens, branded the figures "staggering".
He said: "Many will wonder why such perks are being offered to the military top brass at a time when Tory cuts mean that public services and household budgets are being stretched more than ever.
"It would be totally inappropriate at any time for public money to be poured into paying the extortionate fees of elite private schools, which entrench privilege and inequality. But it is even more scandalous when costs are soaring and millions of households and families are struggling to pay their bills and put food on the table."
Mr Greer claimed independent schools already enjoyed "huge amounts of political and financial support", including through their charitable status, and "don't need even more public money via the military".
Other rounded MoD spending figures for Scottish independent schools this year include £70,000 for places at Merchiston Castle, £60,000 at Glenalmond, about £50,000 at both Lomond and the Belhaven Hill, £20,000 at Loretto, and £10,000 at Mary Erskine and Stewart's Melville College.
Kilgraston and Lathallan schools have both received fee contributions in recent years. The MoD also funds the Queen Victoria School boarding school at Dunblane for the children of Armed Forces families.
Across the UK, the CEA scheme is costing £84.6m this year, funding 4,210 places for the children of about 2,800 personnel, roughly half of whom are officers.
Claimants seeking to send their children to independent schools must contribute at least the first 10 per cent of the fees. In England, several schools are getting millions of pounds from the scheme each year, including Queen Ethelburga's College, near York, which is receiving £8.4m for 380 places this year.
Eton College, famous for educating multiple former prime ministers and senior members of the royal family, is getting £210,000 worth of fees paid. The Foreign Office also spends millions of pounds each year sending the children on diplomats to private schools.
The MoD said its scheme was under review to ensure it is delivering best value for money for taxpayers.
Paul O'Neill, director of military sciences at the Royal United Services Institute military think-tank, said: "Because a significant part of the allowance is expenditure, and it goes to a relatively small number of people, it's always under review. The kind of things a review would look at would be things like qualifying criteria, i.e. how long is somebody in a post before they lose eligibility.
"There will be questions, I'm sure, about how much each individual child is entitled to claim, to see whether any school is going to be within reach of the parent or there will be an average and the parent will have to top up if they want to go to a more expensive school.
"They will undoubtedly look at things like the state boarding sector, and whether there is capacity there.
"Conceivably, they could turn around and say, 'well would defence be willing to fund the building of dormitory facilities at state boarding schools that would allow then parents to put their children into the state boarding system?'"
Defence minister Andrew Murrison said CEA was available to all service personnel, irrespective of rank, subject to them satisfying the qualifying criteria. "Service personnel may select from a wide variety of schools across the UK from within the independent and state-maintained sectors that meet set criteria," he said.
An MoD spokesman said: "Our Armed Forces are asked to move frequently during their career to help keep the UK safe from threat, often at short notice. The education allowance, boosted by individual contributions, is only claimed by qualifying service personnel within a strict governance framework, and is used by personnel of all ranks to give their children stability while they make that commitment."
Alison Herbert, deputy director of external relations at the Scottish Council for Independent Schools, said: "Independent schools are committed to supporting the education and wellbeing of children of service personnel. CEA funding enables the continuity of learning for families on the frontline who can be required to move frequently and often at short notice."