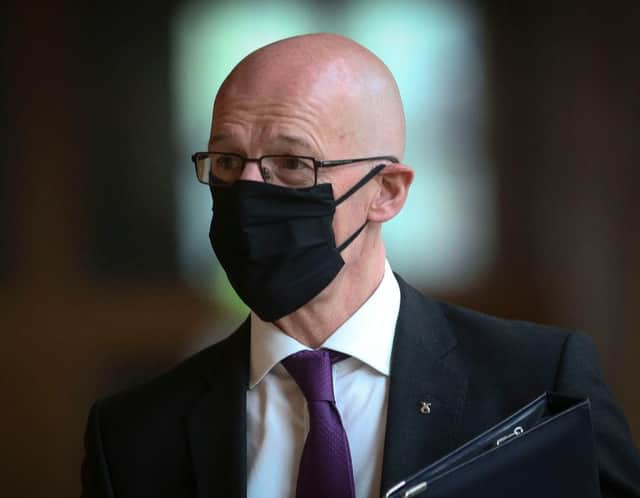 Here is Mr Swinney's letter in full to the MSP concerning the 2020 School Christmas and new year holidays:
School Christmas and new year holidays 2020
As the Committee are aware, we have been exploring options around extending the school Christmas holiday period in light of COVID-19. We have discussed the issue at the Education Recovery Group, where there were mixed views on whether or not the Scottish Government should intervene to make changes to the current dates for the holiday period, which vary across local authorities.
I have reached the decision not to make any changes to the planned Christmas and new year holiday dates and I am writing today to set out the reasons for this. The Public Health advice that I received is to keep schools open as planned as the controlled school environment is more preferable to social mixing outside of school if schools are closed early.
In addition, vulnerable children may be at greater risk if they are out of school for an extended period. The view of the Chief Social Work Advisor is that being in school is a very significant protective factor for the most vulnerable children and the longer children are out of school the more chance there is of hidden harm.
Public Health advice is, on balance, that there would be less transmission of COVID-19 through children and young people being in school than mixing out of school.
Adding this to the issues around vulnerable children and the need for childcare for key worker children, public health advice is to not change term dates at either end. I am also mindful that an extension to the school holidays could cause significant difficulties for working parents.
In addition, I asked the COVID-19 Advisory sub-group on education and children's issues for advice. The group discussed this at their meeting on Tuesday 1st December and concluded that there should be no change to the Christmas holiday dates. The group reiterated that there is no evidence that schools and ELC settings are driving transmission, and there is no clear rationale for disrupting them and children's education. I attach the advice which I received as annex A.
One issue where there is broad consensus is around the need for school staff to have their planned holidays without interruption due to the need to engage in contact tracing. We also want to avoid families being disturbed on or around Christmas day due to any outbreaks which may involve a school prior to the start of the holiday period. In considering local arrangements, it will be vitally important that every effort is made to ensure that senior leadership teams and school staff get a proper break, and that the likelihood of staff being required to support contact tracing activities over the holiday period is minimised.
Please note that contact tracing activities may go back as far as 7 days due to schools being complex environments. We understand that some local authorities have already made
arrangements to address this risk, and we are now asking that similar arrangements are put in place as early as possible across all councils.
While it is for local authorities, in consultation with their staff, to develop solutions that best suit local needs, options that have been implemented in some local authorities already include: (i) named individuals who have volunteered to be on-call for a local area in exchange for appropriate overtime payments, with access to information to support contact tracing if required; or (ii) putting in place central local authority teams who are on duty or on call over the relevant period and can access the relevant information.
The National Contact Tracing Centre have also indicated that they stand ready to support work to contact affected individuals in the event of a case being
identified in a school during this period. Public Health Scotland will agree with each Local Health Protection Team on the preferred approach.
Finally, I am sure that all members of the Committee will join me in expressing our gratitude and sincere thanks to school leaders, teachers, all school staff and local authority education officials for their outstanding commitment to the education and wellbeing of Scotland's children and young people this session. The exceptional professionalism and dedication of staff has enabled children and young people to learn safely in school since the return in August.
We are also very grateful for the ways in which school staff have supported continuity of learning for children and young people who have been absent from school for COVID-19 related reasons.
A message from the Editor:Thank you for reading this article. We're more reliant on your support than ever as the shift in consumer habits brought about by Coronavirus impacts our advertisers.
If you haven't already, please consider supporting our trusted, fact-checked journalism by taking out a digital subscription.