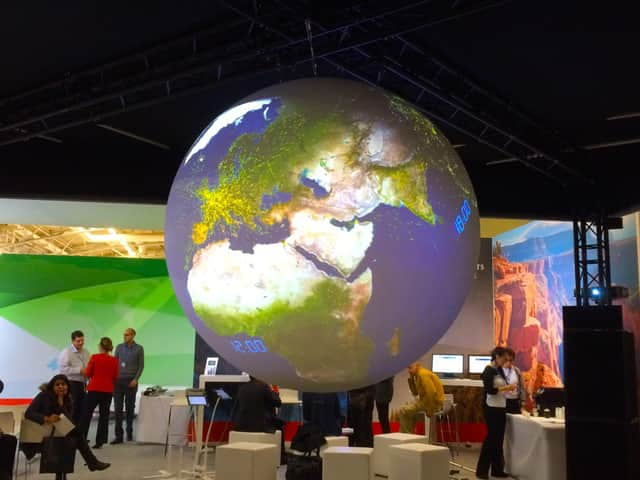 We have three interconnected challenges ahead – tackling ­climate change, regenerating biodiversity and leaving no one behind. In the coming months, as Glasgow ­prepares to host the Conference of Parties, COP26, we shall see ­whether the international community is able to rise to the challenge.
Will the world's largest economies wholeheartedly pledge to take action to limit global warming to within 2C? Can world leaders overcome self-interest and agree a vision of a decarbonised world where no one is left behind and life on Earth thrives. What is the role of each one of us in this process?
I have been to many COP ­conferences over the past two ­decades. With the notable exception of ­Paris in 2015, too many of those conferences have represented a lost opportunity. The failure of the ­international community to ­deliver on past ­agreements now leaves us with little room for manoeuvre that will not result in more and more people, particularly from the global south, having their lives affected by the climate emergency.
With COP26 arriving in Glasgow, how can we surf the wave of climate action while turning the tide of our carbonised lifestyles? Will Glasgow be a success like Paris or another ­failure like Copenhagen? We should start preparing for success.
In advance, here some ideas that I hope can spark conversations over the coming months.
COP does not happen only during the ten days at Glasgow. Its timeline extends from now until COP27. There is no question that 2020 is a critical year for ensuring we are on the path to limit temperature rises to only 1.5C and not a 3-4C world.
The Bonn Climate Change Prepcon in June is a key ­stepping stone for stronger commitments and increased ­funding. The success of Glasgow will be made ­possible through this successful ­preparatory meeting in Bonn – or possibly not.
Tragically it is those who have ­contributed least to greenhouse gas emissions who are suffering the worst effects of climate change. Leaving no one behind requires a fundamentally different approach to transforming inequality in a way that leverages the capacities of those most vulnerable to become agents of change, rather than beneficiaries of aid.
Under the auspices of The Alliance, international development ­organisations and stakeholders will meet in Glasgow in large numbers to ­amplify the voices of the global south. The debate promises to be creative, feisty and persuasive.
Meanwhile, cities have a ­disproportionately large carbon footprint, responsible for about 70 per cent of global emissions. In many cases, city ­officials are responding to transnational problems even more effectively than nation-states.
Some even say that in this ­century, it will be the city that becomes the ­nexus of ­economic and political ­power and of ecological regeneration.
Glasgow is a leading example – the first UK city to announce plans to become net zero by 2030. COP26 should inspire other Scottish cities to take similarly bold action.
We have underestimated the need to address the climate emergency through culture, storytelling and positive visions of the future which people can relate to. COP26 should aim to trigger new narratives. COP26 can also bring actors and constituencies together that would not typically engage with each ­other. This was the case at a recent ­meeting conveyed by the Scottish Government to listen to the ideas of a diverse group of ­stakeholders. Let us hope that COP26 can nourish a culture of encounters.
I think HG Wells had it right when he said that we are in a race between education and catastrophe. The task of transforming our planet not only belongs to global policy makers and advocacy groups. Each of us has a contribution to make through the life choices we take. Simple changes in our everyday routine can help – one person, one household, one neighbourhood, one city and one nation at the time.
The world today is marked by a strong and creative tension between what is global and what is local. Building coherent plans of action that bridge the two agendas – domestic and international – remains the great challenge ahead for Scotland and the world community.
We have been asked to do ­something that has never been done before, but, in an ­increasingly unpredictable world, people and most governments want faster and more ­visible progress. COP26 must be the ­springboard for this.
For advice on how you can live a greener lifestyle, visit www.greenerscotland.org
May East, CEO, Gaia Education.